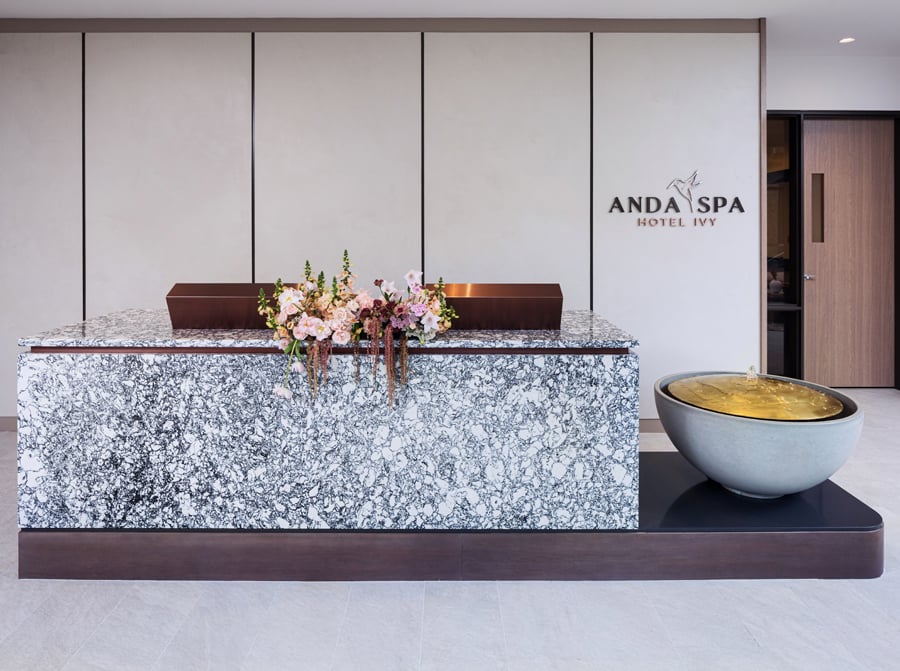 April 13, 2020
How Cambria Is Reinventing Hospitality Design, One Stone at a Time
For the new Anda Spa at Hotel Ivy in Minneapolis, Minnesota, the brand elevates surface design with a wellness slant, focusing on top-of-the-line natural quartz materials.
Sponsored by:
A polished travertine floor, an elegantly placed marble slab, the perfect rounded alabaster wall sconce—stone is frequently the unsung building block of modern architecture and interior design. Behind the artistry, brands are elevating stonework to new heights, with one leader in the field, Cambria, going beyond traditional countertops and flooring to provide natural quartz solutions for a wide range of applications, including luxury details for hospitality and wellness spaces. For the opening of the 17,000 square foot Anda Spa at the newly renovated Hotel Ivy in Minneapolis, Minnesota, part of Marriott International's Luxury Collection, Cambria was used extensively, from the reception area to the saunas and a therapeutically designed water feature.
The Ivy team initially brought Cambria in for the lobby's design, conceptualizing an onyx-colored front desk juxtaposed with a white concierge area with delicate gold detailing. After noticing the welcoming and impressive effect of the natural quartz, the team realized that Cambria could have broader applications. "We started using Cambria for its performance in other parts of the hotel, like suites and meeting spaces," explained Paul Wischermann, CEO of Wischermann Partners, the hotel's operating company.
The material range, which offers tremendous freedom and flexibility, and functions in a variety of settings, provides a durable, nonabsorbant surface ideal for high-moisture environments and applications where cleanliness is essential. "We went all-in, not just on desks and in bathrooms but with wall surfaces in the spa, the sauna, steam rooms, and the fireplace—it's a Cambria showcase, even in the back office," joked Wischermann. Cambria's Marble Collection™, with its stunning array of elegant designs, perfectly suited the luxury setting of Anda Spa with classic style and timeless organic movement, blending form and function together beautifully.
"The team wanted to design a spa that had a connection to, or was rooted in, crystals and the healing properties of crystals," says Bridget Hale, senior designer for ESG Architects. After extensive research, the designers chose rose quartz as an inspiration for the lobby and smoky quartz for the lounge. These insights were used when considering which Cambria natural quartz designs best fulfilled their vision. With materials like rose quartz, agate, and even amethyst, all believed to contain wellness properties, the Anda serves as an ideal case study for how high-end finishes can connect to a larger theme. "With the environment, humidity, moisture, and oils that are used in treatments, it made perfect sense from our perspective as designers to use something durable that would hold up," explained Hale, who noted that the panels all contain the natural aesthetic of stone and crystal that can be hard to recreate inorganically.
"The goal at Anda was to showcase a number of Cambria's designs, highlighting their performance both from a visual and application standpoint," said Eric Curry, SVP, Corporate Sales, elaborating on the usage of Cambria throughout the space. "The stunning surface walls in the water feature room are a focal point surpassed only by the warming fireplace surround in the relaxation room," Curry said, explaining that since Cambria is nonabsorbent and maintenance free, it's become the ideal choice for this surface application. "The result of this collaboration has been an amazing new spa experience for hotel guests and local clients alike," he says. With natural quartz from Cambria, designers have the performance benefits of an engineered material, without sacrificing the organic aesthetics of natural stone.