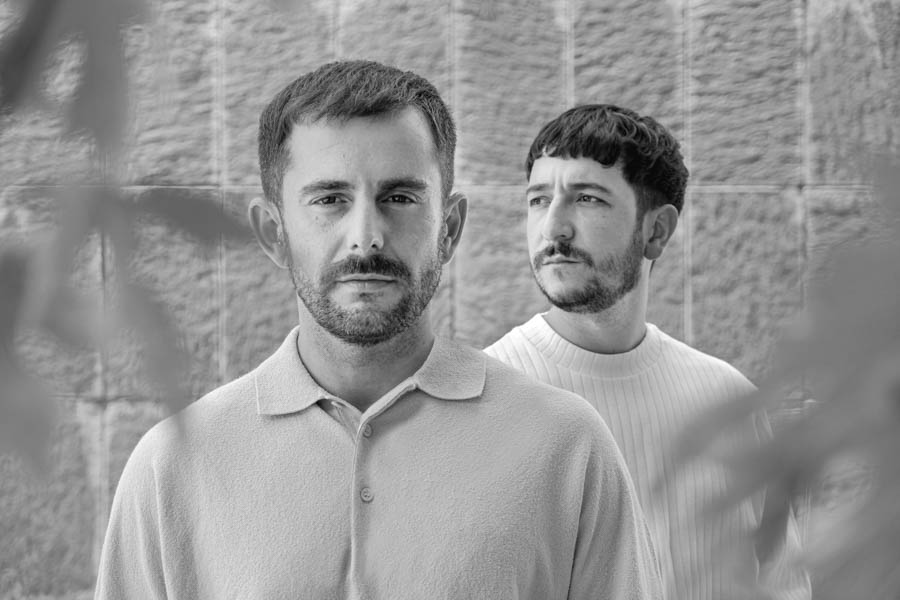 May 1, 2020
New Talent: MUT Design Creates Furniture That Merges Play and Function
The Valencia, Spain-based studio brought a distinctly Mediterranean style to this year's Das Haus, which artfully launched a wide array of their furnishings.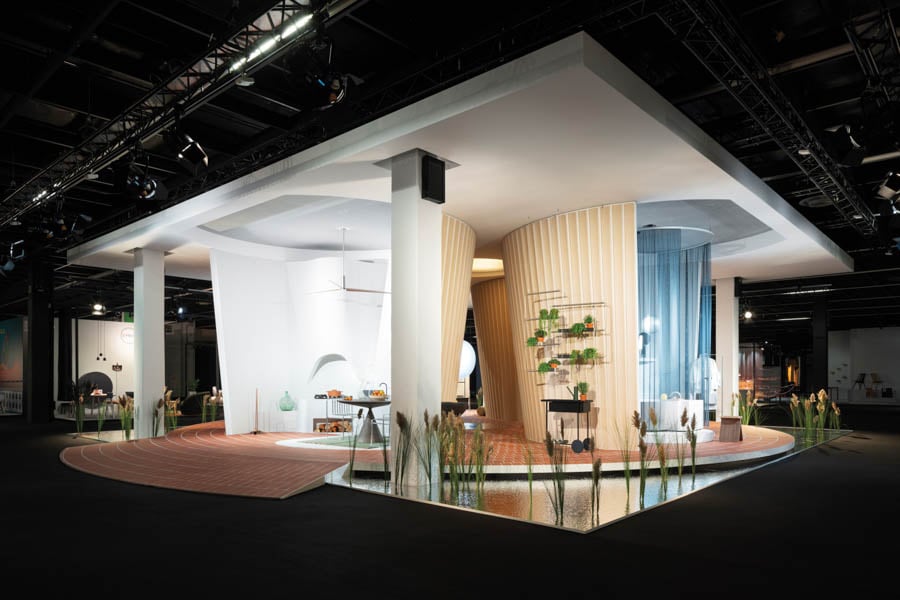 ---
With a new take on a 1970s swing chair, MUT Design was born. A tribute to an early design by Spanish outdoor manufacturer Expormim, the rattan prototype was the first product exhibited by the Valencia-based design firm's founders Alberto Sánchez and Eduardo Villalón in Milan, at the 2010 edition of SaloneSatellite, Salone del Mobile's platform for rising talents.
"The way the rattan pieces joined—with an invisible union inside, connecting one piece of rattan to another without other materials—was actually a new invention," says Sánchez.
Expormim took note and was quick to broker a purchase—and the sturdy, gently swaying Nautica swing chair that launched in 2012 proved a commercial success, earning MUT not just the first step into a long-standing relationship with a valuable client but also a coveted Red Dot Award. Suited for indoors or out, with or without a base, Nautica demonstrates MUT's rare ability to merge the playful with the functional, also spotted in the cheeky Beetle acoustical panel for Sancal. (Launched in 2017, the product is now in the archives of the Centre Pompidou in Paris.)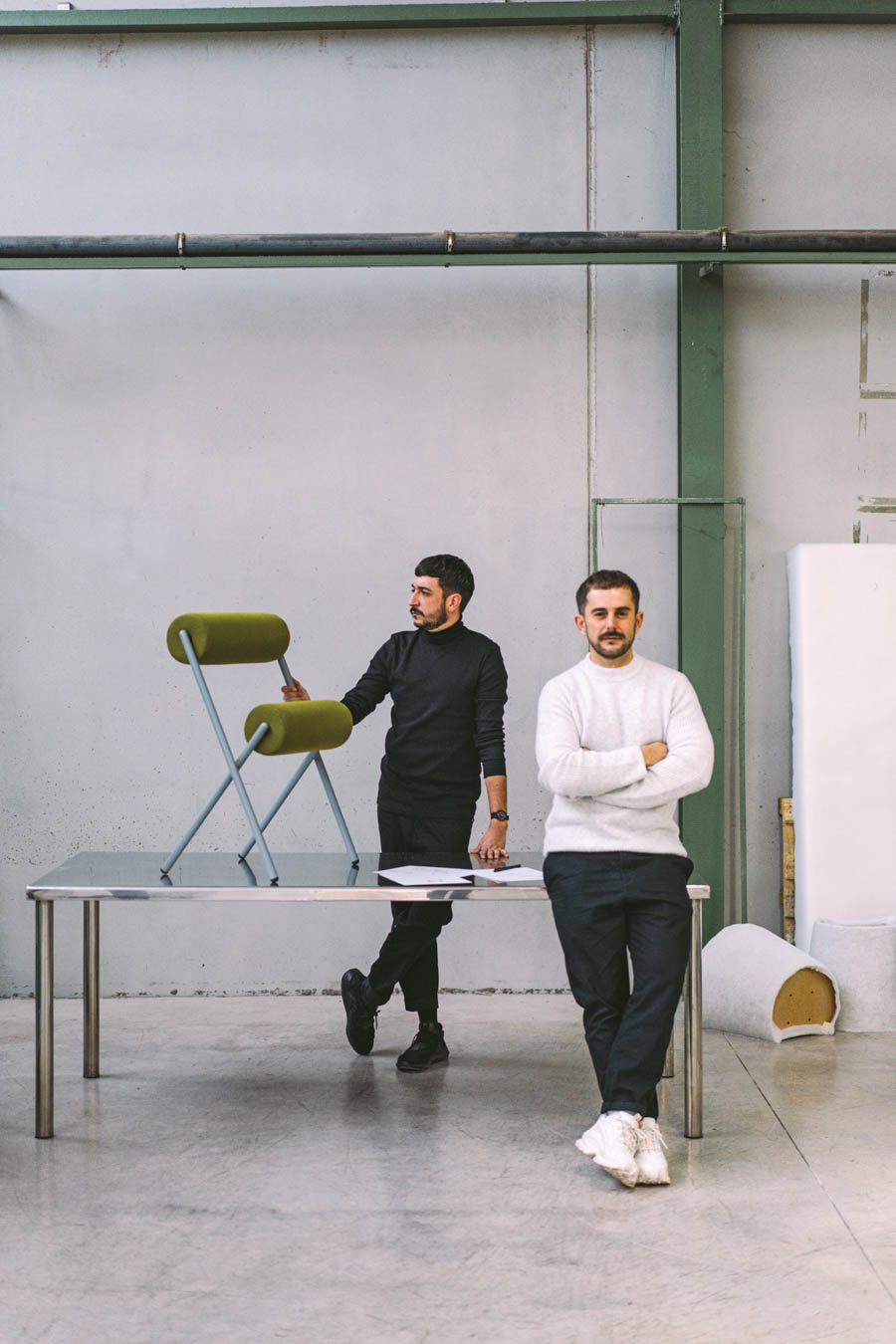 ---
Today, MUT employs a staff of five, working out of a 1,100-square-foot studio centrally located in the Spanish city's historic district. While MUT's blended-living philosophy of merging indoors without is perhaps unsurprising in temperate Spain, it's considered much more radical in cooler countries—and the firm's fresh and breezy Das Haus 2020, presented in January at the home furnishings trade show imm cologne, made waves.
A continuous exploration of material came to light across a number of products MUT unveiled in the Das Haus residential living installation: There's the ridged glass forming the Aspa series of side tables for pulpo, the ceramic used for a prototype of convex tiles for Spanish manufacturer Peronda, and the supersoft brushed PET fibers forming the outdoor-friendly straps of the ZigZag rug and hammock prototypes, both for GAN. "We always like to try new things," Villalón says. When asked if there's a material they prefer to avoid, Sánchez names plastic. "It's very disposable," he explains.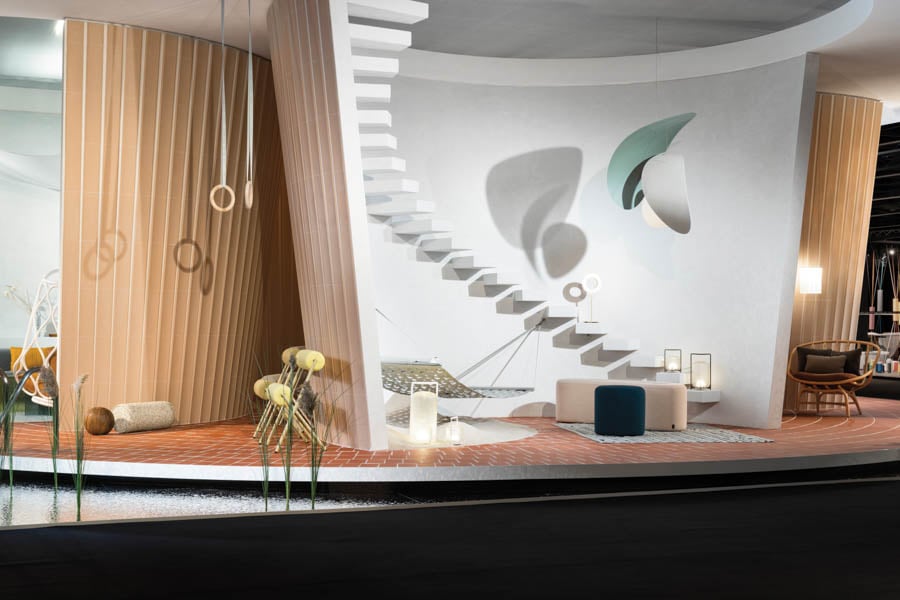 ---
If MUT's geometry needs to be summarized, it tends toward roundness—characterizing products such as Nudo, a brass or black lacquered metal hanging or wall-mounted system for Italian manufacturer Ex.t., as well as the powder-coated steel and upholstered foam Roll stackable chair for Sancal (a wink at fitness equipment with its distinctive rolled cushions).
While the studio expects to launch Tomo, a lamp for LZF lighting at Frankfurt trade show Light + Building, recently rescheduled for September, a slew of introductions are planned for the spring: The lightweight aluminum indoor-outdoor Grill chair for Diabla expands into a family, complete with sofa, barstool, side table, and dining table. A footrest joins the Armadillo armchair for Expormim, both in rattan. Expormim will also launch Petal, a stackable outdoor chair (the only spring product release that was not designed for Das Haus). A prototype bathtub carved from a single piece of marble was picked up by Antoniolupi, which enlisted the firm to create a bathroom collection. "We generally release two to three products a year, but thanks to Das Haus, we're presenting 11 in six months," Sánchez states.
All the buzz even landed the firm its first commission to design the interiors of a hotel—a boutique property in Malta with an opening date yet to be set. "Lately we've had a lot of dreams come true," Villalón reflects.
You may also enjoy "New Talent: Sara Zewde Explores How Narrative and Context Produce Landscape"
Would you like to comment on this article? Send your thoughts to: [email protected]