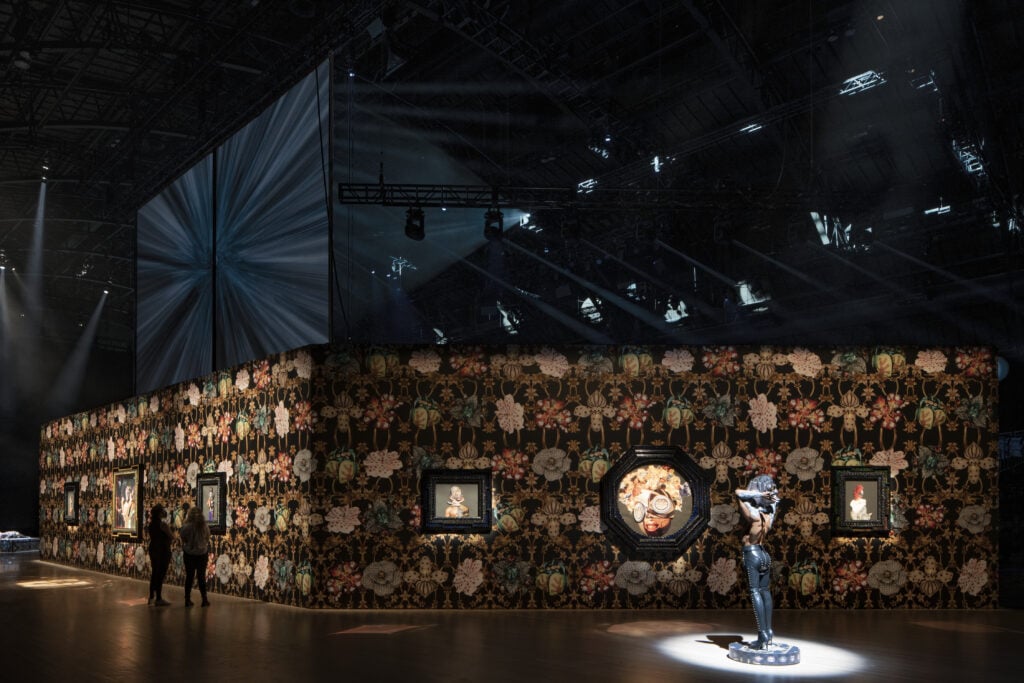 March 25, 2022
New Affiliates Design Exhibitions that Expand the Imagination
The nonstop museum and gallery shows haven't limited the designers from taking on residential projects. This February and March, they were filing drawings for a 14,000-square-foot renovation of artist's studios in East New York and bidding a new house in upstate New York while three exhibitions they collaborated on were happening simultaneously.
The most dramatic of these exhibitions started long before the pandemic put a damper on public events and is now on view through April 17 at The Shed. Tomás Saraceno's Particular Matter(s) reconfigured the Manhattan cultural center's McCourt Pavilion into a self-contained bubble where two stories of tensile strings suspend guests on a 95-foot-diameter spider web. As each group enters, the net bounces with each step. Docents motion visitors to sit down. Fog puffs, sound rises, lights dim, and the web beneath them begins to vibrate with shakers to form a radically contingent ecosystem from a spider's perspective.
In Particular Matter(s), Saraceno wanted to sensitize audiences to a particular view of our shared ecology with another species. Before entering the bubble and its tensile web, visitors go through a kind of sensory deprivation chamber dislocating them from a typical experience of the space. The show then propels one through a series of rooms that simulate the environmental responsiveness of a spider's natural habitat. Exhibits register the minute effects of sound, air, and light on floating strings.
New Affiliates did not engineer the bubble and floating web, but they worked closely with Saraceno and The Shed in the early concept phases to design the experience before and after, as guests prepare to enter the bubble and then pass through the exhibits. "All we want to do is produce the framework, the stage, and the context through which the work can speak," Kolb says. "For us, it's a challenge of taking the ideas and finding a spatial narrative or a story for them," adds Diamantopoulou.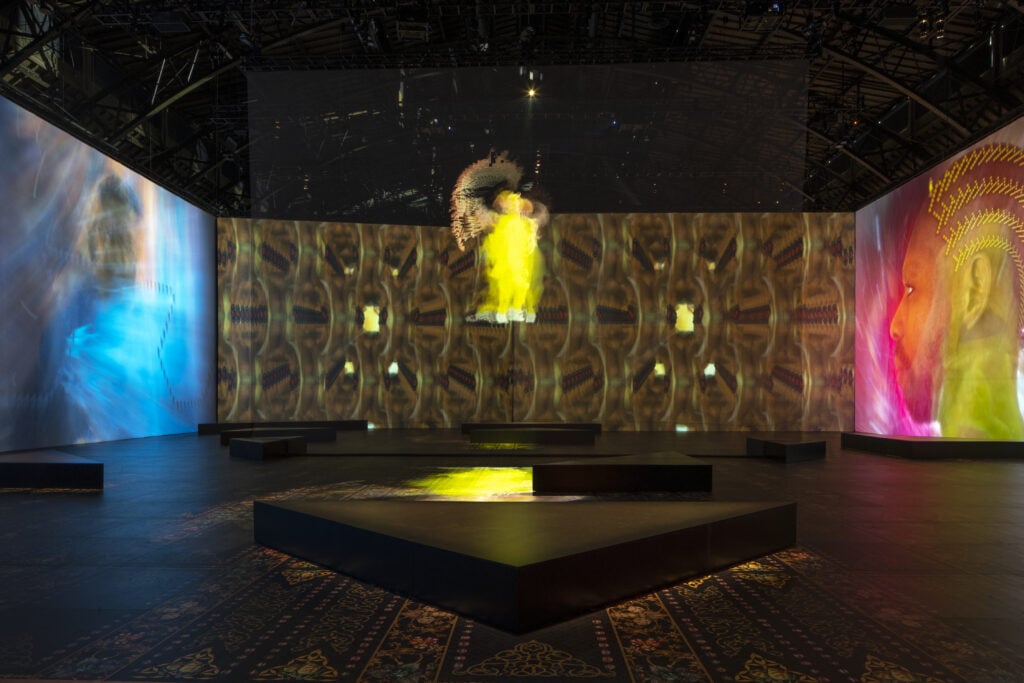 It turns out that Diamantopoulou and Kolb's intellectual interests and ecological ethics were both well-suited to exhibition work, and experiential design became a foundation of their office right from the beginning: Kolb had previously designed the 2016 Pierre Chareau show at the Jewish Museum as an architect with Diller Scofidio + Renfro, and Diamantopoulou oversaw exhibitions and residential projects for MOS Architects. "It gave us an interest in how exhibitions could function as story-telling devices," Kolb says. "In a way, it's the most direct way of performing phenomenology in design. You really have to embody a museum-goer. You don't draw exhibitions as axonometrics. You're not trying to revel in a formal project. It's really a completely experiential one."
Given that temporary installations cycle in and out of galleries and museums every three to six weeks, Diamantopoulou and Kolb aim to limit waste in all of their designs. For Rashaad Newsome's recent Park Avenue Armory exhibition, Assembly, they collaborated with the artist in conceiving a video screening and performance space to embody Black trans queer artificial intelligence. Instead of enclosing the screens and stage in closed, self-contained rooms, they gave the rooms definition with backdrops and translucent scrims hung from the ceiling while keeping the voluminous Armory hall open. Projectors aimed at the walls and scrims and a holographic screen at the center manifest the A.I. Being (The Digital Griot) while carving out a three-dimensional ulterior space within the existing structure.
As in so many of their collaborations, they started by deeply engaging with the artist's intentions and the story they wanted to communicate.
"What Rashaad is offering is a world that can exist on its own terms," says Jaffer. "The figures don't need to be seen in the context of a dominant power structure. They don't need to be considered as an 'other.' They can just 'be' and they can exist unto themselves. We can't claim to know what that experience is like to reproduce a power struggle that produces an aesthetic world, but we can say 'Actually what you're doing is beautiful and stands on its own terms and offers an aesthetic future that can disregard everything around it and just exist.'"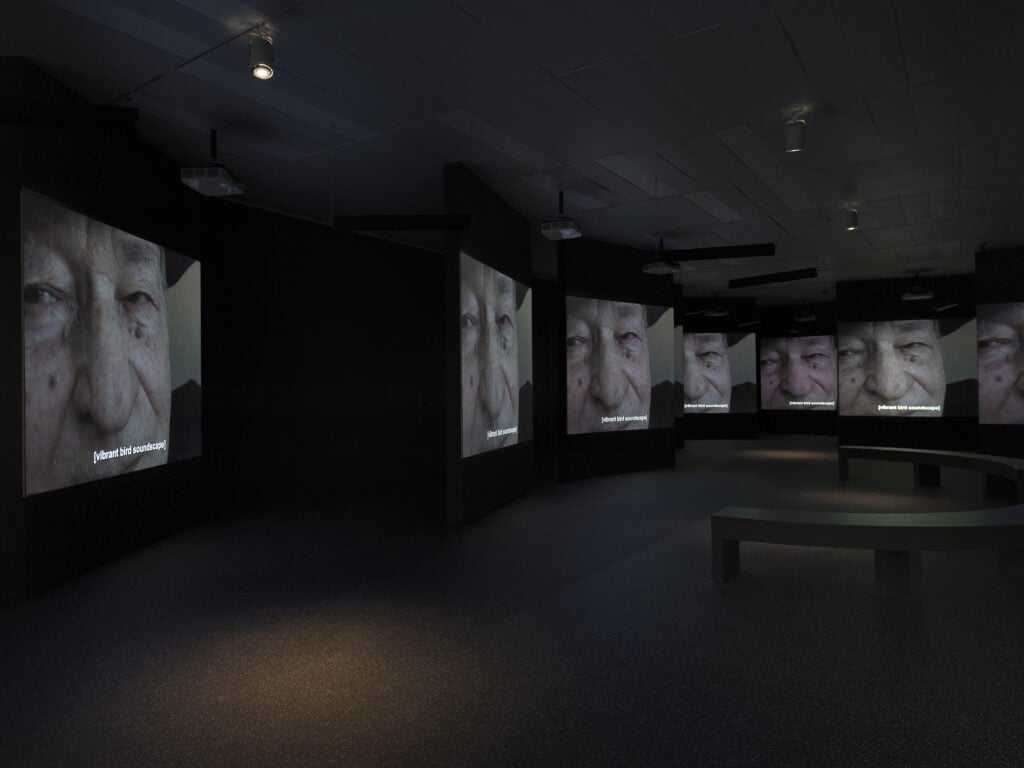 All of the materials for Assembly were re-usable except the patterned vinyl graphics covering the floors and risers. As New Affiliates discovered, Park Avenue Armory staff already aim to eliminate all waste from their productions: it's too hard and costly to dispose of. They point to their 2019 Leonard Cohen show at the Jewish Museum as another example: its materials were designed to be dismantled and reused at the end of the run. Likewise, for this year's Architectural League Beaux Arts Ball, they gathered drywall and other discarded materials from deinstalled exhibitions and used blocks of ice to connect the sculptural components of the installations.
"We really cared for making an installation that would leave no trace," says Diamantopoulou. "We went around and looked for leftovers from makers in the Navy Yard. We imagined that ice would become this new joint that would bring the leftovers together."
Meanwhile, a show of Lithuanian-native filmmaker Jonas Mekas opened in February at the Jewish Museum. On view through June 5, it presents a three-hour-long survey of Mekas's films in immersive rooms full of projections that pivot diagonally within the white-box galleries. Instead of showing the films as static single-screen projections in a seated theater, it displays them as "expanded cinema," edited down and projecting on several screens simultaneously. The show is reminiscent of late-1960s psychedelic light shows that Mekas set up with Andy Warhol, like the Exploding Plastic Inevitable, which used media to produce a multisensorial spatial experience. Yet The Camera Was Always Running grounds us in the everyday experience of a New York City lifetime across decades. Sometimes, it takes the old-school avant-garde to crystallize the impoverishment of media that corporate culture describes as immersive.
With a sudden return to social environments after many New Yorkers faced interminable days staring at execrable puny screens, the exhibitions designed by New Affiliates enliven the city, expand the imagination, and enlarge our worlds. We've been waiting for what seems like a lifetime.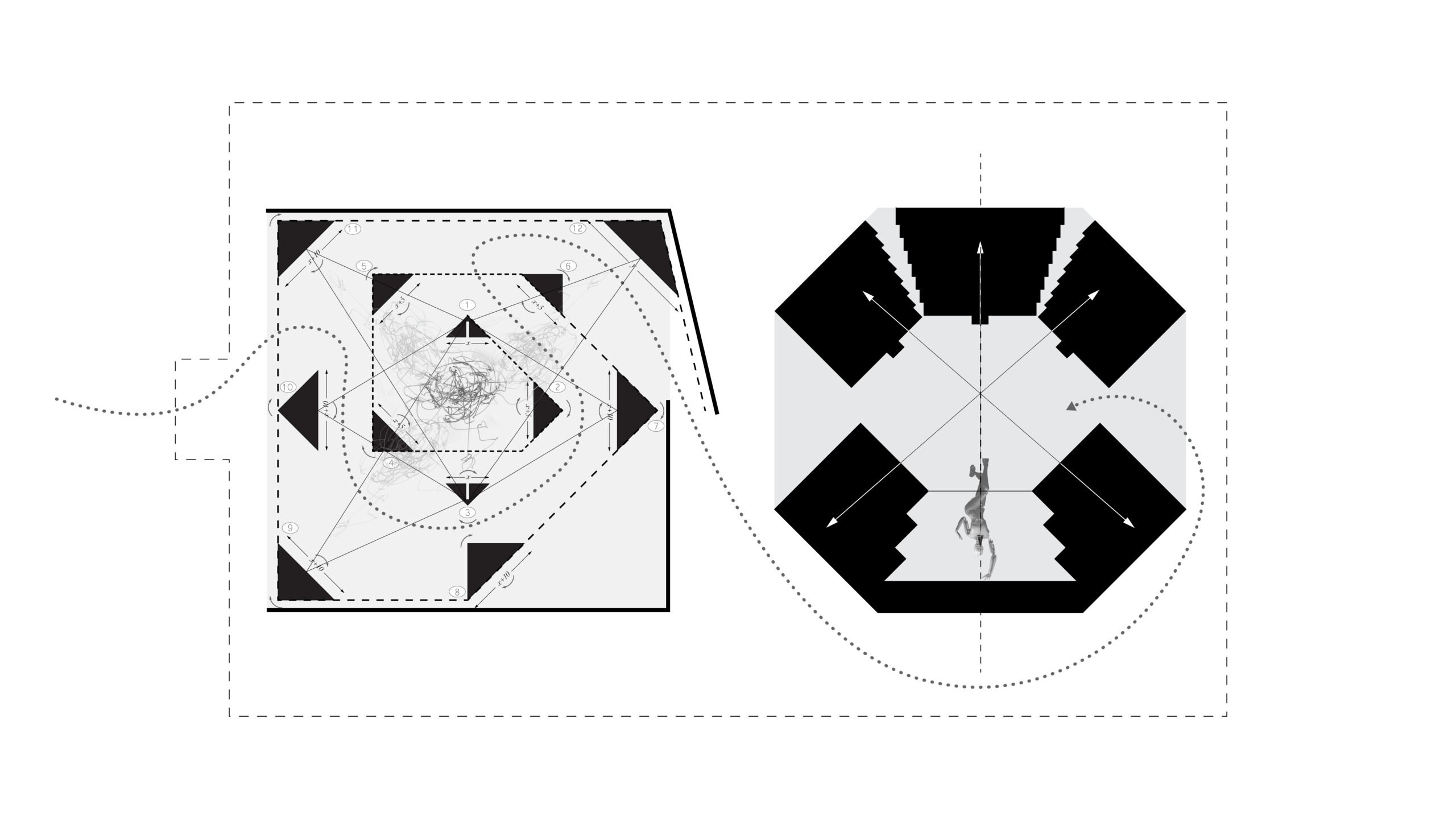 Would you like to comment on this article? Send your thoughts to: [email protected]