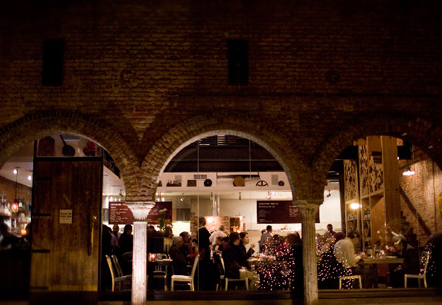 August 21, 2008
Billionaire's Farmhouse
Forget peak oil. What's peaking is the farm-to-table trend.
Scarpetta
There's a review of chef Scott Conant's new Italian restaurant in this week's New Yorker and what caught my eye—in addition to the $24 price tag for a plate of SPAGHETTI WITH TOMATO SAUCE—was the description of the interior: "Conant has now relocated, jettisoning the stuffy drapes-and-sconce trappings of his previous restaurants for Scarpetta, a streamlined space on the border of the meatpacking district. Think billionaire's farmhouse: high rafters; a peaked, retractable roof; mirrors tilting from the walls, strapped in place with giant leather belts."
If I had to pick one interior trend that I see peaking (and quickly) it's the restaurant-cum-rustic farmhouse.
In the last few months, I've been in several farm-to-table bistros across the country. There's my local spot, Woodberry Kitchen in Baltimore, which is fitted snugly into the skeleton of an old mill. There's Flatbush Farm in Brooklyn's Prospect Heights, described as a "haute barnyard restaurant with rural connections and rustic promise." There's Clyde Common, the restaurant located in Portland's Ace Hotel, with its decorative Mason jars of produce gleaming from clean, white shelves.
I have to admit a love for the cuisine, the connection to local ingredients, the attention to seasonality. I enjoy the backlash to American Frankenfood and a return to what the French lovingly term terroir. I also enjoy the rustic-inspired yet cleanly modern interiors. But I think I've hit overload. It's starting to feel formulaic, like one big variation on a theme(park). Each place has a similar aesthetic: stripped-down elements set against a backdrop of exposed beams and knotty woods; chandeliers of denuded lightbulbs exposing their spindly innards; the long community table, often accompanied by the story of how it was fashioned from the sustainably reclaimed floorboards of an actual farmhouse. There are the menus with the requisite mission statements about using only the freshest ingredients from local vendors, embracing the tenets of Slow Food, and returning to a time of honest purity. The fonts are often inked in letterpress; the graphics usually include animals or farm equipment. Suddenly our menus are footnoted with food sources and littered with adjectives assuring us of the timeliness of our fare (August Tomato Salad with Local, Artisanal Goat Cheese). It's all so very earnest and if you don't believe me, just click on this article about the Slow Food Movement and read the comments from readers.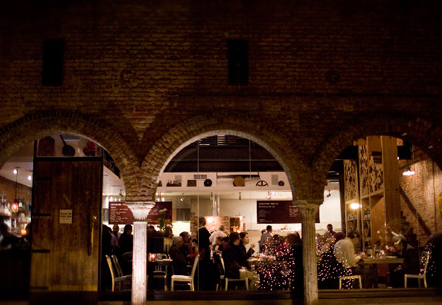 Above and below: The exterior and interior of Woodberry Kitchen in Baltimore. Photos from their Web site.
Above: Letterpress logo
Below: A screen grab of Clyde Commons' homepage
Above: A screen grab of the Flatbush Farm Web site. They describe their interior this way: "The spacious Farm interior holds yarns of rustic dining space and is adorned in unique and well-crafted furniture and artworks from mid-century (19th!) modern movements. A gorgeous outdoor patio features tables outfitted with individual wood-burning ovens."
The other commonality is the price of all this rural purity. Expensive—Exorbitant. This food and aesthetic trend highlights what I find so fascinating about American culture: our ability to hold two completely contradictory ideas at once. Other than a supper at Blue Hill at Stone Barns (arguably the genesis of this trend, the place where the table comes to the barn, not the other way around) show me a "haute barnyard." Show me the billionaire farmer. And show me the guy in Iowa who can pay $24 for a plate of spaghetti after the corn crop this season.
So what is it that we ache for? What is this desire for the "rural connection" this "rustic promise" served up in the city center? We want the best of both worlds. We want the clamor and din of the city mixed with the perceived peace and authenticity of the farm. On a commute up to New York this summer I saw an ad in Amtrak's magazine that summed it up nicely. It was a tourism plug for Ontario, and it showed a happy couple engaged in gleaming urban activity and sharing colorful meals of fresh produce. The tagline: "Ontario: Urban, yet Unspoiled."
The spirit of slow food, the goal of eating and buying local is, of course, an admirable ambition. But $24 spaghetti? That is decidedly urban and spoiled.