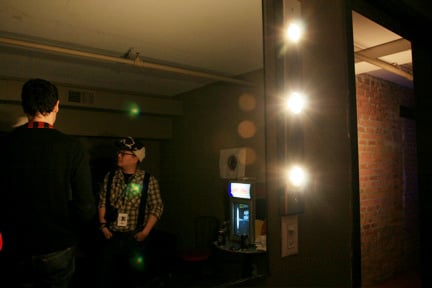 February 21, 2008
Duel Diagnosis
It wasn't exactly the Rumble in the Jungle, but a recent architectural duel in Williamsburg certainly offered a lesson in contrasts. Sponsored by LVHRD, the annual event pits two pairs of young architects against each other in a timed model-building competition. In one corner: FXFowle, weighing in with a staff of 122, a satellite office […]
It wasn't exactly the Rumble in the Jungle, but a recent architectural duel in Williamsburg certainly offered a lesson in contrasts. Sponsored by LVHRD, the annual event pits two pairs of young architects against each other in a timed model-building competition. In one corner: FXFowle, weighing in with a staff of 122, a satellite office in Dubai, and a résumé featuring the New York Times Building. In the other: Konyk, a five-person studio based in Dumbo, designers of a Greenpoint artists' colony and a mile-high tower for Governor's Island (unbuilt, if you have to ask). This year, the teams were being asked to refashion the Alaskan oil pipeline (represented by straws) into a structure hospitable to humans and caribou in an imagined 2029 post-petroleum world.
Backstage about an hour before the crowd of 400 twentysomethings began trickling in, FXFowle's Paul Kim—at 35, the elder statesman of the competition—weighed the relative advantages of the two teams. "I think it's fairly even," he said. "They've come out of academia, and they're more familiar with a design challenge of this nature, but then we have actual, maybe more practical, experience." He and his teammate, James Adams, 27, wore matching outfits: ski goggles, plaid cowboy shirts, suspenders, blue jeans, and winter caps with wooly ear flaps. They were taking no chances. "We've packed the house with colleagues," Kim said. "We loaded the deck."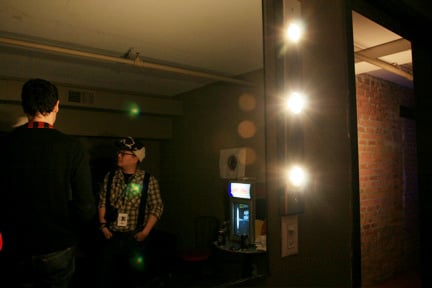 In the next room, the representatives of Konyk sounded like they were having second thoughts. "We didn't know what it was when we agreed to it," said Sean Bailey, a 26-year-old Toronto native with a straw-colored mustache. "It was just like, 'Do you want to do this?' And we were like, 'OK.'"
"It sounds fun, I think," David Iseri, 24, added. "The act of creating—you don't see it that often, especially in architecture, unless you work in it." There had been little planning. "We didn't consider caribou," he said. "We did consider other animals."
"Polar bears," Bailey said, "we gave a lot of thought to." (The two were wearing matching handmade T-shirts that, side by side, formed the image of a polar bear.)
"But caribou?" Iseri said. "I don't know if that's totally a different thing. They need to graze. They need grasslands. And they need no predators to kill them. And they need shelter."
Did they think they could address those problems on the fly, in front of an audience—with straws? "Of course," Bailey said, sounding confident. "We're miracle workers in a sense."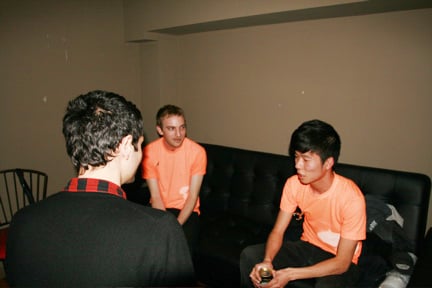 The competition was in three parts: 30 minutes of drawing, 90 minutes of model-building, and then voting. The architects were separated by a buffalo-plaid fabric divider. At the end of the first stage, Konyk had sketched a building that looked like a Space Needle impaling the Pentagon, while FXFowle ended up with obscure black and red squiggles, like a hyperactive Telestrator. Following an intermission, it was time to build the models. Each team had an artificial-grass-topped table that served as terrain. The tools: a green Alvin cutting mat, X-Acto knives, boxes of red-and-white straws, a roll of duct tape, sketching paper, two pairs of scissors, Sharpies, Scotch tape, a long ruler, zip ties, glue sticks, and a glue gun. FXFowle also had a bag of (contraband?) Swedish Fish.
Kim and Adams meticulously bundled straws and inserted them into their table in curved rows. They bent more straws into triangles to form an arch and hoisted it onto the columns. On the other side of the curtain, Konyk unexpectedly set to destroying the landscape, digging out chunks of blue foam with X-Acto knives and scissors. A great cheer went up around them. Iseri cut the foam into thick wedges and stacked those into a trapezoidal blue-frosted cake. Not everyone was taken with Konyk's handiwork. "Those scissors would be one hundred feet tall," a man in a striped scarf complained to his friends. "They don't make those scissors. You'd have to suspend a little bit of disbelief." Another bystander was looking on in dismay: "I'm a landscape architect. That makes me puke." One FXFowle partisan declared it a battle of "superstructure versus sandwich."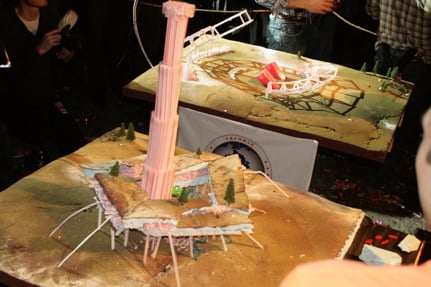 (click images to see larger versions)
After the teams finished, the architects took the microphone to talk about their buildings. "Our main strategy behind this was to save the cute polar bears," Bailey announced. Adams, meanwhile, declared his team's design—from above, the structures formed a smiley face—to be an homage to the Happy Corp., the parent organization of the evening's sponsor. Perhaps rejecting the pandering, the audience handed Konyk a lopsided victory: 449 to 267.
Reached via e-mail a week later, after online voting had narrowed the margin but maintained the verdict, Bailey tried to explain Konyk's win. "We brought some theatrics to the building of our model—ripping up the terrain, sawing at it with scissors." He was surprised that some designers had taken offense. "I would expect landscape architects to be appreciative of our efforts to improve the surroundings," he wrote, adding, "The audience was generally quite boisterous, but this is not surprising given the amount of Dewar's circulating the room."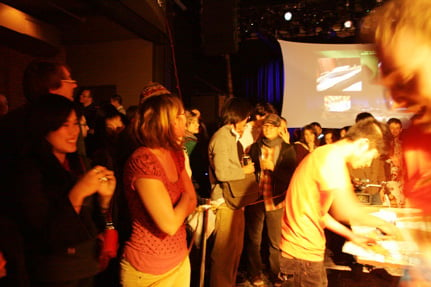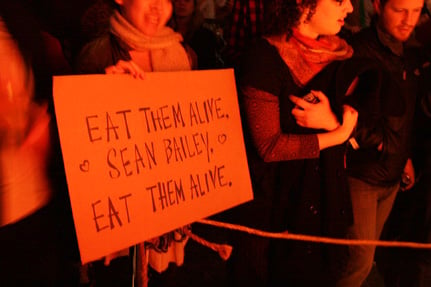 (Photography: Dungjai Pungauthaikan)