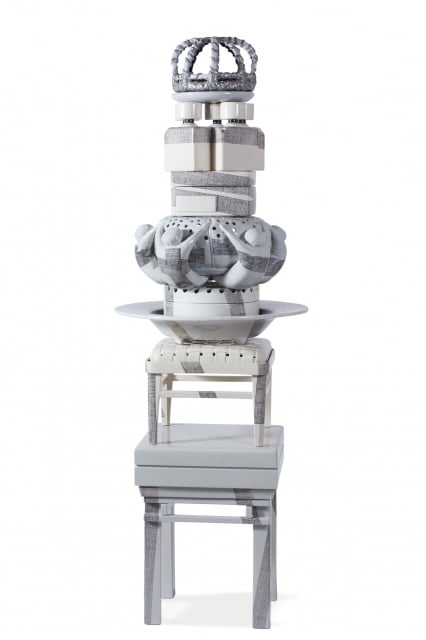 May 7, 2008
Going Dutch
Four designers reinterpret a traditional Dutch vase.
When flowers such as tulips and crocuses made their way to Europe in the 17th century, they became the luxury item of the wealthy par excellence. The short life span of cut flowers attested to the transience of wealth and it was during the mid-century height of "tulip madness" that the Dutch flower pyramid came into being. The layered ceramic vessel included a spout for each flower, showcasing both the blooms and the owner's wealth, with some containers reaching more than two meters in height.
Equally as old as the flower pyramid is the Dutch ceramic company, Royal Tichelaar Makkum. Originally a brickyard in the 16th century, the company transitioned to domestic pottery one century later. At present, it is the oldest and only Dutch factory to focus exclusively on handmade ceramics and over the years their projects have expanded to include architecture, design, restoration, and public art.
When the Rijksmuseum in Amsterdam asked Royal Tichelaar Makkum to restore its collection of 17th century flower pyramids, it inspired the company to commission four contemporary Dutch designers to reinterpret the traditional object. The company saw it as an opportunity to illustrate that in the 21st century, craftsmanship is the new luxury. "In the old days, what was scarce was automatic luxury," explains Willemijn Tichelaar, the company's communications director (her husband, Jan, is the managing director). "With this project we want to show that in the western world, craftsmanship is very scarce. These contemporary showpieces could be seen as tomorrow's heritage."
Designers Alexander van Slobbe, Hella Jongerius, Studio Job, and Jurgen Bey, all worked off a replica made by Royal Tichelaar using the Faience technique, a traditional Persian method of pigmenting and glazing the clay (Royal Tichelaar digs its own Frysian sea clay). Each stayed true to the pyramid form, but the similarities end there. Their four flower pyramids, as well as the Royal Tichelaar Makkum replica, were on display at the Milan Furniture Fair earlier this month. Next week they move to Murray Moss' New York gallery in time for the ICFF.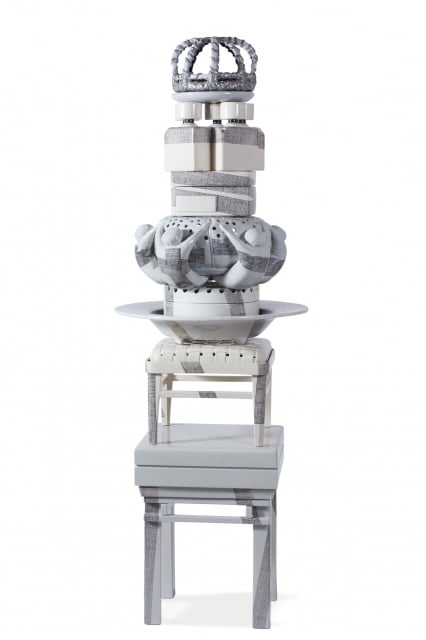 Alexander van Slobbe (first from the left)
"My vase is not primarily intended to carry that 17th-century symbol of affluence, a tulip; rather it is the carrier of an idea; an outrageously luxurious wrapping of an idea called fashion."
Hella Jongerius (second from the left)
Jongerius' vessel pays homage to the traditional pyramid form by using historical, accurately painted motifs in blue shading. The designer updates the structure by creating straps that allow it to become a mobile object that can both stand and hang on the wall.
Studio Job (third from the left)
"It appealed to us that the old pyramids had all been shaped from different modules and were entirely hand painted with hectic, bizarre, and sometimes seemingly clueless stories. We made lots of drawings of towers and piles and ended up with this composition, which seems to be anything but a vase. The whole process was reminiscent of hopeless classes in physics or even a weird form of alchemy. As if the object pretends to be something it isn't."
Jurgen Bey (far right)
"Buckets used to be made from wood, leather, or metal: today plastic reins their world. The flower tower is an ode to the collector, in whose hoard of curiosities the ceramic vase has evolved to become the plastic bucket's equivalent. Vulnerable and valuable, made in clay, the flower tower discloses tiny worlds of culture and knowledge, hand painted, shuffled in always changing idioms. Together they sing the praises of daily life's beauty."