May 3, 2012
Michael Kimmelman: Not-so-newbie
Kimmelman in Berlin Michael Kimmelman seems to have entered his new post as the architectural critic at The New York Times with the same wonderment-flecked eyes you can spot on first-year students climbing Rudolph Hall's steps each fall. As a musician, trained art historian, and cultural journalist embarking on an architectural education, his position is […]
Michael Kimmelman seems to have entered his new post as the architectural critic at The New York Times with the same wonderment-flecked eyes you can spot on first-year students climbing Rudolph Hall's steps each fall. As a musician, trained art historian, and cultural journalist embarking on an architectural education, his position is not so far removed from the mixed bag of students he addressed at the Yale School of Architecture recently. (He was speaking to the first professional degree students from backgrounds as diverse as biochemistry and anthropology.) Like the students whose very diversity is that which makes them valuable contributors to collegiate conversation, Kimmelman will have to hold on to his unique position even as he navigates a new field. And like the critic confesses, perhaps students should "hope to ask some stupid questions."
When Kimmelman gave up Hirst for Zumthor last summer, the uproar in architectural circles whirled about his status as an outsider. But this is not the first time that a non-architect has taken on the task of writing about the built environment for a greater public. Take, for example, Lewis Mumford, the sociologist-turned-critic, whose writings on urban life shaped the public perception of architecture for a large part of the 20th century. And Alain de Botton, a student of history and philosophy, struggled with the difficulties of expressing the value of beauty in architecture to a vast audience through his best-selling book, The Architecture of Happiness. More recently, Bill Bryson's book, Home, takes the humorous and anecdotal narrative, characteristic of his travel writing, to a survey of the architecture of the everyday.
Not only have non-architects successfully written about the discipline in the past, architecture itself has looked to extra-disciplinary authors for insight at pivotal moments in its history. Gaston Bachelard, whose primary inquiries focused on the philosophy of science and poetics, shaped the appropriation of phenomenology in architectural practice; his work linking literature and architecture, The Poetics of Space, continues to appear on reading lists in architectural core curricula across the country. The post-structuralist writings of Barthes and Derrida, the Deleuzian 'fold,' the Foucaultian gaze, all underscore the projects of late-20th century figureheads like Peter Eisenman and Bernard Tschumi. As architecture turned its sights on sustainability and ecology in the early 2000s, it absorbed Janine Benyus's texts on biomimicry and human systems design. Increasingly, critiques of political and economic systems have become part of architecture, as seen in Keller Easterling's writings on "ExtraStateCraft." In this context, Kimmelman's interest in social issues and public space-making are emblematic of the contemporary trend towards public-interest and socially-motivated work touted by Bryan Bell and company. As a critic for a wide-reaching publication, Kimmelman has the potential to shape architecture from both within and without its walls.
Via Verde (South Bronx project, Kimmelman's first article)
In a recent article, "Why Don't We Read About Architecture?" Allison Arieff proposes that the jargon-infused writings produced by architects are the deterrent to a global conversation on the merits of carefully shaping the built environment. She supports Alexandra Lange's demand for more architectural critics concerned with conveying the greater impact of the built environment with clarity. Like Lange, Kimmelman cites Ada Louise Huxtable as a major influence. It comes as no surprise, then, that his articles take architecture as a starting point to dive into a wider range of issues. Commenting on the inevitability of this trajectory in his work, Kimmelman said, "The dichotomy of writing about social issues and architectural objects as art is one, I find bizarre. They should be discussed together. Their intersection is that which makes architecture so unique."
The non-architect architectural critic, while under pressure to defend the discipline, is not obliged to do so. When no longer writing to laud the glory of the architect, the critic is free to study the relationship between architecture and context (site, economics, politics, culture) on its own terms. This liberation and the subsequent joyful examination of social-not-formal architecture peppered Kimmelman's talk as he took the audience on a tour of projects from the South Bronx to Madrid.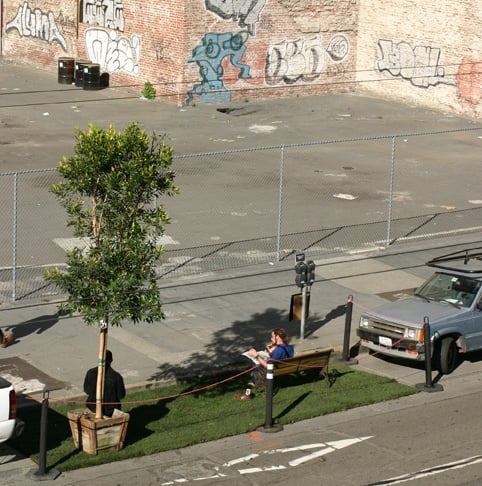 He touched on the power of asking simple questions, like the re-thinking of a parking lot on PARK(ing) Day, and the need for sustained support on public projects, citing Bogota's failing bus rapid transit system. Woven into each portrayal was a persistent hopefulness that the works discussed would serve as case studies for ways in which architecture must more seriously concern itself with greater social issues and a greater public. Not only is this a more democratic dialogue made accessible to a wider audience by its very subject matter, it offers an opportunity for architects to be become acutely aware of the multi-scalar repercussions of their interventions.
If the old guard would not be so quick to mistake Kimmelman's enthusiasm for naivete, it's clear that the presence of these newcomers and their seemingly simpleton questions have always been the rock in the stream, slowly reshaping the flows of architectural discourse.
Amrita Raja is a Masters of Architecture student at Yale. She graduated summa cum laude from Virginia Polytechnic Institute and State University in 2009, with degrees in Interior Design and French. At Virginia Tech, she was awarded the Phi Kappa Phi Medallion and the College of Architecture and Urban Studies Outstanding Senior Prize. Amrita has written for The Roanoke Times and The Washington Post and runs independent blogs on food and design.