May 4, 2012
New Infrastructure to Evaluate Infrastructure
Sustainability ratings systems are all the rage, with hundreds of versions out there addressing various aspects of building practices, industry standards, and beyond. But is this diffusion of good intentions really the most efficient way to "green" our world? Two prominent creators of sustainable infrastructure rating systems have recently joined forces to capitalize on their […]
Sustainability ratings systems are all the rage, with hundreds of versions out there addressing various aspects of building practices, industry standards, and beyond. But is this diffusion of good intentions really the most efficient way to "green" our world?
Two prominent creators of sustainable infrastructure rating systems have recently joined forces to capitalize on their joint expertise, avoid redundancy, and hopefully develop the most comprehensive sustainable infrastructure rating system available.
The Institute for Sustainable Infrastructure (ISI), based in Washington, D.C., and the Zofnass Program for Sustainable Infrastructure, at Harvard University's Graduate School of Design in Cambridge, launched the Envision™ Sustainable Infrastructure Rating System on April 3rd in D.C.. The new system's goal is to create a holistic framework focusing on five key rating areas: Quality of Life, Resource Allocation, Natural World, Climate and Risk, and Leadership.
The rating system is intended to be used by policymakers, regulators, community groups, design teams, infrastructure owners, builders and all stakeholders involved in the conception or construction of infrastructure projects.
The objective of the rating system is simple but valuable: help communities and infrastructure owners meet sustainability goals, make informed decisions about scarce resources, and receive third-party verification and public recognition for their efforts. So far the system has been applied to projects ranging from water main repairs to public transit extensions.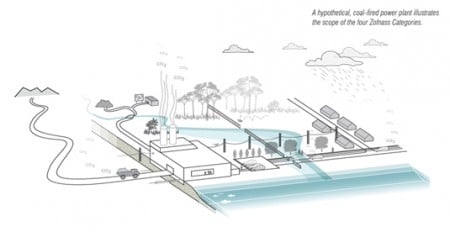 The rating system materials are available online with the creation of a free account and acknowledgement of Zofnass and ISI's intellectual property rights. However, there are fees associated with obtaining official Envision™ verification for a project and with credentialing individuals to apply the rating system (both are significantly less than equivalent LEED fees).
Though the partnership is young, Envision™ has already credentialed its first group of Sustainability Professionals, trained to evaluate infrastructure projects using the new rating system. If you're interested in learning more about Envision™ or sustainable infrastructure in general, check out the Zofnass Program website to learn how to get your project rated and verified, download the manual, or sign up for one of the program's conferences in Cambridge.
Holly Masek is a 2013 Master in Urban Planning Candidate at the Harvard University Graduate School of Design.