October 4, 2011
Notes from the CUSP Conference
"We all come here with a truckload of fears," shouts Mike Ivers, president of capacity-building organization Goodcity. He's riling up the crowd for the fourth annual CUSP—a "conference about the design of everything"—created by design firm Smbolic. And he's wearing a blindfold. Ivers, a former priest who knows how to raise a roof, shares the […]
"We all come here with a truckload of fears," shouts Mike Ivers, president of capacity-building organization Goodcity. He's riling up the crowd for the fourth annual CUSP—a "conference about the design of everything"—created by design firm Smbolic.
And he's wearing a blindfold. Ivers, a former priest who knows how to raise a roof, shares the stage with a group of young people. Representing his fears, they lead him around, as fears are wont to do, and spin him in discombobulating circles. "Get dizzy at CUSP!" he hollers.
His point? Fear is a constant. Learn to use it.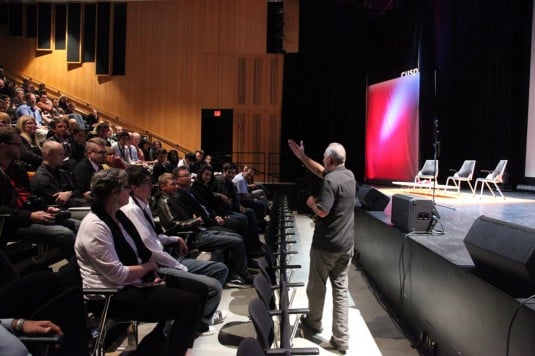 Attendees do have things to fear today. There are the forthcoming breaks, for instance, during which they'll have to mingle. There's failure. And success. And then there's this: In any gathering about social innovation, there's a chance that all the enthusiasm could snowball into that brand of unchallenged, "designers talking to designers" groupthink about The Power of Design.
But that doesn't happen. Instead, the multidisciplinary speakers—many of whom aren't traditional "designers"—stand before the audience and lay down the truth, in all its glorious nuances and complexity.
As in past years, the two-day event is a binge-worthy cocktail of design optimism. Presenters unearth high-impact possibilities in everything from citizen science to architecture, poetry to gaming and a teddy bear named Jerry. Created by students of the design education initiative Design for America, Jerry helps children manage their diabetes.
Some presenters—like inventor Van Phillips—plain old blow attendees' hair back. After losing his foot in an accident, Phillips devoted his life to designing the Flex-Foot, a prosthetic that allows amputees not just to walk comfortably but to compete in the Paralympics.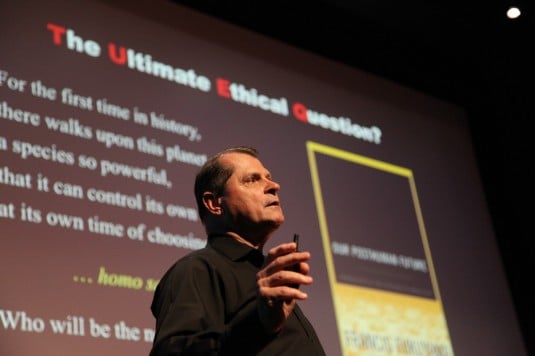 Richard Satava, professor of surgery, University of Washington, presents a future in which we could grow our own replacement organs—and wonders if we should—while fuseproject's Yves Béhar adds a halo of celebrity.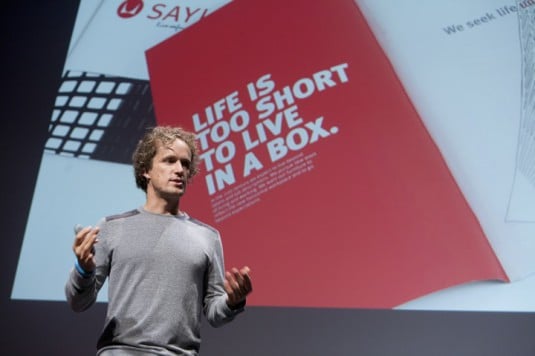 But what makes all the exuberance count is that it coexists with honest assessments of what it really takes to create change—and what still needs to happen.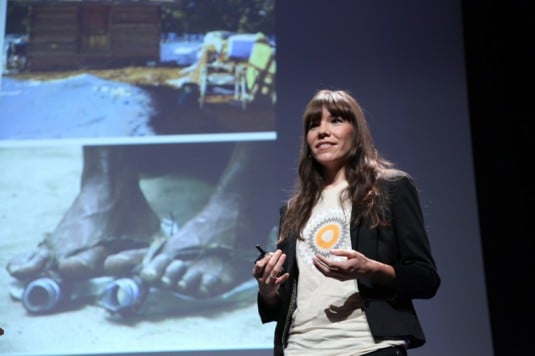 During her presentation, Heather Fleming, founder/CEO of social impact firm Catapult Design, dares challenge the perception that social sector design is necessarily always more rewarding. Don't get her wrong. She loves her work. But she's faced some challenging lessons: Funding is an exercise in pulling teeth, for instance. And many of the changes she's working toward won't take hold for generations.
Bravely mingling during a break, attendees say it's exactly what designers and social innovators need to hear.
Later, Sarah Elizabeth Ippel, founder/executive director, Academy for Global Citizenship, a Chicago public charter school with a primarily low-income student population, continues keeping it real. She could easily throw up stats on her students' extraordinary academic gains and call it a conference.
Instead, she speaks about students she doesn't have capacity to serve. Framing their lack of access to quality education as nothing short of a civil rights violation, Ippel implores the crowd to take action: "We all live in this nightmare together," she says.
Warm-fuzzy stats would be more comfortable. But Ippel must figure this crowd can handle the truth. And if by chance the truth gets scary, attendees can always refer back to the blindfolded man who opened CUSP by shouting: "Fear is not a one-time event! It's a process! And it can motivate us!"
Tiffany Meyers is a journalist who covers advertising, design, business, and culture. You can read her features in Communication Arts, AdAge, HOW, Entrepreneur, Metropolis, Hemispheres, The Chicago Tribune, Canada's Globe & Mail and the business magazine PINK. Meyers also develops content for clients across industries, from fashion to tech. In addition to writing, she serves as board president of the nonprofit EPIC, which gives creative professionals the chance to use their talents to make social change happen.
Photography by Audra Melton