March 25, 2010
Nouvel's Desert Rose
The Qatar Musuems Authority's insanely ambitious plans for Doha's cultural infrastructure crept a little closer toward reality yesterday with the unveiling of Jean Nouvel's design for the National Museum of Qatar. Based on the preliminary models, the new complex is going to look nothing like I.M. Pei's understated Museum of Islamic Art, which opened there […]
The Qatar Musuems Authority's insanely ambitious plans for Doha's cultural infrastructure crept a little closer toward reality yesterday with the unveiling of Jean Nouvel's design for the National Museum of Qatar. Based on the preliminary models, the new complex is going to look nothing like I.M. Pei's understated Museum of Islamic Art, which opened there in late 2008. Nouvel has proposed a low-lying pile of tilted, interconnected disks, which form a ring of pavilions around a central courtyard. This arrangement is supposed to suggest a caravanserai, the region's traditional enclosed roadside inn; the image of undulating, windswept dunes; and the flat crystal "petals" of a desert rose. (So far, Internet commenters have also compared the design to a UFO graveyard and a messy kitchen.)
According to a press release, the discs will be made of "steel truss structures assembled in a hub-and-spoke arrangement," and then clad in glass-fiber-reinforced concrete panels. The gaps between the discs will be glass.
The new museum will be built around the Fariq Al Salatah Palace (center), which had served as a museum of heritage since 1975.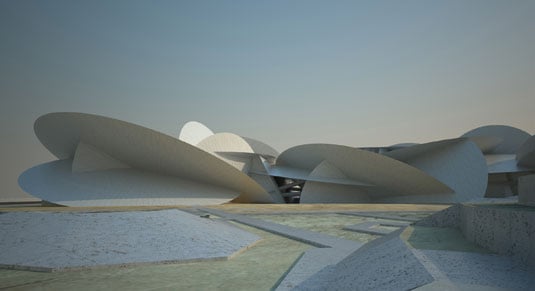 Inside the museum, entire walls will serve as cinematic displays and "sonorous cocoons" will play oral-history presentations. Hand-held mobile devices will guide visitors through the collection, which is focused on the history of the Qatari people.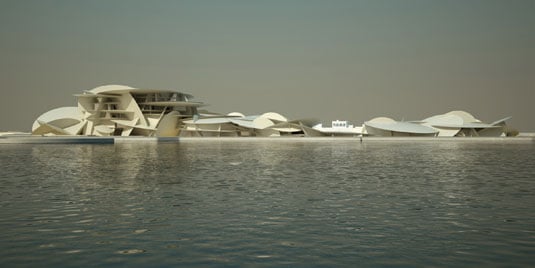 "Everything in this museum works to make the visitor feel the desert and the sea," Nouvel wrote in a statement.
All images by Artefactory, © Ateliers Jean Nouvel