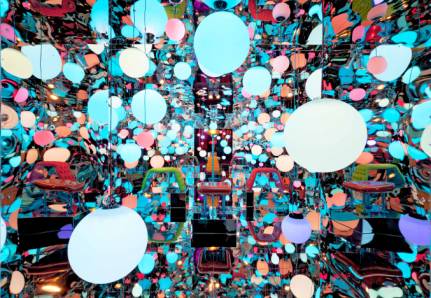 August 10, 2012
Q&A: Christopher Jenner
Successful, groundbreaking design is more than a mere sum of different parts. It is a synergy of inspiration, fierce dedication, vision, and hard work. Christopher Jenner, head of the multidisciplinary design studio that epitomizes these qualities. We asked him to tell us what drives his process, and discovered that for him, successful design includes a […]
Successful, groundbreaking design is more than a mere sum of different parts. It is a synergy of inspiration, fierce dedication, vision, and hard work. Christopher Jenner, head of the multidisciplinary design studio that epitomizes these qualities. We asked him to tell us what drives his process, and discovered that for him, successful design includes a methodical and in-depth analysis of his clients needs, a philosophical approach to the role of design, the nature of fabrication, and even Buddhist practice.
Sherin Wing: You've just launched a new furniture collection. What were the inspirations and was this always a part of your design vision?
Christopher Janner: Absolutely, I'm a bit of a style fascist so the idea of designing and making collections which clients could purchase and use to style their own homes was extremely appealing. The ability to help define the ways people appreciate materials, form, structure, craftsmanship, and technology (key themes in our work) is super attractive. I'm very intrigued by this concept of good and bad taste, how does one define it and what are the parameters whereby one decides if something is good or bad, is it about style or taste? It's very easy to have good taste, it's dictated to us all the time but style is something else, it's an ability to create with what you have – similar to making a great meal with what's left in the fridge.
L'Artisan Parfumeur, Paris, image courtesy Christopher Jenner
I presented the Swell collection at the worst possible time in global economic history – I was conscious of this from the start, this financial crisis has been going on for years. I took all the capital I had, and put my reputations on the line. I'm a risk taker and I passionately believe that by taking calculated risks and pushing yourself to the limit it is possible to achieve extraordinary things.
SW: You say the line contains elements of childhood playfulness combined with design features that hearken English motifs. And then there are the decidedly futuristic themes. How do these elements combine to creative a comprehensive narrative?
CJ: Complexity lies at the heart of my work, I approach the creative process as a would be impressionist, particularly the pointillist style which develops a story through layered color, texture, and shape which, when viewed from a distance, allows the eye to build a visual out of the faceted elements.
Swell started out as a commentary on the current global mood, if I was going to present a collection in Milan at probably the worst time in global economic history, I needed to ensure that it was an emotional experience; we needed to change the way viewers felt while in the experience, if only for a moment.
To accomplish this I maximized the use of color and light. I associate color with childhood, that moment in life filled with potential, where possibility is an endless, landscape, a potential counter to the prevailing spirit. The color palate is a combination of complementary colors, each chosen for the response it solicits from the mind – joy, happiness, and excitement. Further childhood is represented in the naive toy like structures, ergonomic curved, round, sensuous, and organic: instantly responsive uncomplicated shapes.
As a counter weight to the undemanding nature of the inspiration, the manufacturing and crafting processes needed to be incredibly challenging. Craft is the current which underlies and grounds all my work, true Luxury is defined as a union of creative expression alongside handcraft skill, to achieve this we pushed our craftsman further than they had initially expected, hence the wonderful ergonomic buttoning we achieved with the Swell collection, the robotic perfecting of 5 axis milling and the toy like nature of the table tops and the turned lathing of the lights.
Interestingly the result of the inspiration and the technological processing lead to a very 'futuristic' looking collection, but it's only 'futuristic' in that we associate these shapes and forms with what has been portrayed in the media, when actually there is nothing futuristic about them: they are in the here and the now and their appearance is based on exactly the same set of rules (values, craftsmanship) from which the current pedestrian and predictable trends in furniture emanate. It is interesting to note that Stylus, the global trend organization, has subsequently used the Swell collection as an example of the color and form trend for 2013 and 2014.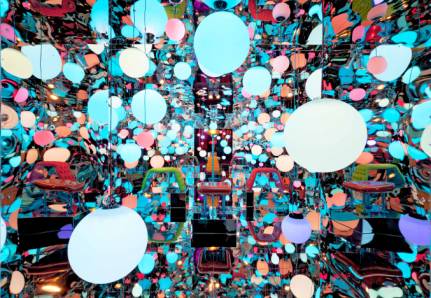 Looking Glass House, Salone del Mobile 2012, image courtesy Christopher Jenner
SW: What were you trying to say with this collection as well as its launch at the Salone del Mobile 2012?
CJ: The single communication value is 'happiness'—I want to solicit a smile.
To the public and the 'Industry' we want to challenge the notion of good and bad, right and wrong. To encourage people to make decisions based purely on how they felt away form past references to good taste hence the dislocation of the Looking Glass House.
SW: You mention that you practice Buddhism—how did you come to it?
CJ: I always knew it was for me, I can't say I found it early either but I knew it was the way. I like that fact you have to work to get it, no one is going to come and make it a happy world, it really has to start with us.
I had been studying design for years and had various experiences in design prior to my first experience of Buddhism. I imagine the process and result of meditation has left an indelible mark on my way of doing things.
SW: So how does your Buddhist practice influence your design process?
CJ: Absolutely, I think its biggest effect is the ambition it lends to a project, tirelessly working for the best solution to the problem. Making sure the way our interiors fit together seamlessly like Legos and the finish is perfect. And always a big dose of reality magic and humor.
I'm also a fanatical list maker which is very much how the mind works while it is agitated, but at the same time I'm obsessed with hard work and order. In meditation discipline is the essential key to liberation, in a small way I hope it may be my key to success as well.
Penhaligon's Singapore Flagship, image courtesy Christopher Jenner
SW: Finally, what is the role of design within a larger social context and how do you think it should be advanced?
CJ: People say design is essential to life but it's not, the essentials to life are bread and water. Design's role is to make life better, better in an endless array of ways from helping the aged to creating a greener world.
In my particular field of product and interior design the role is very much focused on emotional values whether someone is buying a brand product or furnishing to enrich their lives, all these transactions come with an emotional content. As such I want this transaction to be a happy one, something that makes you think, learn, experience and enjoy. I really feel we bring this emotive positive experience with our small contribution.
Christopher Jenner's second collection: Devisor, a range of shelving which act as platforms of personal curiosity, image courtesy of Christopher Jenner
Sherin Wing writes on social issues as well as topics in architecture, urbanism, and design. She is a frequent contributor to Archinect, Architect Magazine and other publications. She is also co-author of The Real Architect's Handbook. She received her PhD from UCLA. Follow Sherin on Twitter at@xiaying