November 18, 2011
SPACE INVADERS
Someone is about to erect a towering, shiny mirror right in the middle of the City of Philadelphia…metaphorically speaking, that is. Outdoor art galleries will spring up for a day, on December 10, 2011. Sculpture installations will cast light on the illegal practice of Philadelphians using junk to save public parking spaces for themselves. Imagine […]
Someone is about to erect a towering, shiny mirror right in the middle of the City of Philadelphia…metaphorically speaking, that is. Outdoor art galleries will spring up for a day, on December 10, 2011. Sculpture installations will cast light on the illegal practice of Philadelphians using junk to save public parking spaces for themselves. Imagine that, asking you to reflect on what some might consider your entitled, anti-social behavior!
Who is this gentle provocateur?
Christopher McManus, sculptor/animator, touched down in Philadelphia, his antennae up in the air as he scanned the horizon of his new neighborhood. It was the year 2008. The scene, a bizarre urban beach at low tide with empty parking spaces moored like rowboats to a post.
McManus, a New Yorker, had previously spent three years isolated "out in the bush" of Namibia, South Africa, researching wild food hunting and gathering for the Peace Corps. The acute cultural perceptiveness he gained there solidified his professional degrees in environmental management and public health.
Now, as if a tall, thin alien being in his own country, his steel gray eyes are locked onto an odd array of bright, pink/orange traffic cones, trashcans, rusty chairs and broken motorcycles illegally securing empty parking spaces for their own future use.  Startlingly crude, daisy chain constructions of these same elements are also in evidence. McManus had just stumbled onto something quintessentially Philadelphian — illegal parking space grabs that flaunt the law — even as the law itself yawns and takes a cigarette break. The Philadelphia Parking Authority condones this renegade behavior with virtually guaranteed non-enforcement.
Photo: David Clayton
Parking space theft can be observed in other U.S. cities, so why Philadelphia? McManus, ever alert, posits, "We're missing the signal on some of these space savers. I think it's about being sensitive to urban decay…its effect on social cohesion."
Inclined to see them as beacons of survivalist desperation, his focus is on how they spawn individual permutations. But is there a more complex, legitimate aspect to this for, say, handicapped people who need easy access but can't afford the necessary permitting? Was the kind note an elderly lady left on her new, overturned trash barrel, beseeching everyone to respect her parking space entirely benign, or was it just a slice of passive aggression with sugar on top?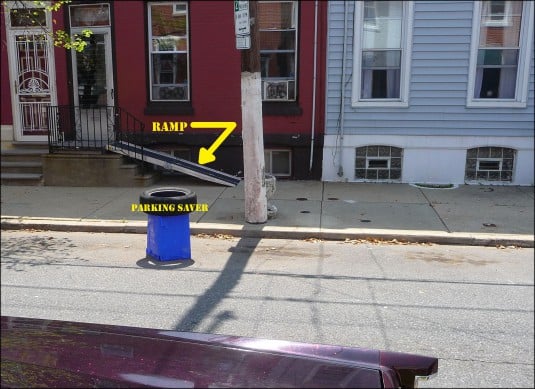 Photo: Christopher McManus
Parking detritus beckoned McManus down a dark, Alice In Wonderland path. Violence has been cited, perpetrated against those who dare trespass the trespassers. He decided to counter this, proposing to elevate the parking totems into "objets d'art" to see what effect that might have. He dubbed this "The Space Savers Project."
Sure enough, somebody quickly scribbled a dire warning about the terrible fate to befall anyone challenging his or her stolen space. You can forget about the fine art, buddy! Though McManus repeatedly describes this nutty circus as "interesting" that bland assertion belies his serious intent to tease out the greater social implications and instigate a conversation encompassing an audience ranging from "perp" to parking authority officials.
McManus says city news trots out coverage of parking space wars and mythology every winter. Picture the fistfights. But he's much more interested in the implicit threat of illegal land claims integrated, by default, into daily life. In McManus' favorite example, a telltale oil stain on the ground reveals years of accumulation from a single vehicle parking in the exact same spot, turf marked off by a rusty, homemade contraption roped out to proper vehicle length. Just curious, would you, personally, consider removing this booby trap so you could park?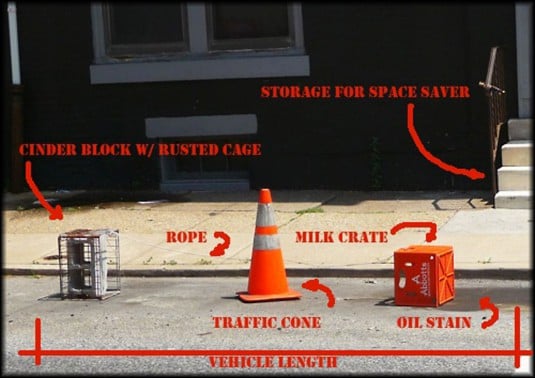 Photo: Christopher McManus
Surveying the whole spectacle as a detached cultural anthropologist McManus, inevitably, reveals his politics. Reflecting, himself, on Space Saver People he concludes, "It's the kind of thinking that leads to Armageddon." Given the frayed social and economic contract we live under his words are, perhaps, far more insightful than hyperbolic.
Joseph G. Brin is an architect, fine artist and teacher based in Philadelphia, PA. He is writing a graphic novel on Al Capone to be published on Kindle. Brin is also collaborating on a new project harnessing the power of art and strategic design thinking for a bully-free Philadelphia, "B. Free Philadelphia."