July 12, 2011
Sylvan Poetry
Le Nichoir: Matali Crasset's first feral house in France, photo: Lucas Fréchin The last time we checked in with Matali Crasset, she was coming up with names like The Troglodyte for the ecolodge she had designed in the Tunisian desert. Now we find her deep in the forests of France, building little camper's retreats. Six […]
Le Nichoir: Matali Crasset's first feral house in France, photo: Lucas Fréchin
The last time we checked in with Matali Crasset, she was coming up with names like The Troglodyte for the ecolodge she had designed in the Tunisian desert. Now we find her deep in the forests of France, building little camper's retreats. Six villages in the region of Meuse, Lorraine, which collectively call themselves by the rather lyrical name Le Vent des Forêts (The Forest Winds) have been inviting artists to their neck of the woods since 2008. Crasset is the only designer among this year's invitees.
photo courtesy Matali Crasset.
Crasset will build four maisons sylvestres (feral houses) for them, along a pathway called Sentier du Vent (the trail of the wind). The first of these houses, which opens for public use on July 16, is called Le Nichoir – The Birdhouse. Crasset claims that it will help us "humbly confront ourselves with the forest to understand and discern its being." But for all the sappy verbiage that surrounds it, Le Nichoir turns out to be delightfully unsentimental.
The Birdhouse is a cube turned on its edge, built of galvanized steel tubing, acacia wood and Douglas pine. Two levels inside provide only the bare minimum of creature comforts – some storage, a place to sleep. The idea is clearly to force hikers and campers to spend time outside, either on the terrace out front, or around the stove at the back. The renderings for the house had some very Crasset-esque fluorescent green accents, the built Birdhouse does away with even those small flourishes.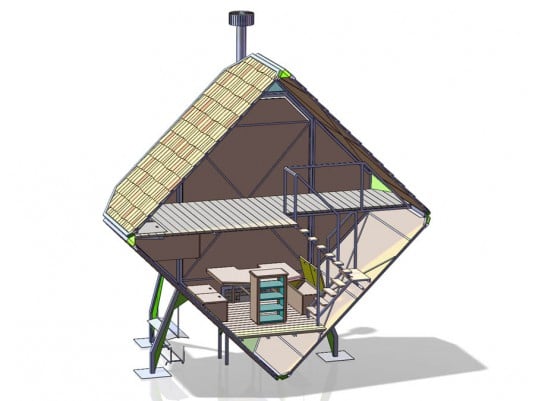 photo: Lucas Fréchin
The structure is lightweight, and has no foundation. So when its time comes, it can be quietly spirited away, and leave absolutely no trace upon the forest, save for the clearing that housed it. But while it stands, it is both understated and humble, and that's where its true poetry lies.