July 27, 2009
The Yale Building Project, Week 13: Affordability?
This year's student-builders solicited donations from more than 30 companies to realize their design.
Every Monday until mid-August, first-year graduate students at the Yale School of Architecture are blogging about their progress building an affordable, accessible owner-renter residence in New Haven. Click here to read the previous posts.
The crew mounts scaffolding to paint the interior of the owner unit. Photos: courtesy the Vlock First Year Building Project
The issue of affordability has been a subject of discussion since the very first day that our class met with our program director, Adam, back in February. We had all gathered in the basement of the architecture building for our weekly meetings, during which we were introduced to the history, clients, schedule, process, and constraints of the annual Yale Vlock Building Project. Adam raised a question on an issue that many of us were not anticipating to be open for debate: he asked if we were interested in pursuing donations for the house or if we would rather work within the budget we were originally given. If I recall correctly, choosing to stay within budget would result in the use of cheap carpet (gasp) and standard vinyl siding (which, come to think of it, after three weeks of custom cedar siding, sounds amazing!) Naturally, as with the years before us, we thought that the former route would be beneficial to both the process and the outcome. And so, with 49 classmates alongside me (this was possibly the closest thing we've had to a class-wide consensus since my classmate Matt was offered free bagels for the site), we agreed to pursue donations as a substantial source of funding for the house.
Fast-forward to July 27.
After serving almost five months as the Building Project Fundraising Director (along with my colleague Mark), let me be the first to confess that this house is not what people generally consider "affordable." We have solicited help from more than 30 businesses that have donated their products, time, and/or expertise in order to make the construction of our design possible. Rarely have we had to confront the reality of "value engineering," a predicament that most architects address on a regular basis. Especially considering the present economic climate, we have been incredibly fortunate to find so many companies that have offered to assist us in making this house into a reality.
The front facade of the house–intricate siding and all–is nearing completion.
In this spirit of appreciation, then, here is a summary of the past week in relation to the materials that have brought the house from drawing to dwelling:
Monday: We began the week with an invitation to visit Sargent's headquarters, where we got to tour their manufacturing facilities and learn how to properly install our door hardware, which was also donated by them. They taught us how to install both DL locks for the interior doors as well as Mortise Lock Sets that provide additional security for the exterior doors. I think my class would agree that we not only appreciate a quick escape from the job site, but are also intrigued to learn about the design and manufacture of these products that we typically only see in their finished, retail-ready state.
Tuesday: It rained all day, so we used the opportunity to paint the entire interior of the house with paint donated to us by ICI Paints. A warmer tone of white was chosen for the owner unit in order to create a more comfortable feel for the large, open spaces, while the tenant unit received a cooler hue of white. ICI also donated the beautiful Plateau Grey paint for the exterior siding. It's so beautiful that most of us gave up trying to wash it out of our skin and hair after two showers; we would only reapply this makeup again on site in the subsequent days.
Frances and Lindsay go to town on the master bathroom of the owner unit.
Wednesday: All week we have continued putting up the infamous cedar siding that was given to us at a discounted price by Wood, Steel & Glas. After eight long hours, we nearly finished the front façade of Siding Blitz '09. As much as we might moan about the intricacy of the siding (100 percent of our own making, I should admit; cedar siding is not typically this complicated), the materials are absolutely beautiful and will hold their own against the elements in New Haven winters.
Thursday-Friday: While most of us blitzed, a few others began preparing the floors for the installation of our donated hardwood floors from Teragren. The first board will be laid in approximately eight hours! I cannot wait to see the wood floor underneath the gorgeous wood ceiling in the owner and tenant kitchens.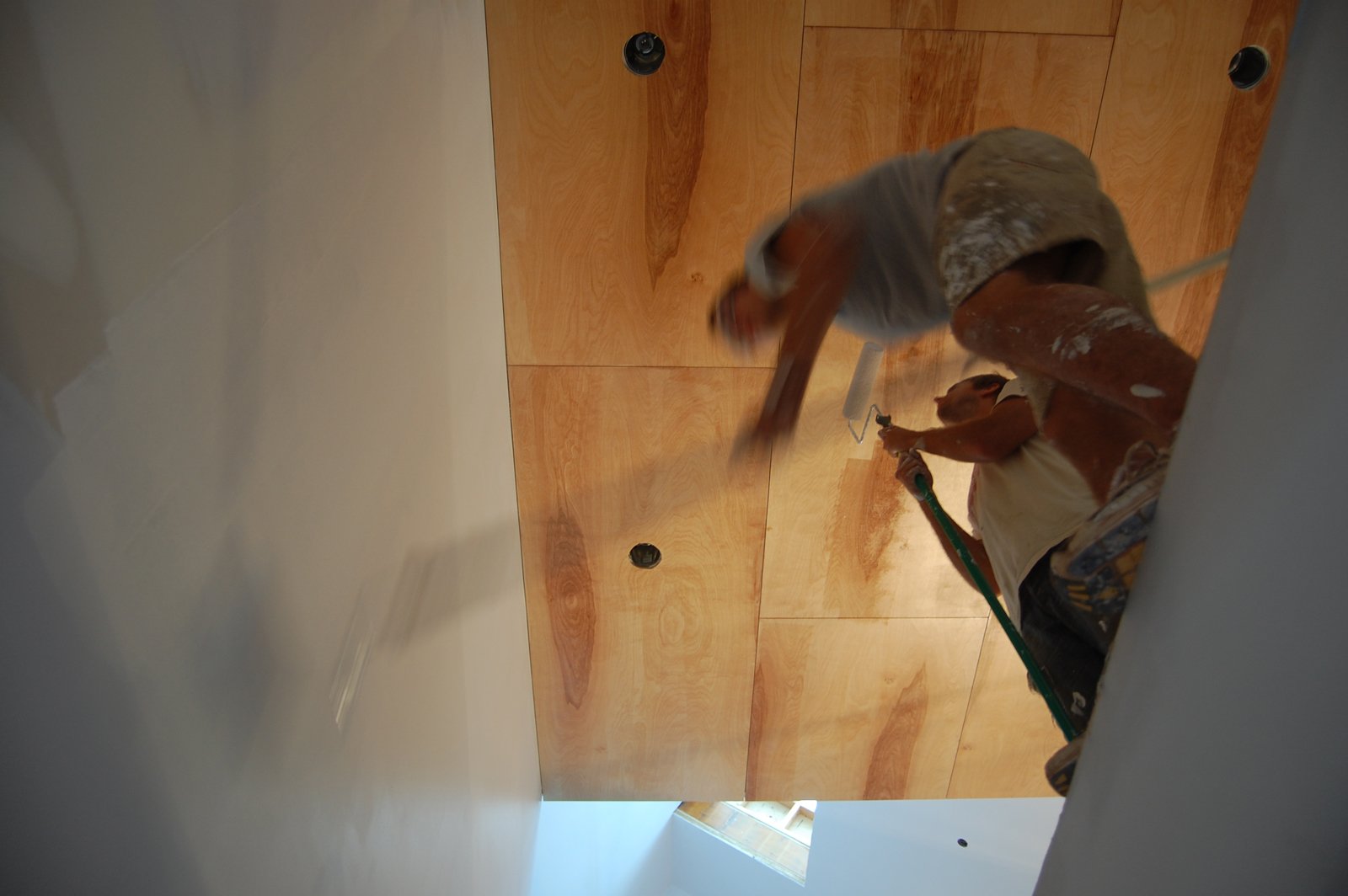 Kipp and Mark apply a clear coat to the stained wood ceiling in the owner kitchen.
There is tremendous pride to be taken in the work we have produced thus far, both on the project site, and, of equal importance, on the phone making endless fundraising calls. I reflect back on that first day when we chose between genuine affordability and "assisted affordability" and realize just how crucial a decision it was. We would be in a completely different place if we had chosen the latter…
…not a bad idea for an experiment for next year's class?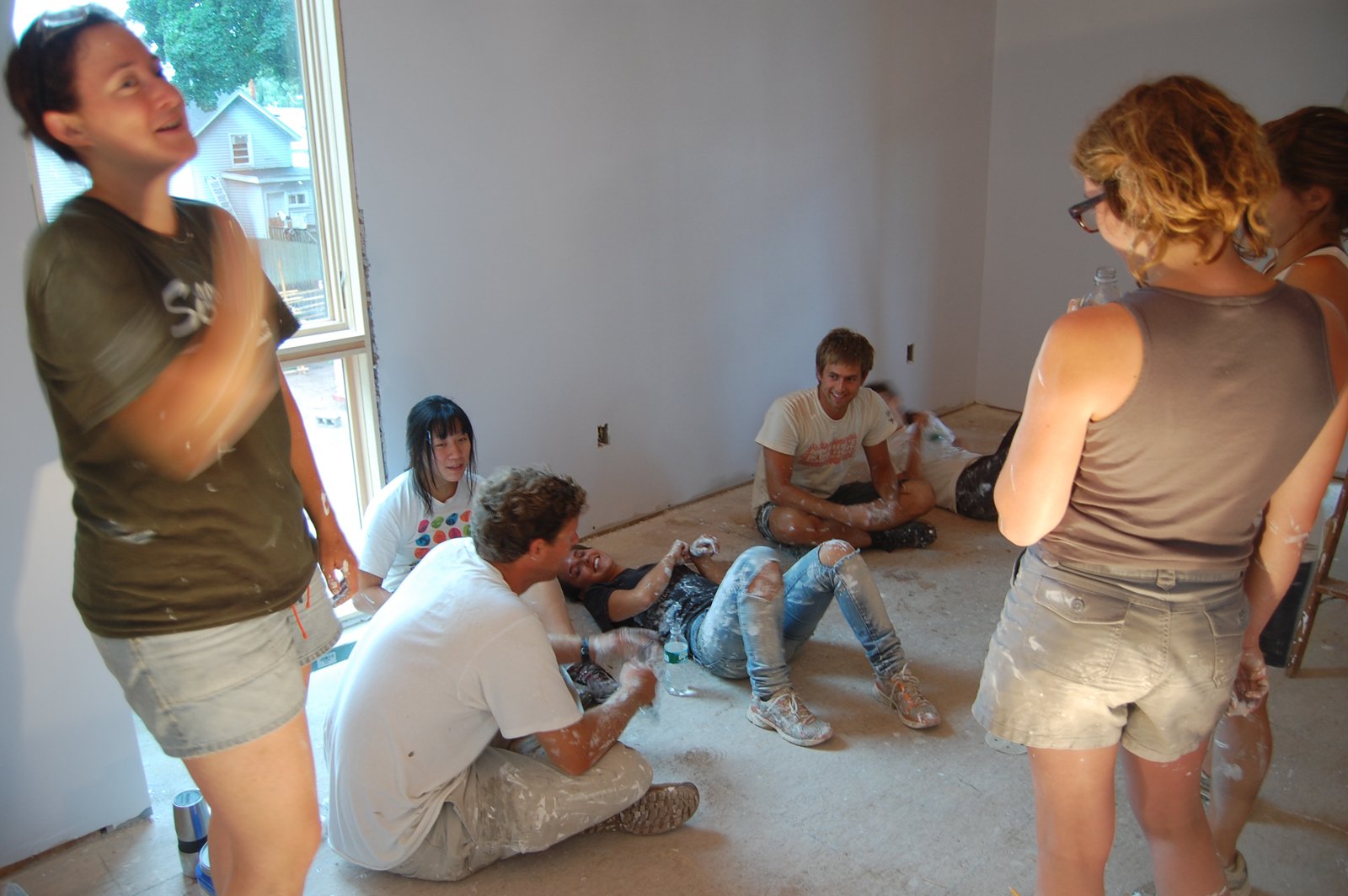 The crew, covered in ICI war paint, breaks in the upstairs tenant unit.
Daniel works a clear coat onto "Jimmy" in the upstairs balcony off of the tenant living room.
The Vlock First Year Building Project is partnering with Common Ground, a national supportive-housing developer, and the Connecticut Veterans Administration to build affordable, fully-accessible housing for female veterans. Check back next Monday for another installment of the students' weekly blog for Metropolis.