September 18, 2009
Wright at 100
A report from last week's symposium on Frank Lloyd Wright's Meyer May house
Meyer May photos: courtesy Steelcase
Last week I was fortunate to be in the audience at the Meyer May house anniversary symposium, a wide-ranging discussion of Frank Lloyd Wright's ideas and principles as embodied in the Grand Rapids, Michigan, house he built for the clothier Meyer May in 1909. In 1987, the local furniture behemoth Steelcase finished a meticulous two-year restoration of the house—which, among other problems, had a seriously leaky roof—and opened it up for public tours. It's now considered perhaps the most complete distillation of Wright's vision, and this year it turned 100 years old.
But the symposium didn't dwell on the past. Rather, it invited an impressive group of architects and designers to consider the next hundred years of Wright's architecture and thinking. (The discussion was moderated by Metropolis's own Susan S. Szenasy.) Some of the big questions in the air were: Was Wright ahead of time and, if so, have we caught up? What lessons should today's design community take away from his career? How would Wright confront the current economic crisis? Or, to sum it up in seven characters: WWFLWD?

Right: the symposium was held at the Steelcase University Learning Center, in Grand Rapids
The panelists were a diverse lot, chosen to represent the full sweep of Wright's interests and expertise: architecture (Toshiko Mori), interiors (Shashi Caan), landscape (Michael Van Valkenburgh), furniture (Jeffrey Bernett), textiles (Kristie Strasen), materials (Andrew Dent), and, more broadly, "design strategy" (Bob Adams). And they had plenty to talk about. On the previous night, most of the group had enjoyed a rare immersion in Wright's work with a leisurely supper in Meyer May's intimate dining room.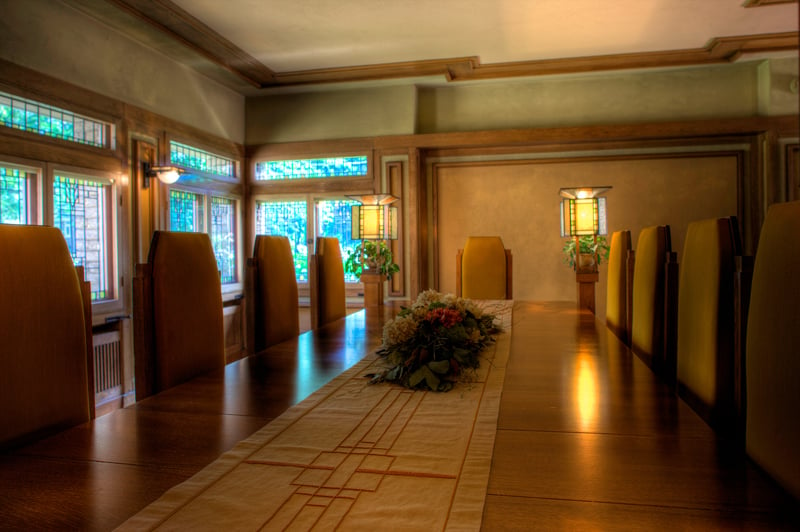 It's impossible to do justice to their almost two-hour conversation—which, notably, was preceded by a screening of a fascinating 1959 NBC interview between a young Hugh Downs and an imperial 83-year-old Wright; will someone please post this on YouTube?—so I thought I would at least pick out a few of the (many) highlights:
Shashi Caan asked if Wright may be the "quintessential interior designer" for the emphasis on dignity, comfort, support, and humanity inside his buildings. "A lot of contemporary architecture is just space," she said. Wright, by contrast, created places.
Michael Van Valkenburgh marveled at the "dissolve" between inside and outside in Wright's work. Kristie Strasen pointed out that, while Wright's vision was sympathetic to the outside, his interiors also feel like a refuge—his use of color and texture, she said, is "subtle and pristine."
Bob Adams said that Wright saw nature "as a tonic of sorts," which was a fairly new idea at the time—until not long before Wright, nature was typically seen as something to be conquered. Adams wondered how Wright would have expanded on these principles today.
Jeffrey Bernett noted how, during the group meal at Meyer May, "the architecture sort of fade[d] away"—part of Wright's overall emphasis on intimate settings that enriched life experiences. (This effect, he said, was not ruined by the uncomfortable pew-like dining chairs.)
Andrew Dent observed that Wright "always treats new materials as an artist would"—and wondered what he would do with the new materials available today.
Toshiko Mori talked about her effort to reinterpret Wright's "prophetic principles" in Buffalo, New York—saying she tried to "advance his agenda" without merely imitating his style. And she added that, were Wright starting his career today, he probably would have "jumped right in" regardless of the dismal economy.
That's probably as good a place as any to conclude. But you can continue the conversation online—Steelcase is inviting Wright enthusiasts to leave their thoughts on the architect and his legacy at meyermayhouse.steelcase.com/conversation.