January 27, 2012
Zagar
"Total Embellishment" Long before painter, filmmaker, showman Julian Schnabel began piling up broken tea cups on canvas, Isaiah Zagar was busy at work creating dazzling mosaics that exploded like glittering stardust across Philadelphia and throughout the world. Zagar is Philadelphia or at least South Philadelphia. Storefronts, alleys, door vestibules, building facades – mirrors and mosaics […]
"Total Embellishment"
Long before painter, filmmaker, showman Julian Schnabel began piling up broken tea cups on canvas, Isaiah Zagar was busy at work creating dazzling mosaics that exploded like glittering stardust across Philadelphia and throughout the world.
Zagar is Philadelphia or at least South Philadelphia. Storefronts, alleys, door vestibules, building facades – mirrors and mosaics everywhere. He says when he walks by his own work he nods as if passing an old friend on the street.
OUTSIDE THE GATE
"Magic Garden" Photo: Joseph G. Brin 2012
Zagar's calling card is "total embellishment." Walls, floors, ceilings, home, studio, street – he doesn't differentiate. In fact, he doesn't want to differentiate. His intuition is that mosaics represent a revolt against the rectangle which, he says, patrons used to control the artist. From temples in Indonesia to church work in the Middle Ages "artists worked as artisans not as artists, they were part of a team." Their embellishments burst out beyond the scope of the rectangle until the Italian Renaissance when sculptors like Benvenuto Cellini, for example, began to make smaller objects the wealthy could have in their homes. "I'm an intuitive artist, not a scholar. I can't corroborate what I'm saying." He has a feeling about it…"maybe I'm lying," he muses, eyeing his recent ink drawings on standard letter sized, rectangular paper.
INSIDE THE GATE
When you visit Zagar's magnum opus, "Magic Garden" at 1020 South Street, you enter an immersive environment echoing Antonio Gaudi or Leger or Simon Rodia or Jasper Johns or Chagall or Clarence Schmidt. Clarence Schmidt? He was a folk artist from upstate New York whose work, when first encountered by Zagar, transformed his life. "My heart began to beat fast…akin to a religious experience without understanding why…I've been moved to dance in front of art." People have been moved to tears by Zagar's own work. It's similar, he says, "something that gets you, that's beyond words."
"Magic Garden with Bottles" Photo: Joseph G. Brin 2012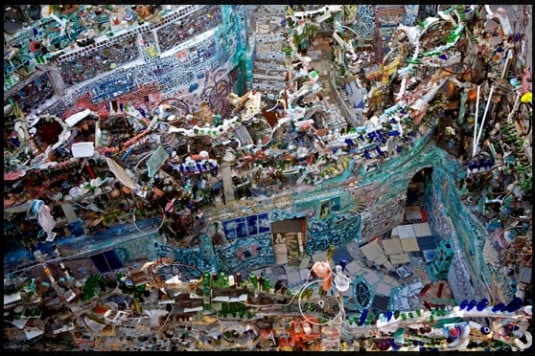 "Magic Garden Overhead" Photo: Gabe Kirchheimer
"Art history is my bible…[and] I have a romance with the profession of art," he says in an ongoing conversation with the masters. "I'm actually apprenticed, in a spiritual way, to the masters of Europe…I'm not an outsider artist, I'm a student of art."
"Isaiah in his Studio" Photo: Joseph G. Brin 2012
After an early in life nervous breakdown struck him down, Zagar was left to pick up the pieces, literally and figuratively, transforming them into art for nearly 45 years now.
Beyond the expected pantheon of European masters there's an entirely different foundation to his art — the folk arts traditions of Mexico, a door first opened to American artists by revolutionary painters Diego Rivera and Freida Kahlo. Zagar and his wife Julia are off to Mexico shortly where they've been going for some 40 years. He has commissioned sculptures and prints by Mexican artists to carry out his artistic ideas and further determine his destiny as an artist. He has had art made, literally, in his own image. These folk art works can also be found in his "Eyes Gallery" store that brings in revenue for the "Magic Garden."
Drawings by Isaiah Zagar 2012
"Take an object, do something with it, do something else with it."
–Jasper Johns
Zagar places Jasper Johns at the pinnacle of exemplars that guide his own work. "He's just an amazing artist…an amazing thinker." Zagar would like to commission Johns to do a piece but figures he would need a couple of million dollars to convince him to participate.
"I'm very concerned about the sustainability of the piece," says Zagar, referring to the "Magic Garden." Outdoor chambers carved of assembled detritus are losing occasional pieces that fall off, protrude and possibly endanger visitors. He has people on site who constantly monitor the Garden. "It's a Sword of Damocles that place," he says over breakfast one morning as we discuss his humorous new series of drawings entitled "Deconstructing the Magic Garden."
THE POWER OF "Z"
"Everything I do is predicated on drawing. I love to draw, " Zagar says intently. As a schoolchild, his last name beginning with "Z" conferred a certain advantage. Naturally, he sat at the very back of the classroom – with his own blackboard to draw on. He also became skillful at little pop-up books of his own drawings to titillate his classmates. In terms of grade school teachers, young Zagar had supporters and detractors, learning equally from both, he says. This must have been good training because he fielded the most outrageous criticisms of his early professional artwork with wonder and bemusement.
"Prophet Isaiah and The Angel"         Photo: Joseph G. Brin 2012
The "Magic Garden" once came perilously close to demolition but an uprising of popular sentiment saved it. Zagar knows his "Magic Garden" put Philadelphia on the map as an art center. Artistic trends may come and go, but he probably also knows that his ubiquity, tenacity, and longevity set an important example for young artists.
SHARDS of a DREAM
Isaiah Zagar described to me a dream he had about Marc Chagall, whose work he greatly admires. He goes to the old man who commands, "Let me see your hands." Then, suddenly, Chagall yells at him, "It's not about the lines in your hands, I'm interested in the big picture!" Zagar's hands and the dream then break up into the Universe.
Joseph G. Brin is an architect, fine artist and teacher based in Philadelphia, PA. He is writing a graphic novel on Al Capone to be published on Kindle. Brin is also collaborating with Jordan Gil, exhibit designer, on a new project harnessing the power of art and strategic design for a bully-free Philadelphia called "B. Free." (http://bfreephiladelphia.wordpress.com). Brin's fine art rowing poster site is at: www.brushstrokesrowing.com/gallery
LINKS:
http://www.phillymagicgardens.org/isaiah/about