June 28, 2018
Artist Tauba Auerbach Covers a Decommissioned Fireboat in Swirling 'Dazzle' Camouflage
The boat project, created using a marbling technique and sponsored by the Public Art Fund, will visit docks around New York this summer.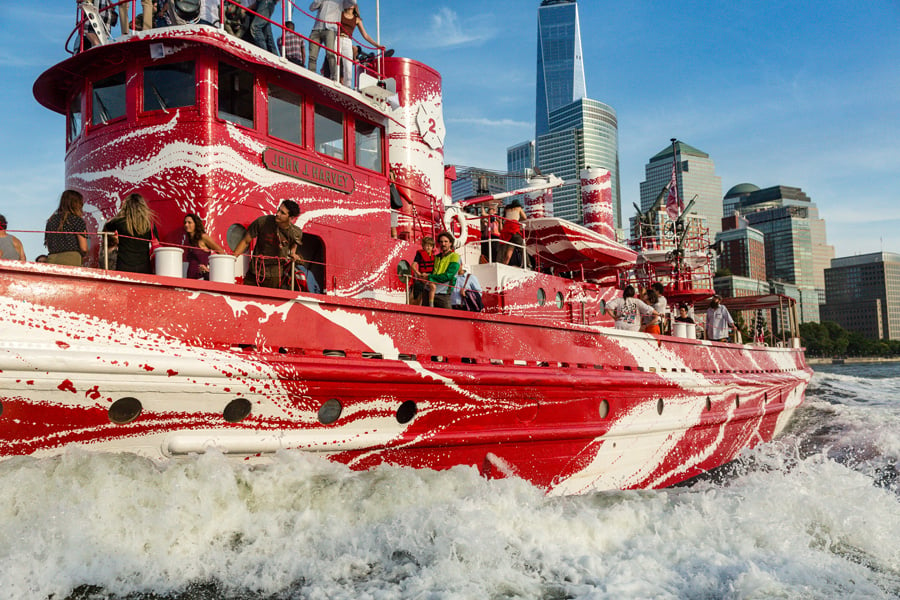 Splashed in swirls of red and white, the John J. Harvey fireboat looks part Pollock painting, part creamsicle. Passersby pause to gawk at the boat, which stands out against the more traditional crafts docked on Hudson River Park's piers and casts a striking image against the backdrop of the New Jersey skyline.
The John J. Harvey has had many firsts: first fireboat powered by internal combustion engines, first fireboat that could pump water and maneuver simultaneously, and now, the first time the Public Art Fund, a New York-based non-profit arts organization, has partnered with a boat for a new exhibition.
The Public Art Fund's past exhibitions include artist Anish Kapoor's Descension, a giant whirlpool in Brooklyn Bridge Park, and Ai Weiwei's current city-wide exhibition, Good Fences Make Good Neighbors.
---
More from Metropolis
---
Local visual artist Tauba Auerbach's first major public art commission, Tauba Auerbach: Flow Separation, is a study in eye-catching design steeped in history. Auerbach, whose background is in geometric and spatial designs that play with perception, drew inspiration for the ship's painted exterior from World War I-era "dazzle camouflage."
Auerbach was an obvious choice, said Emma Enderby, the installation's curator. "She does already apply some historic techniques– distortion, perception, dimensionality. The elements in dazzle are already in her process."
Credited to artist Norman Wilkinson, dazzle camouflage painted geometric patterns and colors on Allied Navies' ships to make it difficult for enemies to estimate the ships' size, speed, and direction of travel.
While the 1930s-era John J. Harvey was not a warship, it served the City of New York until retirement in 1994, and was notably recalled to service to pump water to firefighters after the September 11, 2001 attacks.
Auerbach created the red and white pattern –an homage to the ship's original colors — through marbling, a process of dragging combs through floating ink before transferring the ink to paper. Enderby said marbling was chosen to illustrate "fluid dynamics, the way an object moves through the water and leaves a pattern behind it."
The process of painting the ship by hand took six weeks with a crew of scene painters alongside Auerbach. "It's not like a regular boat or painting, mapping a 2D pattern onto this 3D surface," said Enderby. "Scene painters understood that dimensionality."
Auerbach marbled hundreds of pieces of paper before settling on a final design. Large-scale reproductions of these prints were then drawn onto the boat by Auerbach and then painted by a crew with epoxy paint, which is durable and water-resistant.
Four small flags adorning the ship all feature a unique red and white marbled pattern, while a large American flag flaps at the boat's stern. Hoses protrude from various points on the boat, only their bases painted. A small plaque bears the ship's name at the side of the boat.
"With Flow Separation, I didn't want to ignore the John J. Harvey's identity, so I took the boat's usual paint job and scrambled it," said Auerbach in a statement. "The palette also exaggerates the fact that 'dazzle' was more about confusing and outsmarting, than about hiding. I like those instances where cleverness is an antidote to brute force."
Beginning July 1 through late September, the painted fireboat will visit docks around New York Harbor and offer free trips to the public on weekends.
The project, co-commissioned by 14-18 NOW, a UK-based organization that commissions art related to the First World War, is part of a series of "dazzle" ships, all based in the U.K in collaboration with artists Sir Peter Thomas Blake, Carlos Cruz-Diez, Ciara Phillips, and Tobias Rehberger. Auerbach's contribution is the first U.S.-based ship, the final boat in the series before the centennial of the end of World War I on November 11, 2018.
Remembrance was something Enderby and Auerbach often discussed throughout the project. Enderby said, "We're living in uncertain times and the importance of remembrance feels key in preventing it from happening again."
You might also like, "Using Steel and Mirrors, Dream the Combine Transforms MoMA PS1's Courtyard."