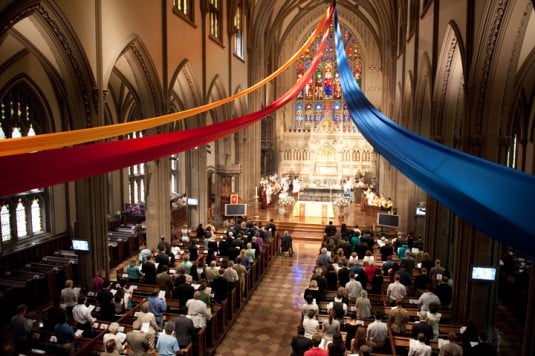 September 9, 2011
Memorial Events
Nineteen Rooms for September 11, by Jill Magi; part of InSite: Art+CommunicationIn our September issue, we closely consider the task of memorializing both Ground Zero, and the events of September 11, 2001. Philip Nobel wonders if the official memorial at ground zero sufficiently addresses the memory of the event, while a photo essay documents the […]
Nineteen Rooms for September 11, by Jill Magi; part of InSite: Art+Communication
In our September issue, we closely consider the task of memorializing both Ground Zero, and the events of September 11, 2001. Philip Nobel wonders if the official memorial at ground zero sufficiently addresses the memory of the event, while a photo essay documents the DIY and ad hoc monuments around the city—raw expressions of New York's grief.  But for the tenth anniversary of the attacks, institutions and individuals are finding their own ways to explore and come to terms with the memory of the traumatic event:
---
More from Metropolis
---
Ten Years After 9/11: Remembrance and Reconciliation Through Poetry, by Poets House; part of InSite: Art+Communication
InSite: Art+Commemoration
Through October 11, New York
The Lower Manhattan Cultural Council invited artistic and community response to a decade of recovery and change in Lower Manhattan. You can find their listing of performances, poetry, and ideas on their web site, which also acts as a repository of some of the artistic works.
Managing Collapse:
September 11, 5:30-8:00 pm, New York
The symposium includes a presentation by Tom Hennes of Thinc Design, the lead designer with Local Projects of the National 9/11 Memorial Museum (which we feature in our September issue.) Other discussants include noted psychologists and disaster specialists.
Explosion Squad Detective, 2001; Vintage contact print; 8 x 10 inches; Collection Miami Art Museum, gift of Steven E. and Phyllis Gross; Photo: Copyright Joel Meyerowitz, Courtesy Edwynn Houk Gallery
Joel Meyerowitz – Aftermath
Through November 6, Miami
For nine months during the day and night, Joel Meyerowitz, the only photographer granted right of entry into Ground Zero, photographed "the pile," as the World Trade Center came to be known, and the over 800 people a day that were working in it. The exhibition consists of 24, recently-donated photographs from this set.
Remembering 9/11
September 9 – January 8, New York
The International Center of Photography in New York is collaborating with the National September 11 Memorial museum to present photography and video that addressed how firefighters, transit workers, police officers, construction workers, artists, photographers, and World Trade Center neighbors worked together in the aftermath of the attacks.
Yale and New Haven
September 11, 1:00-7:30pm, New Haven
Yale University and the citizens of New Haven will mark the tenth anniversary of September 11, 2001, with a series of events, including a community service fair, an "Interfaith Service of Remembrance and Reconciliation", two art exhibitions, and a candlelight vigil.
Convention Hall Project, Chicago, Illinois, interior perspective, 1954; Ludwig Mies van der Rohe; Collage of cut-and-pasted reproductions, photograph, and paper on composition board, 33 x 48″ (83.8 x 121.9 cm). The Museum of Modern Art, New York. Mies van der Rohe Archive, gift of the architect.
194X-9/11: American Architects and the City
Through January 2, New York
The Museum of Modern Art marks the tenth anniversary of September 11, 2001, through an architectural lens. To contextualize the flurry of urban rebuilding after the attacks, the museum presents the work of architects who took on the urban scale in a spirit of recasting the form and daily experience of the city.
September 11
September 11-January 9, New York
MoMA PS1 curator Peter Eleey brings together more than 70 works by 41 artists—many made prior to 9/11—to explore the attacks' enduring and far-reaching resonance. Eschewing images of the event itself, as well as art made directly in response, the exhibition provides a subjective framework within which to reflect upon the attacks in New York and their aftermath.
9/11: Stories in Fragments: From the Wreckage, part of the Remembrance and Recollection exhibition at the National Museum of American History.
Remembrance and Recollection
Through September 11,  Washington, D. C.
To mark the 10th anniversary of the September 11, 2001, attacks, the National Museum of American History has created a special experience for visitors to view 50 objects from the three sites—New York City; the Pentagon; and Shanksville, Pennsylvania—as well as recent acquisitions related to how American lives have changed since then. The objects are shown on open tables, without cases, and with limited interpretation.
The 9/11 Peace Story Quilt
Through January 22, New York
Designed by artist Faith Ringgold and created in collaboration with NYC students ages 8-19, The 9/11 Peace Story Quilt will be exhibited at The Metropolitan Museum of Art.  Special events on September 11 will include a talk by Ringgold, poetry readings by graduate students from New York University's Creative Writing Program, and a concert at the Temple of Dendur.
The Rising, designed by Frederic Schwartz as Westchester county's September 11 memorial, will be the venue of a candlelight ceremony.
Candlelight Ceremony at Kensico Plaza
September 11, 6:00pm, Westchester
An hour-long candlelight ceremony will be held at The Rising–Westchester county's September 11 memorial designed by Frederic Schwartz. The names of the 123 county residents who died in the attacks will be read out as part of the ceremony, followed by performances by the Westchester Philharmonic and the New Rochelle High School Concert Chorale.
Ten Years of Terror
September 12 and 13, New York
The Guggenheim screens Ten Years of Terror, a film by Brad Evans and Simon Critchley that examines the theoretical, empirical, and aesthetic dimensions of violence, through a series of reflections by key canonical thinkers such as Saskia Sassen, Michel Hardt, Noam Chomsky, Sygmunt Bauman and others. The film makers will be available for questions.