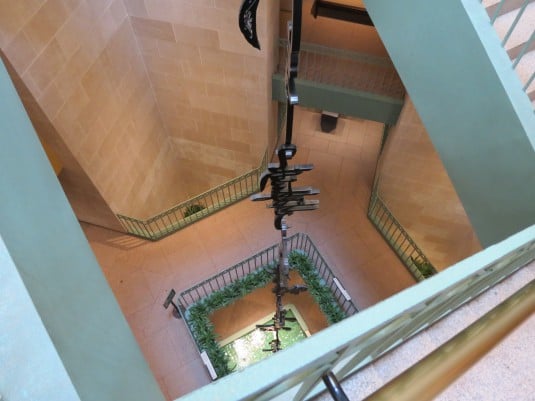 March 14, 2012
Places That Work: The Power of Skylights
The Arthur M. Sackler Gallery of the Smithsonian Institution in Washington DC is almost entirely under ground, yet this is a place that works. It was designed by Jean-Paul Carlhian of Shepley, Bulfinch, Richardson and Abbott and opened in 1987. A quarter of a century later everyone in the design world knows about the psychological […]
The Arthur M. Sackler Gallery of the Smithsonian Institution in Washington DC is almost entirely under ground, yet this is a place that works. It was designed by Jean-Paul Carlhian of Shepley, Bulfinch, Richardson and Abbott and opened in 1987. A quarter of a century later everyone in the design world knows about the psychological boost we get from being inside day-lit buildings.
Placing the majority of the Sackler's structure underground, a move that helped preserve parkland at ground level could have been a mistake in terms of human experience. But the skylights saved it from being a dull, mechanically lit place. More skylights and more daylight would be better, of course, but the rooms are still pleasant.
---
More from Metropolis
---
The small water feature under the main skylight enhances the experience of being in the gallery, providing a diversion, as do the plants — the advantages of including flora in interior spaces are also well known to designers. But the concept of an underground museum is still novel, and at the Sackler visitors are pleasantly surprised by the daylight, water, and plants. This space works because it's much more than a giant basement filled with priceless objects.
Sally Augustin, PhD, is a principal at Design with Science . She is also the editor of Research Design Connections and the author of Place Advantage: Applied Psychology for Interior Architecture (Wiley, 2009). She can be reached at [email protected]
Series Posts: Places that Work