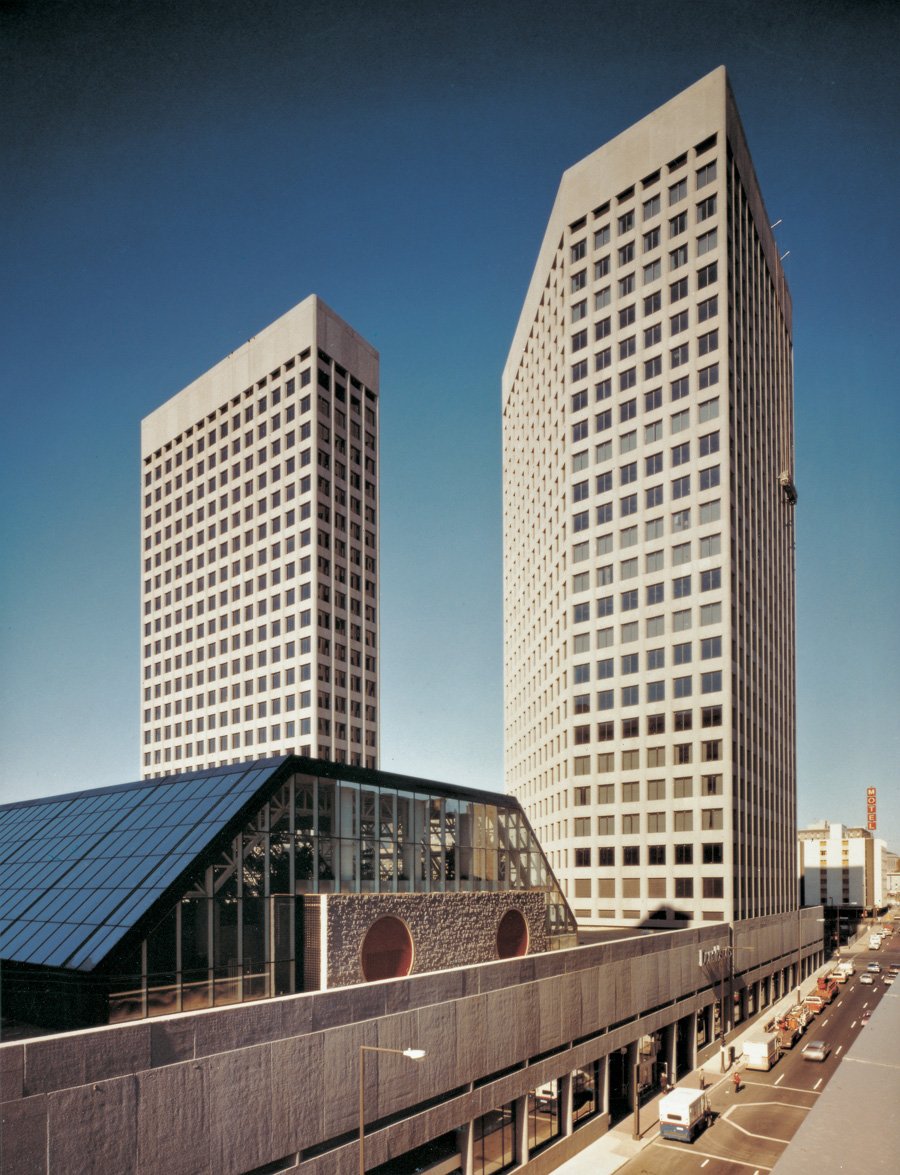 June 20, 2018
SOM Explains Exactly How a Raccoon Scaled Its St. Paul Skyscraper
Last week #MPRaccoon climbed a 25-story building in St. Paul, Minnesota and captivated the Internet—thanks to some '70s-style architecture.
After completing Town Square, a mixed-use, double-tower complex in the heart of St. Paul, Minnesota in 1980, the late architect Donald Smith of SOM told Architectural Record magazine, "We must reorient our attention to the center [of] cities to save them."
Smith's words were prophetic, it turns out, but not in the way he may have expected.
Last week, Town Square—now known as UBS Plaza—captured the attention of the globe as a scraggly, wayward raccoon climbed up its southern tower's 25 stories.
---
More from Metropolis
---
The critter quickly became an Internet sensation as thousands rallied behind its precipitous  ascent. James Gunn, the director of Marvel's Guardians of the Galaxy (which features a genetically-modified raccoon superhero), even tweeted, "I'll donate a thousand bucks to the non political charity of choice to anyone who saves this raccoon. I can't handle this."
Needless to say, after 20 suspenseful hours, the raccoon made it to the high-rise's summit and was safely released.
Here it is, #MPRRaccoon's valiant climb to the top of the UBS Center in Downtown St. Paul, this morning. @KARE11 @MPRnews pic.twitter.com/ot1DPNeRF5

— D.P. (@DPet_KARE11News) June 13, 2018
Architect Colin Koop—a Minnesota native and a design director at SOM New York—was in the state as the drama unfolded, and a social media manager at SOM alerted Koop of the varmint's ascent via Instagram. "I sent them an emoji of an eye roll," he says.
But, according to Koop, prevailing architectural trends during the late '70s and early '80s—inspired by the neofuturist work of firms like Archigram— enabled the raccoon to scale the building. "During that era of building, there were all of these big megastructure buildings with mixed-use of recreation, retail, and sometimes living. They're all over the country," Koop explains. "Town Square was St. Paul's version."
Koop himself has fond memories growing up visiting a children's garden within the podium and riding a historic carousel there. However, "Sometimes in the '90s they gut renovated the building, so all of that architecture on the inside is long gone," he says. "But its exterior is more or less like it's always been."
---
That then-fashionable exterior made the raccoon's climb possible. "It's an exposed aggregate precast system. So instead of having a smooth appearance, you actually see the aggregate exposed on the outside—the small rocks and things. I am sure that was one of the main reasons the raccoon was able to climb it."
The modulation of the facade's windows and deep ledges also played a major role. "There were ample opportunities to take a break," Koop says. "And stare longingly at the humans on the inside."
So will SOM continue designing animal-friendly architecture? Maybe so, according to Koop. He adds, with a laugh, "We're very committed right now to designing buildings which are holistic in their concern for the environment."
My picture from the 13th floor around noon. Hope he makes it down OK! #mprraccoon pic.twitter.com/gfVWysn9iO

— Ben (@Johnson88Ben) June 12, 2018
You might also like, "Mærsk Tower Revitalizes the Gloomy Research Campus in Copenhagen."