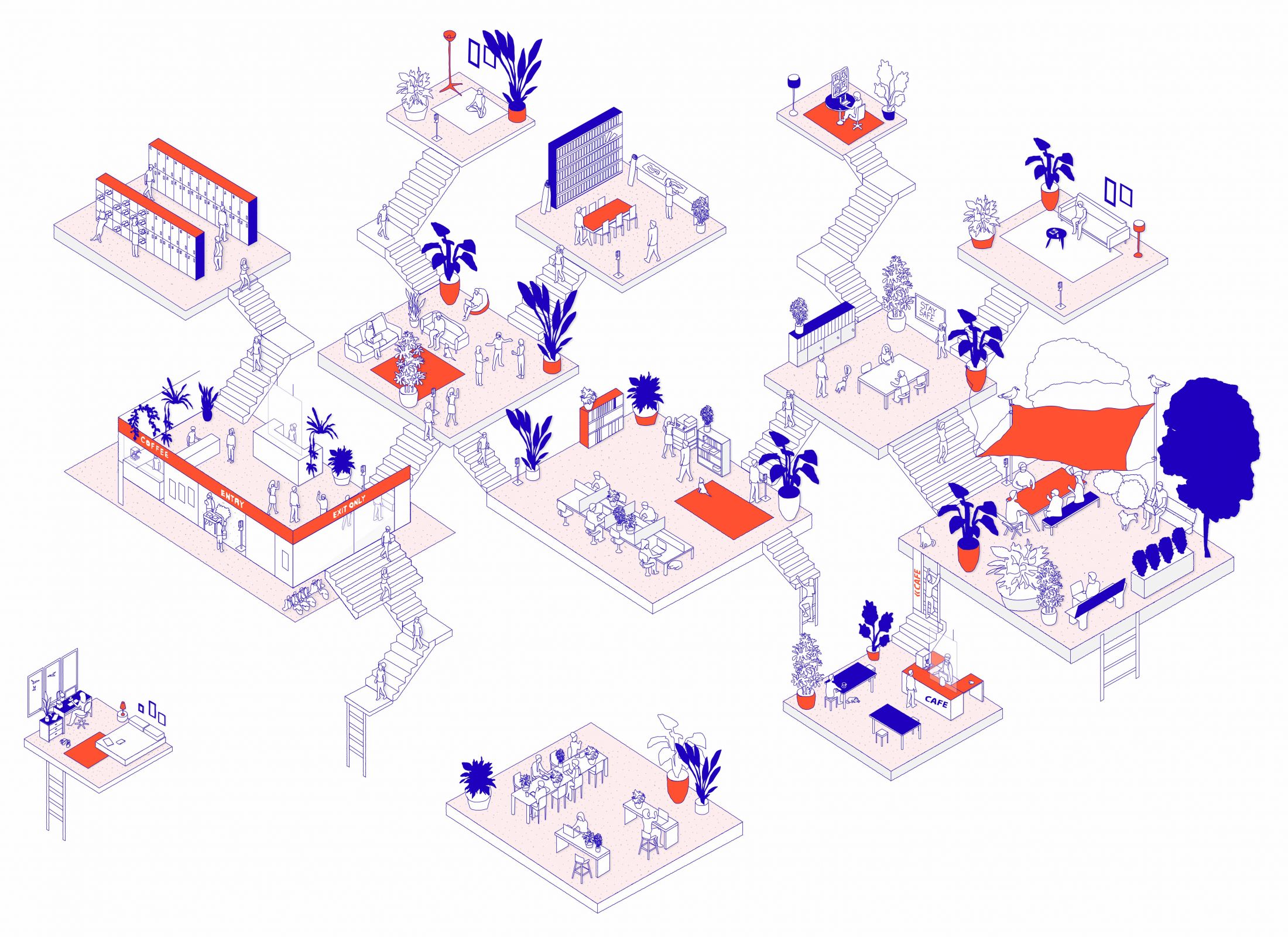 January 28, 2021
Studio O+A's Toolkit Says Returning to the Office Can Be Joyful
The interior design firm takes a comprehensive look at workplace re-entry, considering the perspectives of both tenants and landlords.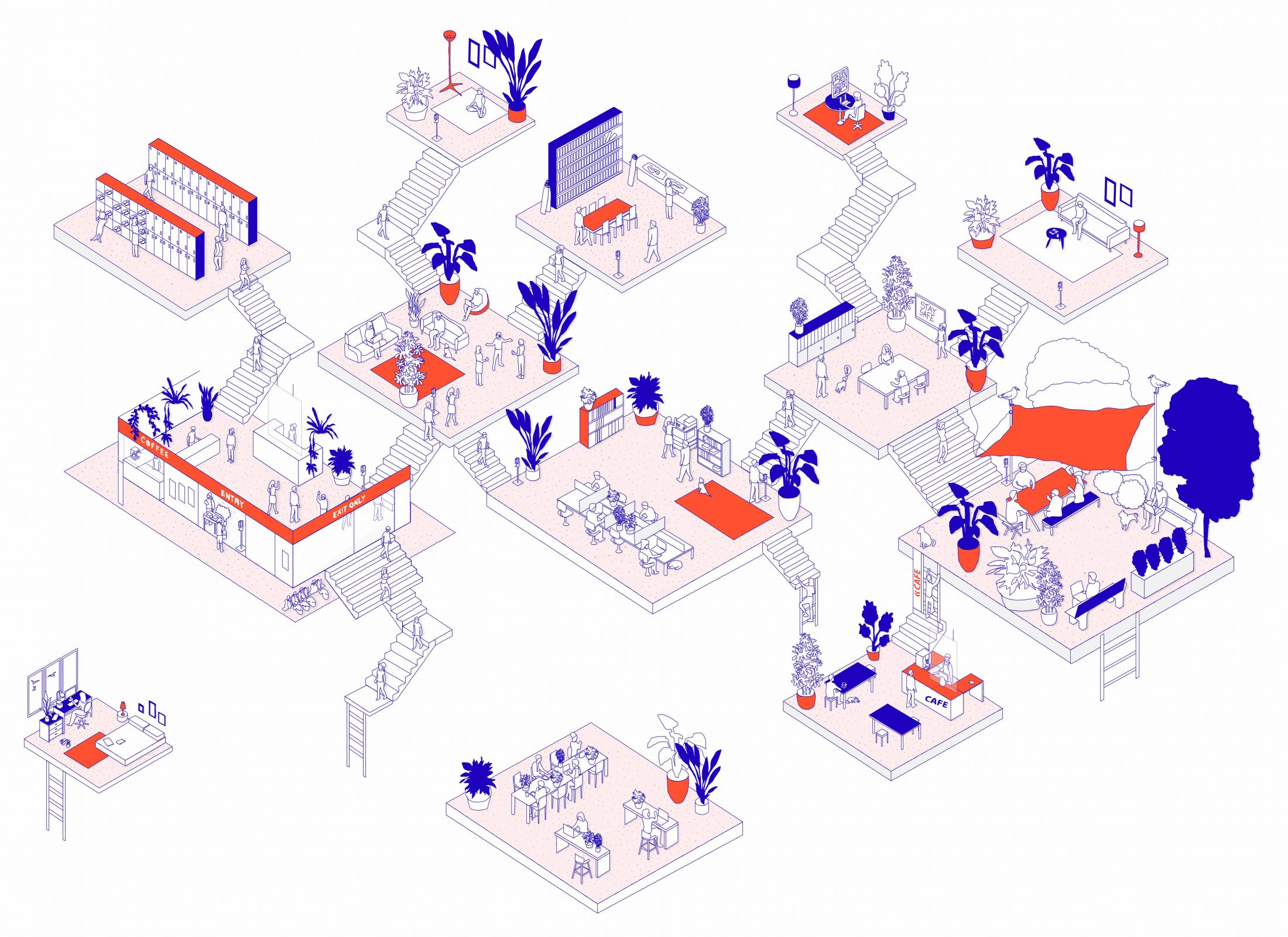 ---
Rumors of the the death of the office are greatly exaggerated, at least according to tech giants like Amazon and Facebook. Last August, Amazon announced a $1.4 billion investment in expanding its offices in six U.S. cities, while Facebook signed a lease for 730,000 square feet of office space in New York City. Employees at both companies, however—and at many corporations across the country—are still working from home. What will their return to the workplace look and feel like?
Many real estate consultants, design firms, and furniture manufacturers have attempted to answer this multimillion-dollar question, and have been releasing guidelines and toolkits since the start of the pandemic in the United States. But San Francisco–based firm Studio O+A, which has enjoyed an especially close relationship with Silicon Valley, found something lacking in most of those toolkits. "We wanted to take the idea of joy back," says the firm's cofounder Primo Orpilla.
O+A's offering, "A Toolkit for the Times," blends the requisite brass-tacks recommendations—how to manage elevator traffic or lay out work stations for social distancing—with astute storytelling and good dashes of humor. The toolkit has been available for download since the end of last September, but the firm has seen a sharp uptick in the number of downloads as vaccines finally became available around the end of the year.
---
More from Metropolis
---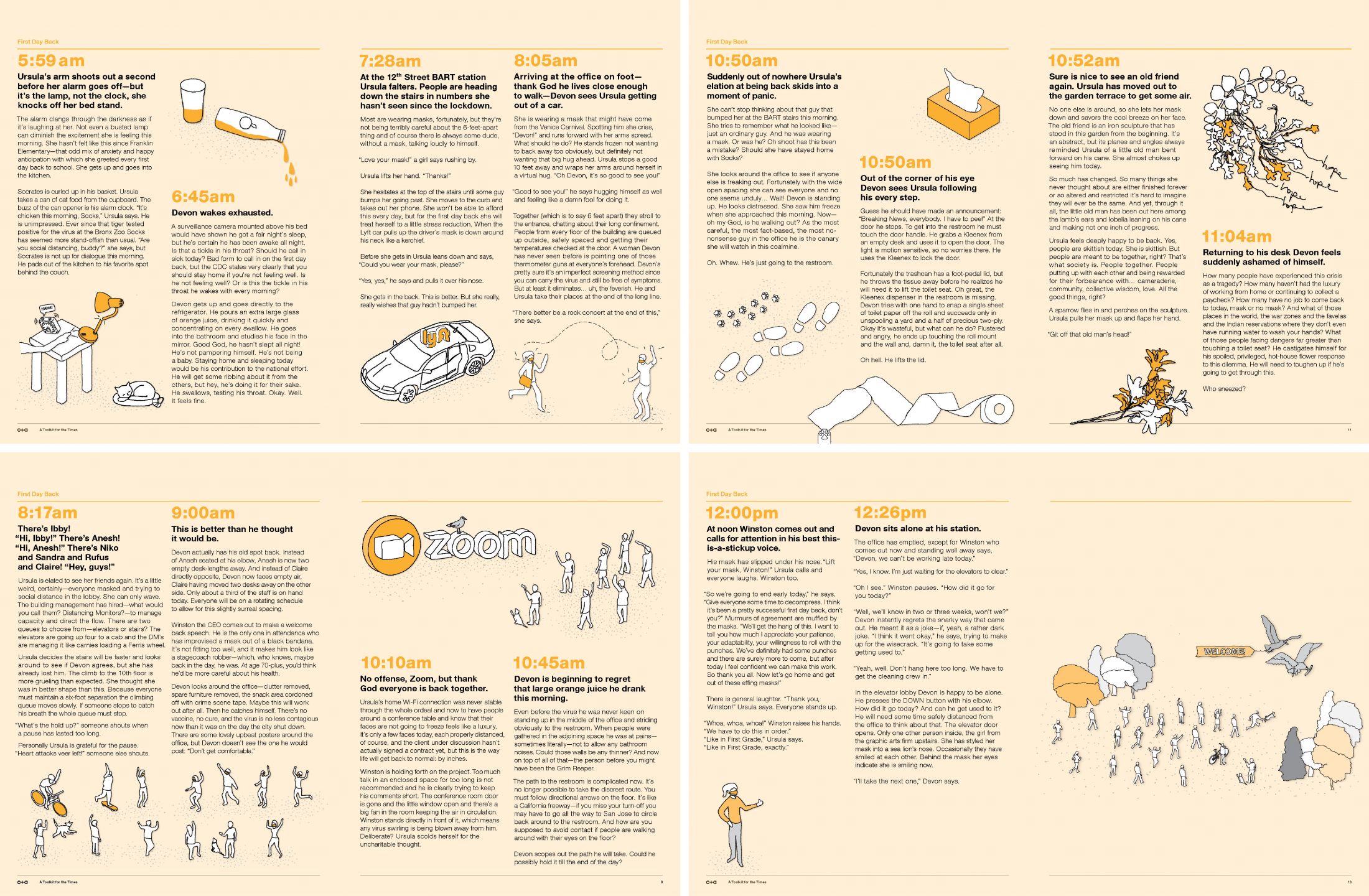 ---
"We knew things would change with a vaccine," Orpilla says, "so we focused on the behavioral change that we need to institute." Studio O+A's toolkit is divided into two sections, one landlord-focussed and the other tenant-focussed. Most chapters begin with a Toolkit Inventory—laying out the key elements of the strategy—before diving into recommendations for everything from lobbies and cafés to shared areas and locker rooms. Throughout, the firm seeks to create and normalize new rituals. One of the recommendations, for example, is for a donning/doffing area, a place where people might want to change in and out of protective gear or streetwear when they exit or enter the workplace.
The key thing is to not let public health considerations overwhelm employees. By making out-of-the-way additions mundane, or by treating necessities like sanitization stations with fun and humor, O+A hopes that designers and other decision-makers will make returning to work a happy experience, not an anxious one.
"Make changes that make the space better," Orpilla advises. "Take baby steps to make people comfortable."
You may also enjoy "Has the Pandemic Changed the Experience of Encountering Art in Public?"
Would you like to comment on this article? Send your thoughts to: [email protected]
---
Register here for Metropolis's Think Tank Thursdays and hear what leading firms across North America are thinking and working on today.