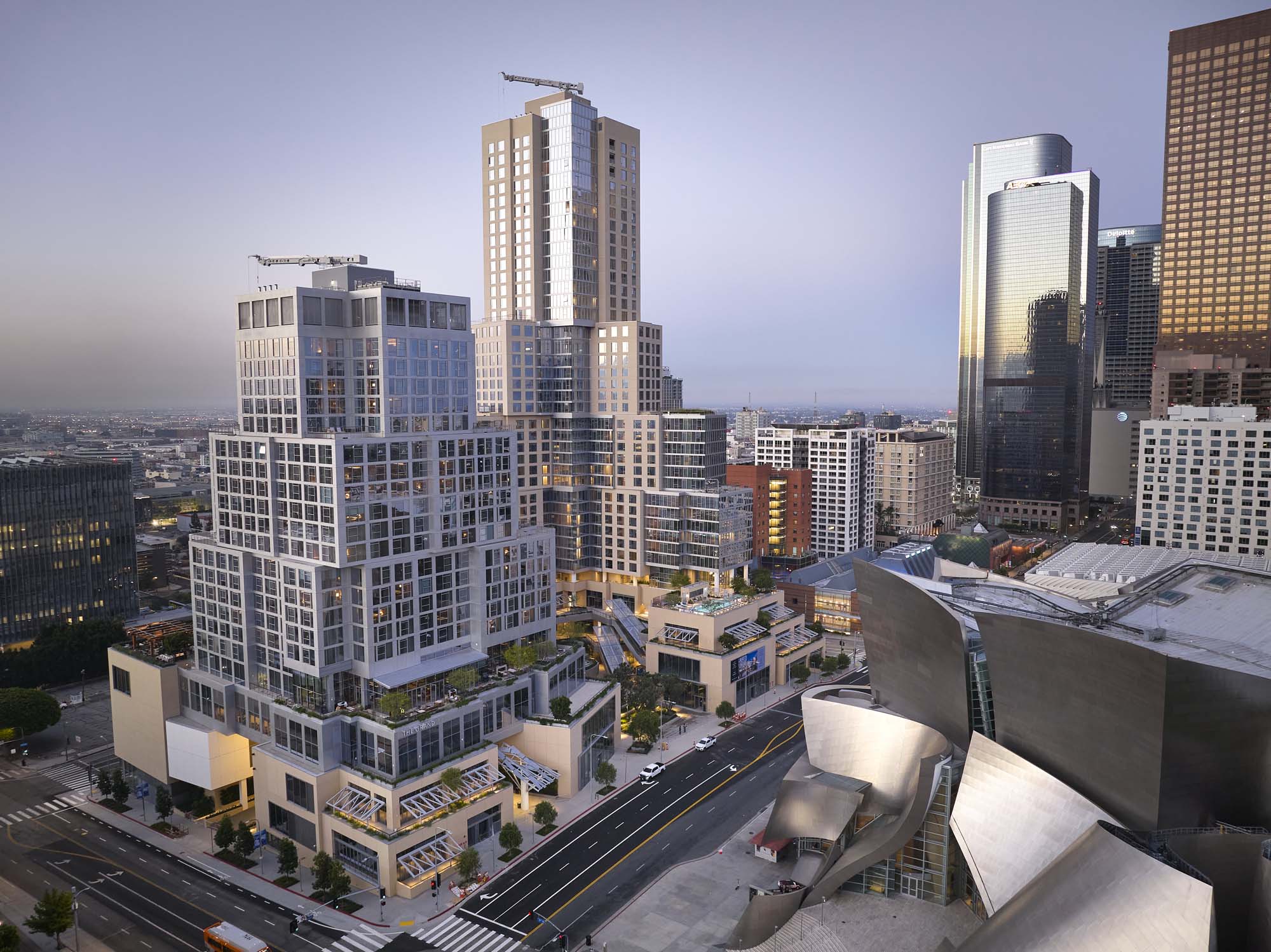 October 28, 2022
The Broken Dreams of L.A.'s Grand Avenue
Gehry Partners' pixellated, mixed-use complex for Related Companies and China Harbour Engineering Company Ltd.—one 45-story residential tower named The Grand by Gehry, one 25-story hotel with 205 rooms run by the high-end Conrad Hotel atop a retail podium—is a $1 billion, beige, value-engineered attempt that not only fails at reconciling Grand Avenue but is also an eyesore that devalues Gehry's previous masterwork. German philosopher Theodor Adorno once wrote "In the history of art, late works are the catastrophes," as an assessment of failed undertakings and, interestingly, of those where in the ruins of past successes lies fresh genius. The Grand by Gehry is trapped, not freed by its signature.
Perhaps if the project had proceeded in the mid-2000s, just after the masterplan was completed, it might have had a chance. But according to architect Tensho Takemori, a partner at Gehry Partners, it started in 2004, then stopped and restarted, and was redesigned at least once before going full speed ahead in 2017. It received its occupancy permit for the two towers in June 2022, but the retail areas are still under construction. Nearly two decades in the making, The Grand has been through a recession and a pandemic, and although the design persevered, it fails to offer much back to the city at large.
---
More from Metropolis
---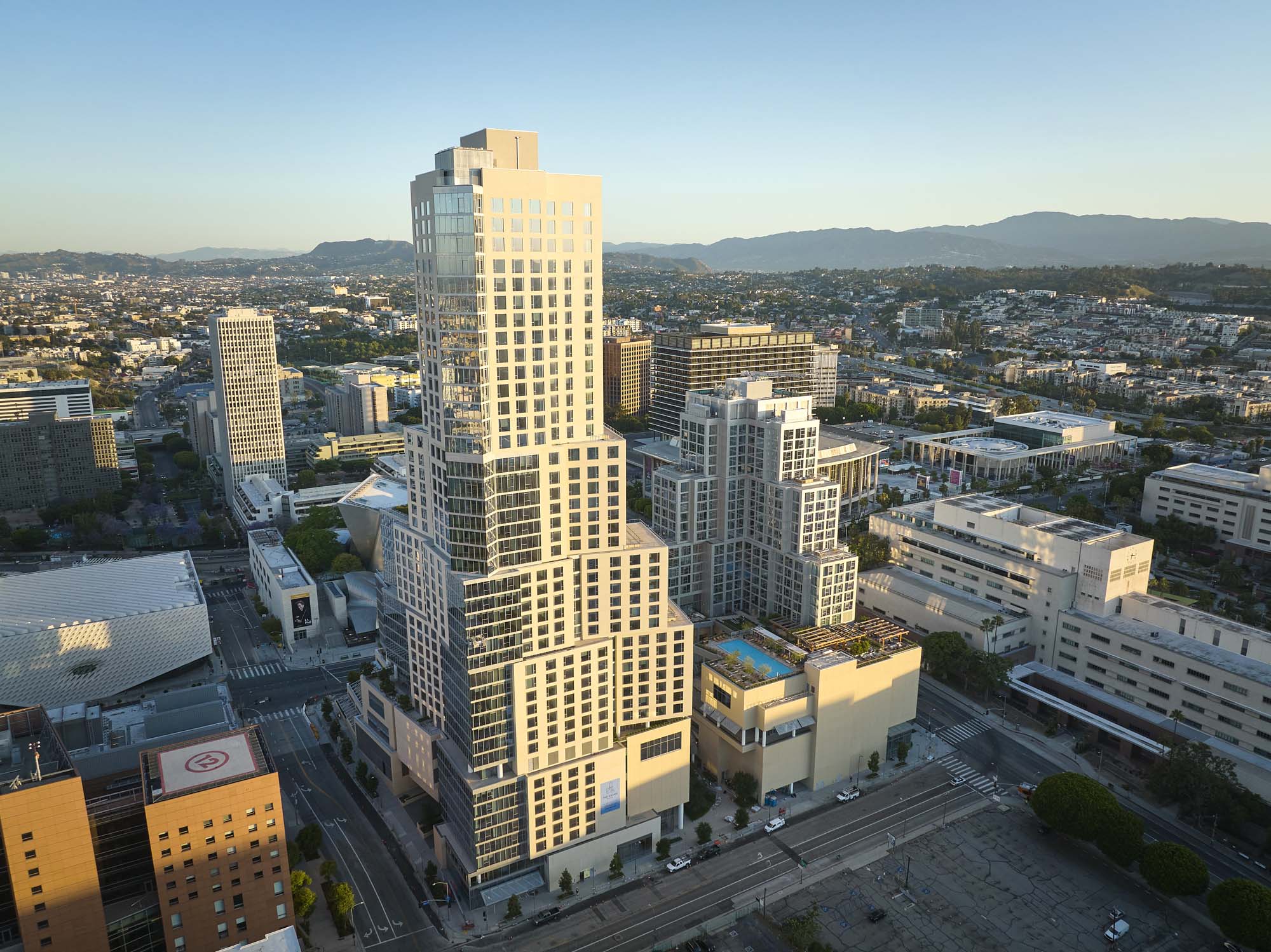 In a gesture toward urbanism, a gully of sorts runs between the two towers, connecting Grand Avenue to Olive Avenue below; a quasi-public pedestrian path that navigates the lower-level valet drop offs for the hotel, mall, and residences. Let's call it the Gehry Gulch, a path for those who don't want to walk along the steep sidewalk. Along Grand, a small green space is planted with grass and a half dozen olive trees and shadowed by the residential tower. But to suggest that this snippet of manicured and patrolled landscape is civic is either delusional or cynical. The Grand LA's website touts its commitment to public space in the form of $57 million contributed to nearby Grand Park, but doesn't mention that the money was in exchange for development rights.
Remarkably squat given its height, the glass and precast concrete residential skyscraper steps back like an ersatz ziggurat, each block slightly jostled out of alignment. On a building tour, Takemori suggested that the move was in deference to the rather low-slung scale of Grand Avenue, a means to modulate the difference between Bunker Hill's commercial skyscrapers and the cultural outcropping down the street. That argument does little to mask the fact that the form most likely illustrates zoning setbacks and a need to provide plenty of corner apartments. 
Rents for The Grand by Gehry's 436 units—89 reserved for for-low to middle-income tenants— start at $2,750 for a studio. Rockwell Group designed a swank suite of luxury lifestyle amenities for the residents consisting of nearly 27,000 square feet of indoor and outdoor common spaces. Still, all the best views are outward: from floor-to-ceiling apartment windows to poolside perches at the terrace level, Gehry's Disney Hall has never looked better.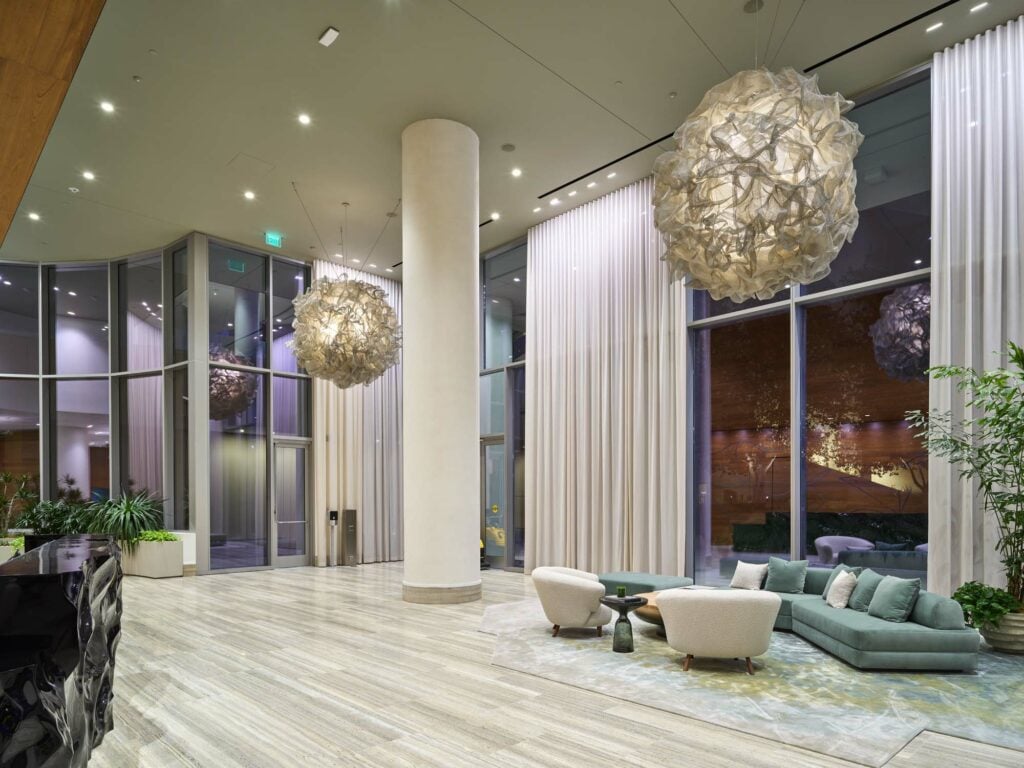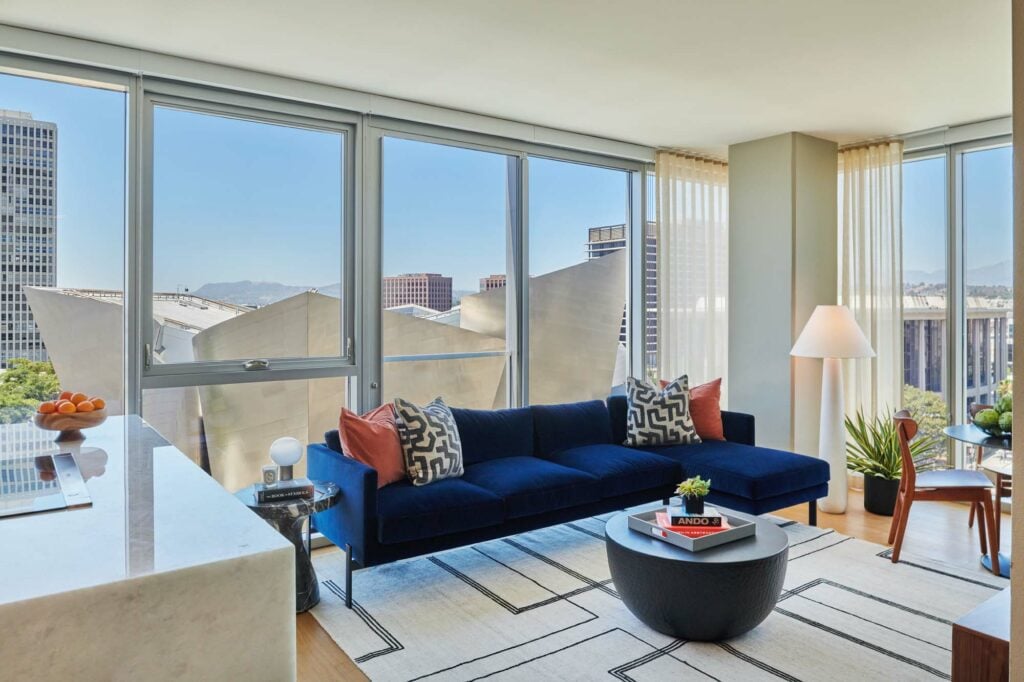 The hotel, meanwhile, rises jitterily above sad storefronts along Grand Avenue. In the renderings, there clearly was a wish for a dynamism to echo its steel-clad neighbor across the street. Minor articulations try to capture that desire within the standard repetition demanded by a hotel program. The façade is painted aluminum in deference to the glittering concert hall. Window mullions shift with each floor to create slight bias in contrast to the dominant grid—a leitmotif, with no hook. 
As of September, some 164,000 square feet of destination dining and retail between the two towers was under construction and awaiting tenants. Gehry got his start in Victor Gruen's office, so malls are in the firm's DNA, but the shopping experience was changing even before the pandemic. The Grand's two stories of restaurants and shops, connected by exterior escalators and elevated pathways, seems both convoluted and undistinguished in a market that keeps having to up the ante to attract customers.
Related Companies' hope is that by (fingers crossed) later this year the first two floors will be filled with potentially lively eateries, with people and tables spilling out onto fenced patios. An outdoor bar is planned as the mall's centerpiece—The Center Bar—which will be covered by a meringue of sail-like structures designed by Gehry himself. On a street currently aching for dining options, more is certainly an improvement. But for the moment the empty real estate is dotted with black rat traps that contrast tan stucco. It makes one wonder if Grand Avenue, directly in the gleam of Disney Hall, is really the place you want to sit al fresco along the sidewalk. A better choice might be the rear terrace just off the hotel lobby, which is shaded by a massive timber assembly designed by Gehry Partners, offering a lovely view of City Hall, East L.A., and the San Gabriel Mountains. Have your cocktails on this perch. There are snacks by chef José Andrés.
Would you like to comment on this article? Send your thoughts to: [email protected]