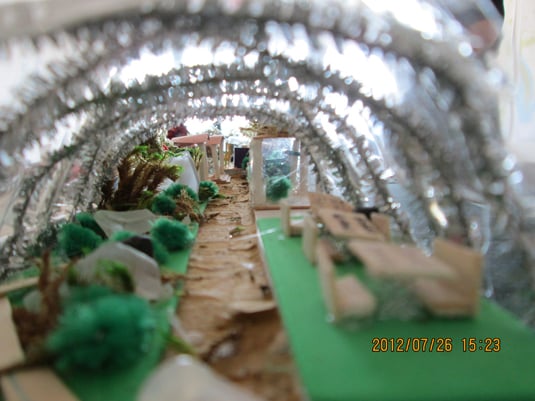 July 28, 2012
Two Week Charette: 1 of 2
On a steamy Monday morning in July, over a dozen high school and college students took their seats in a Washington DC gallery just half a block from the Anacostia River. They're here to participate in a two week-urban design charette. Following a brief presentation the students launched into questions about the proposed transformation of […]
On a steamy Monday morning in July, over a dozen high school and college students took their seats in a Washington DC gallery just half a block from the Anacostia River. They're here to participate in a two week-urban design charette. Following a brief presentation the students launched into questions about the proposed transformation of an existing freeway bridge into a pedestrian link and recreational destination. The tone of the discussion was occasionally rowdy, but the content was right on target, hitting all the major concerns that arose since this project began as an inspired pipe dream: how will it be funded, is there political will to see it built, how to ensure that foot traffic and access are adequate, how to deal with polluted river water, will there be gentrification and potential displacement of existing residents, and how to prevent crime?
The old 11th Street bridges that connect southeast DC with communities east of the river have reached the end of their lifespan; replacement bridges are now under construction. The D.C. Office of Planning along with several District agencies are exploring the idea of using the base of one of the bridges to create a park for active recreation, arts, and environmental education and connecting the communities of Capitol Hill with Anacostia.
Though the students understand the obstacles facing the bridge project, this has not hampered them from delving into design and programming to achieve the four lofty goals of the project:  promote healthy communities, restore the health of the Anacostia River, bring economic prosperity to the region, and symbolically stitch together the two sides of the river. Participating students are in the city's Summer Youth Employment Program, chosen for their interest in architecture, planning, and environmental engineering. They come directly from one of three District agencies: the departments of Planning, Environment, or Transportation. They understand the challenges they face, while they're eager to come up with some truly innovative solutions.
---
More from Metropolis
---
We got our first glimpse of creative thinking during a brainstorming session recently. Clustered around folding tables in groups of six, students jotted down ideas. The slips of paper were tacked up on the wall, with common themes grouped together: amenities like designated green space, playgrounds, and bike lanes. Suggestions that were unexpected or idiosyncratic were set slightly apart: a bungee jumping station, an outdoor exercise gym, a library, food vendors, and a performance venue. One idea rendered me speechless:  "President?"
The discussion was in full swing. Scott Kratz, project advisor for the 11th Street Recreation Project asked questions that got each student to articulate clearly his or her intention. This helped students explore possibilities for forging a link between Bolling Air Force Base along the Anacsotia River where "Marine One" is housed, and the location of our site. In a wider sense, the purpose of the two-week charette was intended to shock us out of complacency and to consider possibilities we've never seen before.
The ideas developed by students in this charette will find their way into the official RFP for the project—usually the domain of professionals. In fact, I don't know of any planning process that has ever been informed by a disenfranchised group just finding its voice.
Our deadline is a week away.  Under the catalytic pressure of time, ideas are going through intense iterative processes of exploration, refinement, and pruning. As I have no inkling of what thoughts and transformations the next few days will bring, I can only say that I am prepared to be astonished.
For more information about the 11th Street Bridge Project contact Patricia Zingsheim at [email protected] or (202) 442-8965.
Catherine Peek was a recent winner of the Washington Monument Ideas Competition for the entry, Field of Stars, an installation of piezoelectric lights that records foot traffic throughout the day. The patent-pending urban design tool is functional for learning at what times and in what volumes pedestrians flow through a space. Such data can be useful in health impact assessments or to developers of transit oriented developments or other pedestrian walking malls. She received a Master of Architecture from Rice University and has worked five years in the field. Inspired by innovations that make cities livable, Catherine is looking for professional opportunities in urban design.
Here is the following post in this series.