May 27, 2011
Julius Shulman's Unseen Los Angeles
Julius Shulman knew everybody. That's how he worked. He moved through the city not merely photographing, but orchestrating and choreographing images that helped define what it meant to be modern and in Los Angeles through the buoyant optimism of the 1940s, '50s and '60s. He kept it up until his death in 2009. In the […]
Julius Shulman knew everybody. That's how he worked. He moved through the city not merely photographing, but orchestrating and choreographing images that helped define what it meant to be modern and in Los Angeles through the buoyant optimism of the 1940s, '50s and '60s. He kept it up until his death in 2009.
In the new book Julius Shulman Los Angeles: The Birth of a Modern Metropolis, authors Sam Lubell, West Coast editor for the Architect's Newspaper, and Douglas Woods have assembled a collection of Shulman's rarely seen works that document the burgeoning city as it became a metropolis. In fact, because of Shulman's willingness to shoot anything and accept any photographic challenge, this collection constitutes a definitive sweep through the visual history of Los Angeles.
Images such as this quite possibly inspired artists such as Ed Ruscha.
He was the city's eyes for almost eighty years and the way he framed the city helped generate a "brand" of modernism (and futurism) that was uniquely of Los Angeles. The city he captured with his wide-format camera was under the influence of high-energy development, experimental modernism, and utopian land adventures. Through the years he saw it all.
A Simpler Time?
The photographs are more than mere historical documents. They are his love letters to the city and a challenge to the present to find what he saw at one time. Can it still be found? In some cases perhaps, yes, it can. After all, though the contexts may have changed, many of the buildings he photographed still exist. The lifestyles depicted (and often staged) are for the realm of nostalgia, something he was not necessarily interested in, but an unintended consequence of time. For him, the city was the present and presence in front of the lens.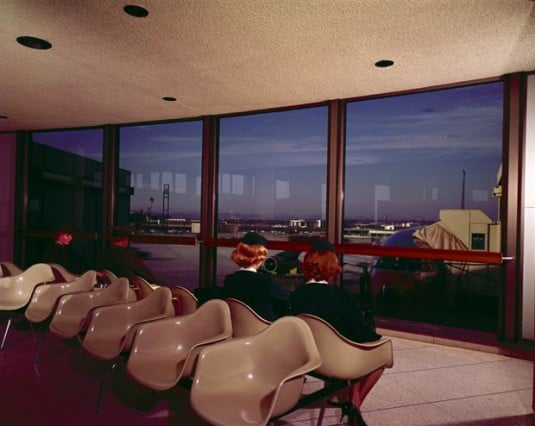 The sublimely mundane of a by-gone era, perfectly framed
This is not the Julius Shulman of the "gravity-defying" Case Study House No. 22 and other architectural icons he helped immortalize as part of the pantheon of west-coast modernism. The story told by Julius Shulman Los Angeles is the story of his movements well outside this circle and, if we believe the image-crafting that he and his editors had a hand in manipulating, outside "Julius Shulman" himself.
Through his oeuvre we are now able to see much more behind the veil of smog, traffic, and careless development that so drastically altered the Los Angeles he loved. While still an architectural intern, I once had the good fortune to be picked to work as Mr. Shulman's assistant for a day. I must admit that at the time I did not fully comprehend the significance of this old man with the large wooden camera. After a day of helping to set up his shots, I drove him back to his home in the Hollywood Hills. "It's a lot harder these days," he said to me. "You have to find your own way." With that in mind, I now find my way, occasionally glimpsing his city.
Guy Horton writes on architecture for The Huffington Post. He is a frequent contributor to Architectural Record, The Architect's Newspaper, and author of The Indicator, a weekly column on the culture, business and economics of architecture, featured on ArchDaily. He is based in Los Angeles. Follow Guy on Twitter.