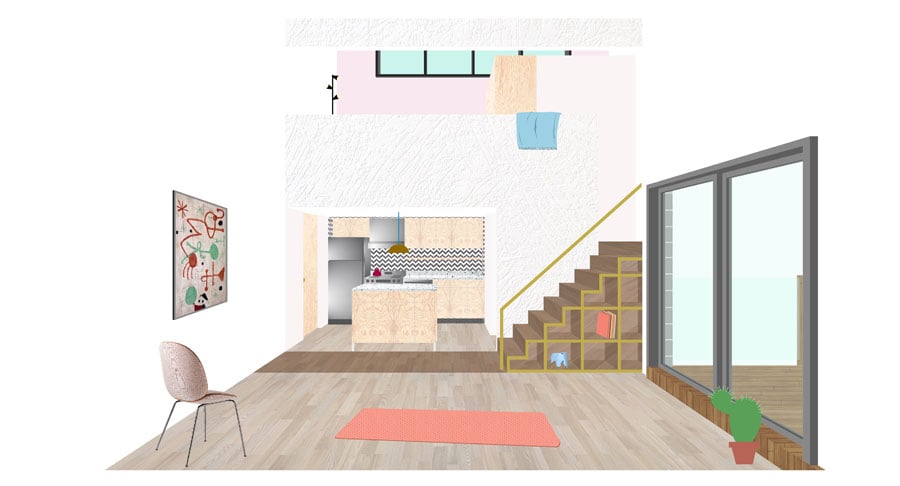 November 24, 2020
Novel Architecture in the Age of the Novel Coronavirus
In a time of unprecedented uncertainty, young architecture practices are proposing solutions to meet the demands of multiple simultaneous crises.
On New Year's Day this year, none of us could have imagined where we would be by year's end. Not only have we grappled with the economic effects of a global pandemic, but we have witnessed a societal uprising for Black and Brown lives and passionate defenses of democracy in the face of the rising tide of fascism. For architects, this current moment poses questions not only about how firms operate in response to the pandemic's challenges but also how they address the wounds caused by centuries of injustice.
Metropolis spoke with four young, American architectural offices—Team B Architecture & Design, PINO PAVESE Architecture Office, WIP, and table of co.—on how the pandemic has informed their practices. With three out of four offices having launched their businesses in early March, only Team B knows a pre-COVID world.
Remote Working
When much of the world went into lockdown, there was a monumental shift to remote working. While some industries found the decentralization of work difficult to accomplish, many in the A&D community felt the opposite. With the use of now-ubiquitous programs like Zoom and Miro, connecting with collaborators, consultants, and clients virtually has been seamlessly integrated into at-home workflows.
Lindsay Harkema, the founder of WIP, a Brooklyn-based feminist architecture collective notes that "Discussions done virtually have the ability to overcome time zones." While this has been the case for practices for some time now, the pandemic has driven home the point that collaboration can occur instantly even from distant corners of the globe. For small offices, the new tools of communication allow a simpler way to exchange ideas with like-minded practices despite location and the ability to have a much larger presence in larger discussions happening across the country and industry.
For example, table of co. has used such tools to connect with other young practices, especially through the newly formed collective Office Hours, which provides a virtual space in which to mentor BIPOC students and architects and to share their experience of establishing new practices.
Housing Reimagined
This year has left an indelible mark on how we live. Our homes have become three-ring circuses, hosting work, school, summer camps, and countless other activities in addition to living. Pino Pavese, the Swiss-born founder of his eponymous Manhattan-based office, states, "Residential layouts, now more than ever, have to be more flexible and versatile in their use." This philosophy manifests in Pavese's recent proposal for a Living and Learning Center for children and young adults with disabilities. With a site that functions like a small village, the buildings have large interior spaces that open onto the landscape. He hopes that the project to creates a design that "strikes a unique balance between the familiar and the stimulating."
For Team B, a trio based in the seven hills of Cincinnati, they strive to create what firm co-founder John Stoughton describes as projects that embody "positive and visionary storytelling." The studio's Copelen at Five Points project in Cincinnati's historic Walnut Hills neighborhood is an example of the fruits of positive collaborations with stakeholders. They note that "Now more than ever, it is important to find like-minded people in order to realize projects that set an example of what affordable housing can be."
Drawing upon the shotgun houses that line the alleys in the neighborhood, they propose a mixed-use development featuring a row of single-family dwellings that engage with this existing housing stock. Working with the economic restraints necessitated in constructing affordable housing, Team B maximizes the spatial experience in each of these units by deploying simple formal moves that produce friendly structures aiming to engender pride for the inhabitants.
Equity & Identity
With the onset of COVID-19 and its disproportionate effect on communities of color in terms of physical, mental, and economic wellbeing, mixed with the already deleterious consequences of systemic racism and sexism, many architects are feeling a moral obligation to use their strengths to address these gross inequities.
Also emerging is a greater consideration of the identities of both the designer and user of the space. WIP's Harkema says that as a studio their goal is to "support those who eschew patriarchal conventions and define new narratives of architectural practice." A recent project, appropriately named Title IX Bar, is a design for a womxn friendly sports bar. However, with the pandemic challenging how we think about restaurant and bar formats, the project has expanded its scope in that it has become not only an opportunity to rethink the spatial implications of gender but also how new social distancing requirements can become a positive force in redefining how hospitality spaces operate.
As America is on the historic eve of inaugurating its first Black and Asian-American woman as vice president, table of co. says they "want to come at the next four years with optimism."  Indicative of this optimism is their project Up(ing) Your Alley, a submission to the Chicago Architectural Club's Burnham Prize competition. Through energetic drawings, they propose a fun yet critical take of how something as banal as an accessory dwelling unit can become an element that not only provides an additional revenue stream for homeowners but create a spatial experience that is inviting for people from diverse backgrounds. Scattered amongst the back alleys of the Windy City, a series of structures sit perched atop leg-like pilotis. Each with their own intended purposes, they appear to move in sync with one another, dancing with exuberant joy.
The lasting impact of COVID-19 has reshaped numerous aspects of what we know. We will not be able to go back to what was "normal." But if it is any hope, it is this next generation of architects that are rising to the occasion and changing how we think and engage with space in order to create a more equitable "normal."
You may also enjoy "Ford Unveils Details of its Plans for Detroit's Corktown"
Would you like to comment on this article? Send your thoughts to: [email protected]
---
Register here for Metropolis's Think Tank Thursdays and hear what leading firms across North America are thinking and working on today.