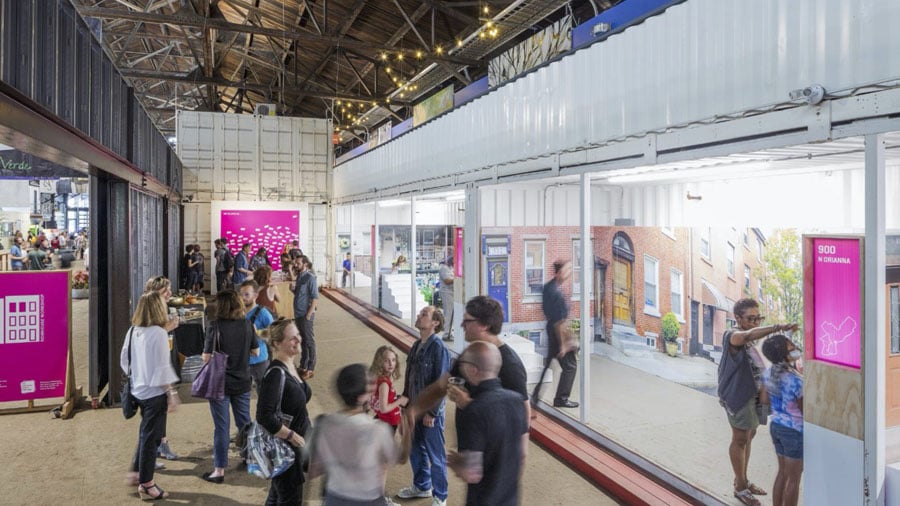 March 15, 2021
The Rudy Bruner Award Speaker Series Continues: Building Equity with Housing and Parks
Hosted in partnership with Northeastern University, the RBA's "Inspiring Design" series explores models of equitable and inclusive spaces.
In its latest sessions, the RBA/Northeastern University Myra Kraft Open Classroom Inspiring Design: Creating Beautiful, Just and Resilient Places in America examined the roles of healthy and affordable housing, public-private partnerships and investments by anchor institutions, and public park systems in building equity and strengthening communities in Boston, Philadelphia, Phoenix, New York City, and Greenville, South Carolina. Speakers reiterated themes expressed in earlier sessions on Planning Equity and Engaging Communities via Food and Education about the importance of visionary leadership that is inclusive, collaborative, and values history and culture.
In Advancing Housing for Health and Wellbeing, urbanist Karen Kubey, editor of Housing as Intervention: Architecture Towards Social Equity and co-organizer of the New Housing New York design competition, discussed how AIA New York partnered with The City University of New York, New York City Council, and local agencies to sponsor a competition for new, replicable ideas for sustainable equitable housing models that engaged architects, developers, and the public alike. The process yielded the 222-unit Via Verde complex (2013 RBA Silver Medalist) and served as an early test case for incorporating NYC 2010 Active Design Guidelines in the project realization process, demonstrating how housing can promote greater health justice.
Interface Studio Architects' Founding Principal Brian Phillips described his firm's use of design case studies to create new prototypes for high-performance affordable housing. These included $100K Houses, 1000-square-foot homes constructed for just $100 per square foot, and the Rowhouse Workshop, an interactive 2019 exhibit supported by The Pew Center for Arts & Heritage. Wandy Pascoal, Housing Innovation Design Fellow with the Boston Society of Architects and Boston Mayor's Housing Innovation Lab, shared how the partnership is developing and testing new housing models such as the Additional Dwelling Unit, Urban Housing Unit, and Future Decker, the latter an adaptation of Boston's ubiquitous three-family "triple decker" home. As the panelists observed, innovative solutions require big thinking alongside small-scale interventions, and prototypes offer valuable opportunities to influence public opinion, policy, and investment.
In Strengthening Cities Through University Community Partnerships, Maria Rosario Jackson, Professor at the Herberger Institute for Design and the Studio for Creativity, Place and Equitable Communities at Arizona State University (ASU), and Jason Schupbach, Dean of the Antoinette Westphal College of Arts & Design at Drexel University, discussed the role of anchor institutions in cities. They described the responsibility of colleges and universities to be good citizens and stewards and the ability of cultural organizations to fuel civic engagement that informs the creation and investment in programs and projects that benefit all.
Jackson and Schupbach explained how the focus on inclusivity and public value in ASU's charter shaped the creation of Civic Space Park (2011 RBA Silver Medalist) in collaboration with the City of Phoenix. The development transformed empty lots into a new public space linking downtown with housing, public transit, and school buildings and features a sculpture by artist Janet Echelman. The park's success, however, has triggered gentrification, prompting questions about the responsibility of anchor institutions like ASU to address the impacts of their development. As Northeastern University's Vice President and Chief of Campus Planning and Development Cathy Spiegelman observed, a key to successful partnerships is minding the balance of power between universities and communities as "the magic is when both come together."
In Investing in Infrastructure, Greenville, South Carolina, Mayor Knox White shared the story of how decades of thoughtful planning and investments in the public realm of the city are not only attracting businesses and tourism but also reuniting and strengthening community by acknowledging and addressing existing racial, environmental, and economic inequities along with the threat of gentrification. With the completion of Falls Park on the Reedy (2015 RBA Silver Medalist) and Unity Park, a new 60-acre venue now under construction, the city is realizing a vision for a network of parks first proposed in the 1907 Beautifying and Improving Greenville South Carolina and inspired by Boston's Emerald Necklace.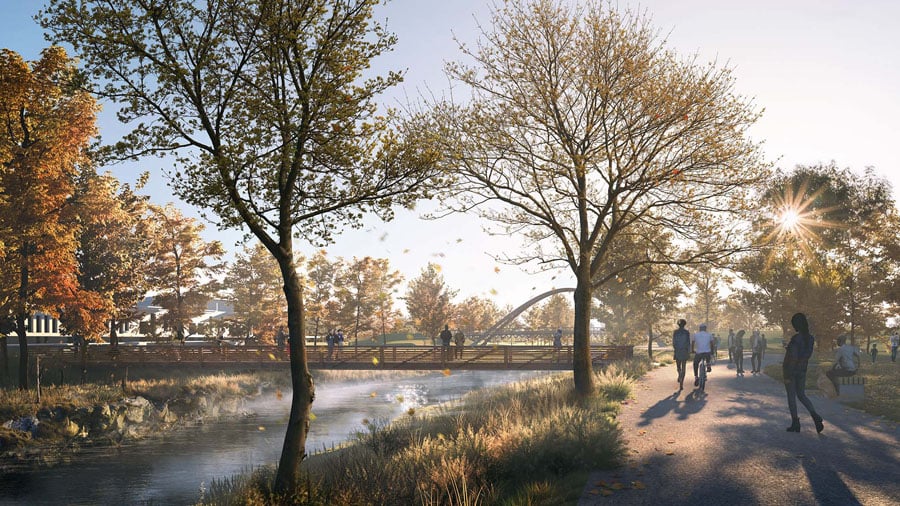 Greenville is focused on building both its neighborhoods and greenspaces. The new park will pass through Southernside, a predominantly African American community in the heart of the city that long served as its "backyard," playing host to a landfill, a trash incinerator, and a prison. Now, as Southernside Neighborhood in Action President Mary Duckett observed, Unity Park and its 10-story observation tower offering views of downtown and the Blue Ridge Mountains will "put Southernside on the map." To address anticipated gentrification, the city donated $8 million of adjacent land to the Greenville Housing Trust Fund for the creation of 400 units of affordable and workforce housing. The Emerald Necklace Conservancy's Karen Mauney-Brodeck and Northeastern University School of Architecture's Dan Adams highlighted the need to think of infrastructure as more than roads and bridges, to grapple with the complex history of cities and inequities, and to "preplan" in anticipation of the impacts of park development.
Additional Inspiring Design sessions:
March 17 – Creating Inclusive and Resilient Public Spaces with The Steel Yard in Providence, Rhode Island (2013 RBA Silver Medalist)
March 24 – Ending Homelessness with The Times Square in New York City (1997 RBA Gold Medalist) and The Bridge Homeless Assistance Center in Dallas, Texas (2011 RBA Gold Medalist)
March 31– Cultivating Dialogue About Urban Development with Buffalo Bayou Park in Houston (2019 RBA Silver Medalist)
Learn more and register here for free. AIA CEUs are available.
You may also enjoy "Optimism and Determination in Metropolis's 2021 Technology Issue"
Would you like to comment on this article? Send your thoughts to: [email protected]
---
Register here for Metropolis's Think Tank Thursdays and hear what leading firms across North America are thinking and working on today.