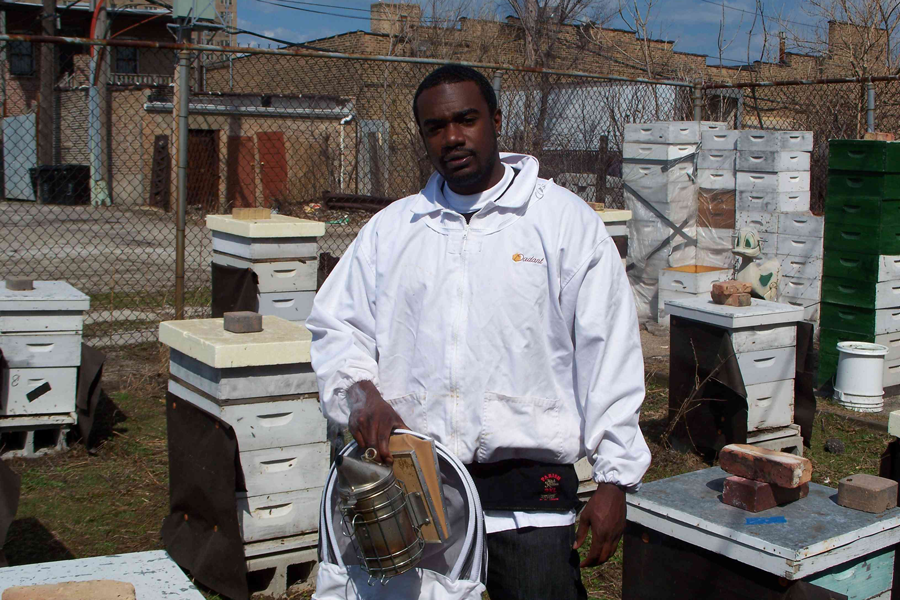 February 23, 2021
The Rudy Bruner Award Continues Its Speaker Series: Engaging Communities via Food and Education
A partnership with Northeastern University, "Inspiring Design: Creating Beautiful, Just, and Resilient Places in America" draws on the award organization's national network.
Three recent sessions of the RBA/Northeastern University Myra Kraft Open Classroom Inspiring Design: Creating Beautiful, Just and Resilient Places in America series highlighted the ability of collaborative design to empower people, build communities, and advance change. Speakers associated with RBA winners in Chicago, Memphis, and New Orleans shared stories of innovative projects and initiatives that are reshaping approaches to food production, education, and engaging America's next generation.
In Building Community with Food, Larry Kearns, FAIA, of Wheeler Kearns Architects made the case that food production "generates benefits for people, planet and profit" and shared a proposal for Chicago's first Food Innovation District. The ambitious vision leverages food-related initiatives within a 1.5-mile radius of each other on the city's West Side, including Inspiration Kitchens—Garfield Park (2013 RBA Silver Medalist), a restaurant offering healthy and affordable meals prepared by students in an onsite 13-week food service program; The Hatchery—a nonprofit food and beverage incubator; and Sweet Beginnings—an apiary business offering locally produced honey and products.
North Landale Employment Network President and CEO Brenda Palms-Barber founded Sweet Beginnings to offer workforce training and employment opportunities for the formerly incarcerated (57% of neighborhood residents are "justice-involved"). The program helps "take the sting out of re-entry," providing more than 500 jobs and changing the narrative of the neighborhood from one of vacant land and weeds to beauty and opportunity. Christopher Bosso, Northeastern University professor of public policy and editor of Feeding Cities: Improving Local Food Access, Sustainability, and Resilience, observed that the stories offer compelling examples of ways that people are reconnecting urban spaces and communities with food and food production.
In Reimagining School, Todd Richardson, president of Crosstown Redevelopment Cooperative in Memphis, discussed Crosstown Concourse (2019 RBA Gold Medalist), an abandoned former Sears warehouse reimagined for community good. The new vertical urban village includes Crosstown High, a learner-centered charter school. Richardson and Crosstown High Chief of Staff Ginger Spickler described how the power of design thinking informed the community-driven creation of both the building and the school, as well as ongoing day-to-day work.
A member of the national XQ Super School network, the school engages grades 9 through 12 students in interdisciplinary, project-based learning that emphasizes problem solving, collaboration, relationship, and communication skills. Its projects offer opportunity for real-world learning and often involve building tenants such as Global Cafe's food entrepreneurs, who shared their experiences as refugees. Ron Bogle, founder and CEO of the National Design Alliance and leader of Reimagine America's Schools, described the endeavor as successfully "bringing community into school and school into the community."
In Engaging and Empowering the Next Generation, Ann Yoachim, executive director of the Albert and Tina Small Center for Collaborative Design at Tulane University's School of Architecture, and Julian Wellisz, former Co-Director of Transitional Spaces, shared the story of how the Small Center engaged neighborhood residents, skaters, architecture students, engineering and design professionals, and public agencies in the co-creation of Parisite Skatepark (2019 RBA Silver Medalist), the first in the City of New Orleans.
They and YouthBuild Boston's Project Development Manager Michael Chavez described how small-scale design/build projects, such as installing the skatepark's rainwater garden and green roofs on MBTA bus shelters offer opportunities for critical conversations about resiliency with local residents of all ages. They emphasized the value of learning through the process of expanding the ability of people and communities to shape the places where they live and inspire the next generation. Yoachim reflected: "The collaborative design process can address long-standing inequities."
Upcoming Inspiring Design sessions include:
• February 17 – Advancing Housing for Health and Wellbeing with Via Verde in the Bronx, New York City (2013 RBA Silver Medalist)
• February 24 – Strengthening Cities through University Community Partnerships with Civic Space Park in Phoenix, Arizona (2011 RBA Silver Medalist)
• March 3 – Investing in Infrastructure with Falls Park on the Reedy in Greenville, South Carolina (2015 RBA Silver Medalist)
Learn more and register here for free.
You may also enjoy "Rising Studio PARTISANS Reflects the Triumphs and Challenges of Building in Toronto"
Would you like to comment on this article? Send your thoughts to: [email protected]
---
Register here for Metropolis's Think Tank Thursdays and hear what leading firms across North America are thinking and working on today.