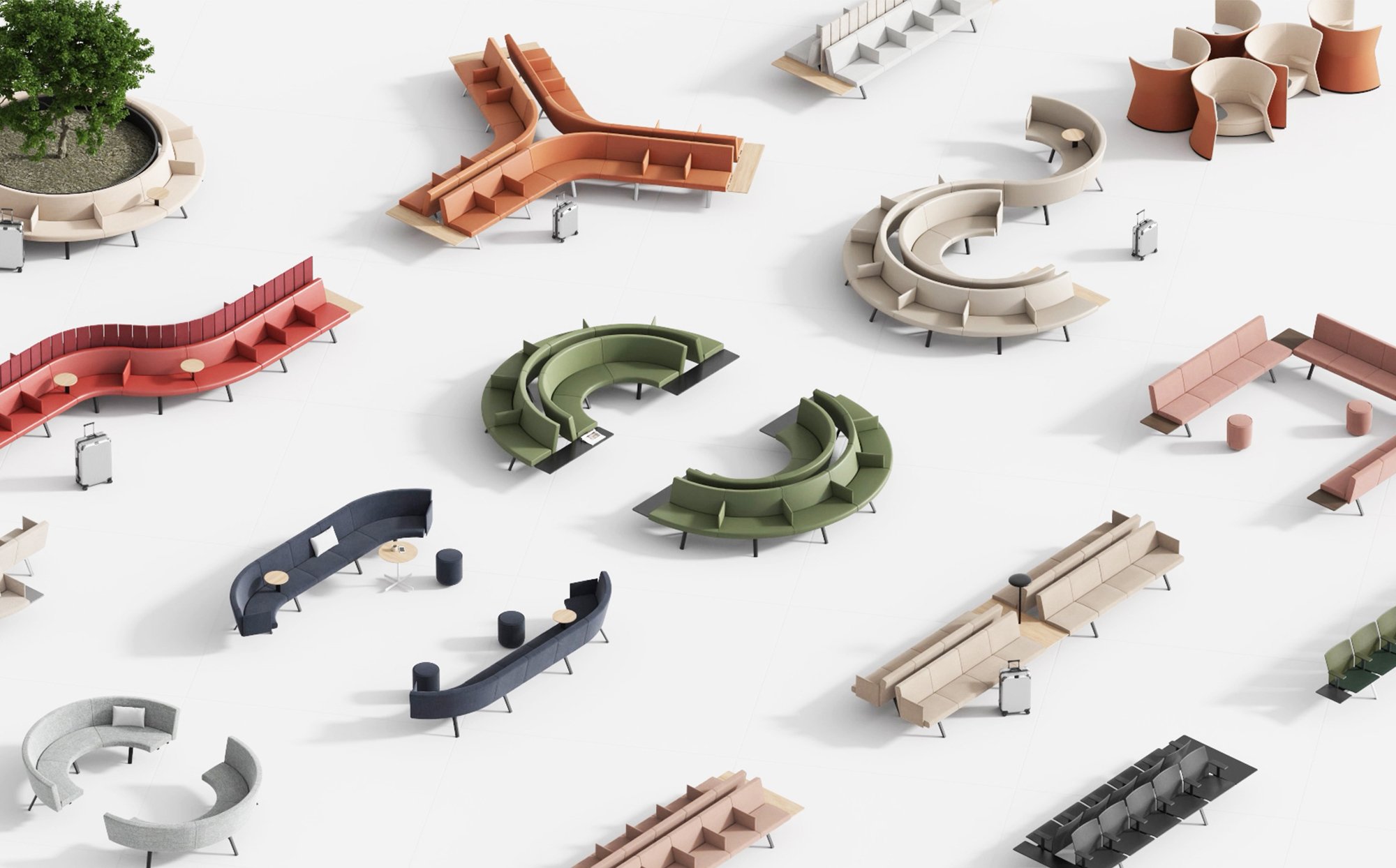 June 21, 2023
12 Office Furnishings That Work Where You Do
ABOVE IMAGE:
BAY SYSTEM
Italian furniture maker Poltrona Frau, a Haworth company, will show off this flexible Foster + Partners–designed seating system at NeoCon 2023. Offered in two ranges (BAY Gate and BAY Lounge) and many configurations, its primary structure of twin central beams supports one or two rows of modular, ergonomically molded seating.
POLTRONA FRAU
PINDROP COLLECTION
A standout among Momentum Textiles' NeoCon debuts is its Pindrop collection of acoustic wall tiles. Made entirely from recycled PET, they're also Red List–free and they come with a Declare label. Numerous combinations of shape (Petal is shown), pattern, color, and size are available.
MOMENTUM TEXTILES
TFM
Handcrafted by artists in Mexico, these playful fiberglass planters are the product of a collaboration between New York–based exterior design and landscapes firm Manscapers and Chelsea art gallery Tuleste Factory.
TULESTE FACTORY
CAPTIVATE COLLECTION
A line of handwoven 100 percent wool area rugs is a noteworthy debut from contract flooring manufacturer Mannington Commercial. The residential feel of the level-striated wool carpets can lend warmth to commercial interiors normally floored in tiles or sheet material. Available in 5' x 8', 8' x 11', or 10' x 14' sizes.
MANNINGTON COMMERCIAL
K830 WALL
Originally designed in the 1930s by Werner Glasenapp, the K830 task lamp has been revised in a wall-mount version by Hamburg, Germany–based lighting manufacturer Midgard.
MIDGARD
JOYN 2
Vitra has updated its Joyn desking system, a 2002 Ronan and Erwan Bouroullec design, with a version made of more natural and sustainably sourced materials, including aluminum bases, cork screens, wood worktops, and recycled plastic components.
VITRA
HILL
Simple design conceals cleverly engineered compartments for easy recycling and waste collection in a single sturdy steel trash bin.
VESTRE
CLASS
Sebastian Herkimer designed this outdoor collection of aluminum and glass sconces and path lamps for Spanish lighting manufacturer Vibia.
VIBIA
RIO SOFA
A healthy combination of FSC-certified wood, natural latex filling, and OEKO-TEX Standard 100 label wool distinguishes this affordably priced sofa from Medley.
MEDLEY
CUMULUS
Maharam is raising the bar on its performance fabrics by debuting a series of bleach-cleanable upholsteries made from rapidly degradable, postconsumer recycled polyester—and able to withstand up to 100,000 double rubs.
MAHARAM
HIGHLINE
Users can spontaneously change the combination of spots, pendants, and optional felt shades on RBW's suspended beam lighting system Highline, without the use of tools.
RBW
SLOTH CHAIR
This aluminum and synthetic fiber resort chair by Maximilian Eicke is uniquely stackable (thanks to foldable legs) and portable (thanks to built-in handles).
MAX ID NY
Photography: COURTESY OF THE MANUFACTURERS
Would you like to comment on this article? Send your thoughts to: [email protected]