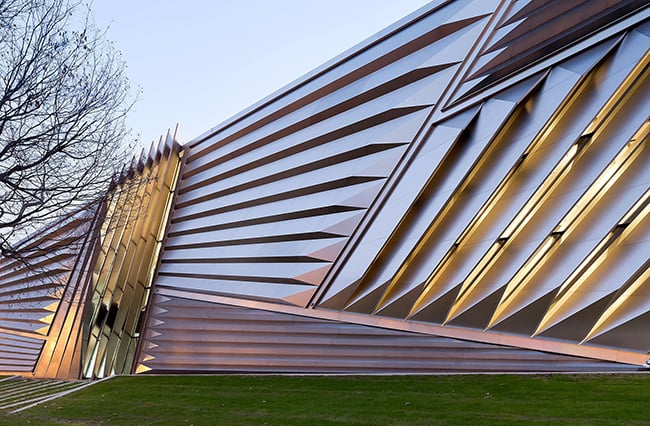 November 21, 2013
13 Exceptional Projects Showcasing Green Building Products
These stunning building products offer inspirational solutions for any project.
As the building sector slowly recovers, developers and clients are realizing that green buildings that are beautiful and perform efficiently will become sound business opportunities over the long term. But client and market demands dictate lower operating costs, so architects and manufacturers, in turn, are looking to innovative exterior solutions—such as glazing and facade materials—that promote resource-efficient technologies and sustainable operational practices, and interior products that provide environmental, social, and economic benefits over their whole life cycle.
For example, take the use of GKD Metal Fabrics sun-shading for the company headquarters of the California ISO in Folsom, California. The areas of the building covered by metal fabric shades achieved surface temperatures that were 17 percent lower, even on the hottest days. Sunshading not only reduced the carbon footprint but also motivated employees at the headquarters to consider sustainability company-wide. These recent projects from around North America highlight the transformation, both outside and in, of architectural design, and offer inspiration for any green project.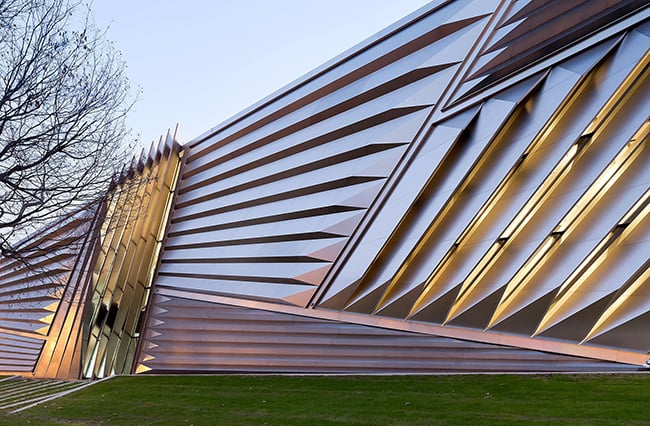 Zahner Fabricated Stainless-Steel Panels
Zaha Hadid's Eli and Edythe Broad Art Museum at Michigan State University has an exterior rainscreen system of steel framing clad with stainless-steel pleated panels by Zahner, who worked to produce a prototype of the exterior and developed a new process of machining the large metal plates.
www.azahner.com
MechoSystems EcoVeil 1350 Shades
The Rush University Medical Center in Chicago, by Perkins + Will, uses Cradle to Cradle-certified EcoVeil 1350 Shades, which can be recycled and remain in a loop of continuous use. The project used 2,839 shades, and was done with the Miceli Drapery Company.
www.mechoshade.com
R&S Steel Fabricated Staircase
Machado and Silvetti Associates designed a stunning staircase for the Ruth and Elmer Wellin Museum of Art at Hamilton College in Clinton, New York. The heavy plate steel used for the metal frame of the stairs, built by R&S Steel, weighed 11,000 pounds.
(315) 281-0123
Guardian Sunguard Superneutral 68 Triple Glaze Glass
Used in the Valley View Middle School in Snohomish, Washington, by Dykeman Architects, this glazing has light transmission of 52 percent and a low solar-heat coefficient. It not only met new energy codes in place during the design-and-build phase, but also allowed the architects to meet more stringent codes that came out last July.
www.dykeman.net
Nanawall HSW60 Sliding-Glass System
The operable glass wall system has a roller-and-guide track design so each panel can move easily around tough spots like corners and posts. At the University of Hawaii Cancer Center, by Simokawa + Nakamura, it allows amazing ocean views and grand openings to the outdoors.
www.nanawall.com
Kawneer Versoleil SunShades
The LEED-certified Suzanne and Walter Scott Jr. Bioengineering Building in Fort Collins, Colorado, by Slaterpaull Architects, used these sunshades to reduce solar-heat gain and glare. The shades are engineered and tested to withstand the extremes of Colorado weather.
www.kawneer.com
American Hardwood Export Council Cross-laminated Timber
The Endless Stair, London's towering structure of 15 Escheresque interlocking staircases, designed by de Rijke Marsh Morgan Architects, uses cross-laminated timber  made from tulipwood to demonstrate the potential of this abundant, inexpensive, and structurally impressive hardwood.
www.americanhardwood.org
USAI Lighting BevelLED 2.0 Downlights
In order to meet New York City's strict building codes, the Camper flagship store in Manhattan, designed by Nendo in collaboration with Montroy Andersen DeMarco, illuminated the space with LED downlights that are energy efficient (each delivers up to 2,000 lumens) but are indistinguishable from other light sources.
www.usaillumination.com
Solatube Tubular Daylighting
For Red Hawk Elementary  in Erie, Colorado, RB+B architects used modified 750 DS-C Solatube lanterns with slits cut into the slides to let light spill out. The high-performance 14-inch tubes not only bring daylight into the atrium, but also provide a unique decorative element.
www.solatube.com
Pilkington Eclipse Gold Glass
The Stephen Hawking Centre at the Perimeter Institute in Waterloo, Ontario, by Teeple Architects, is fitted with on-line coated glass in a rich gold color that allows high natural daylight transmittance, which lowers artificial lighting needs.
www.pilkington.com
AGC Glass Company Comfort TI-AC Glass
The Absolute World Towers in Mississauaga, Ontario, by MAD Architects and Burka Architects, uses low-emissive layers on clear glass, producing light transmission and a neutral reflectance level, making it both visually appealing and energy efficient.
www.us.agc.com
Allied Works Cast-in-Place Concrete
The Clyfford Still Museum in Denver, Colorado, by Allied Works Architecture, uses cast-in-place concrete walls with a variety of specialized wood-formed finishes. The vertical formwork was constructed out of hem-fir planks that were ripped to create ribs on the surface. www.alliedworks.com
GKD Metal Fabrics
The areas of the  California ISO headquarters in Folsom by Dreyfuss & Blackford that were shaded by metal fabric achieved 17 percent lower surface temperatures. The shaded areas of wall and floor were substantially cooler.
www.gkdmetalfabrics.com