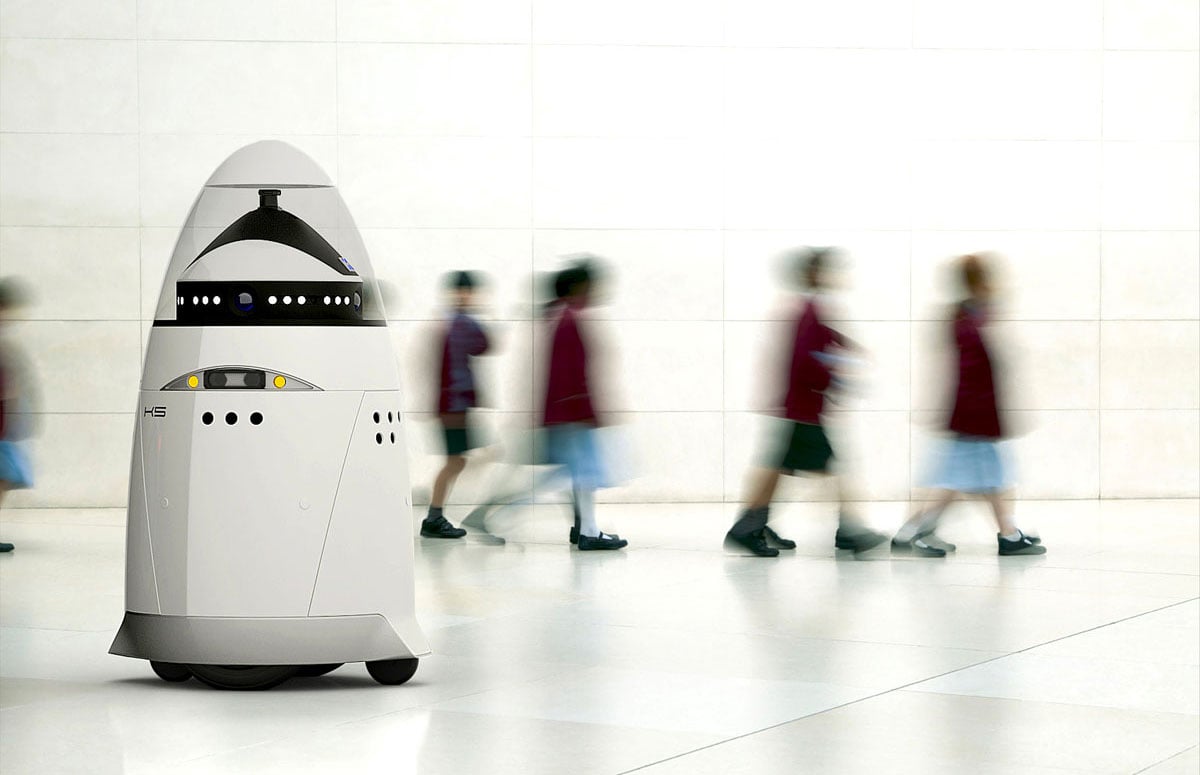 April 30, 2014
15 Design Solutions to Make Your Life More Secure
Design solutions that make your
life more secure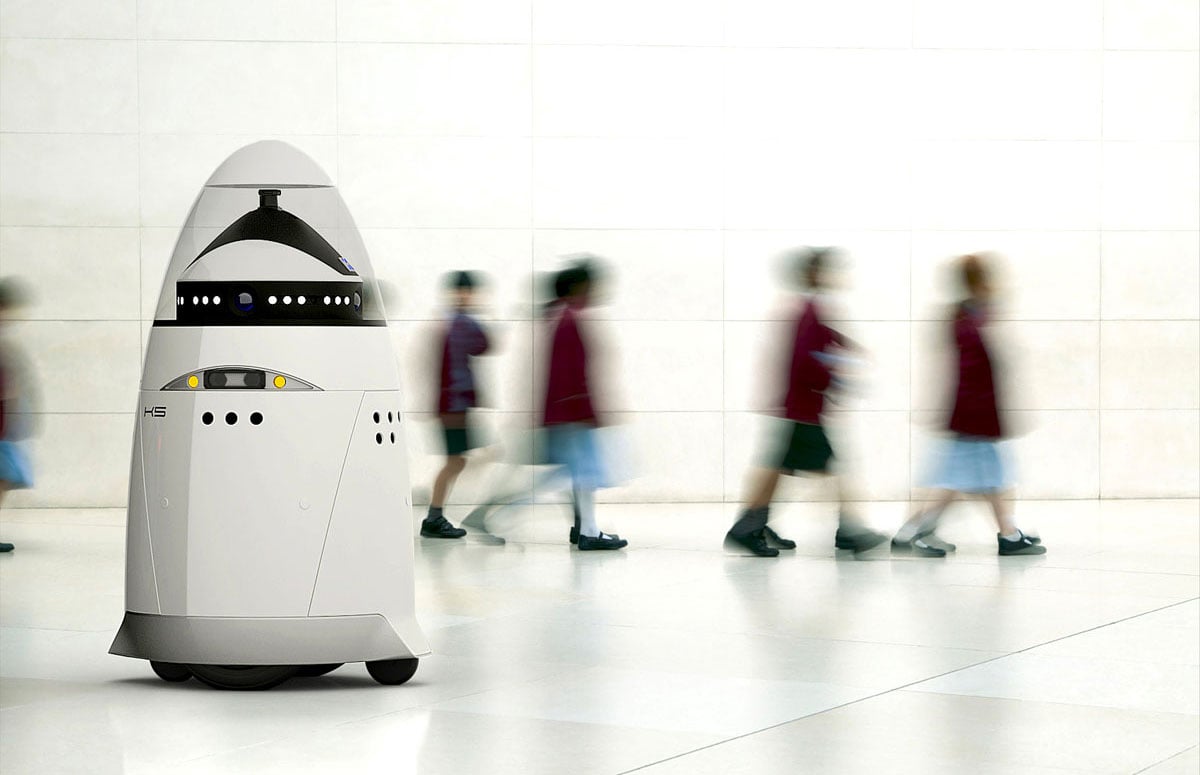 All images courtesy the manufacturers
Knightscope K5 Prototype Community-minded Surveillance Unit 
This five-foot-tall, bullet- shaped autonomous robot is designed to tackle petty crime. With sensors like infrared imaging and social media tracking, it patrols your area, taking in data to monitor possible signs of distress.
People have a great need for design solutions that protect them from all kinds of man-made and natural risks. Manufacturers, in turn, are looking at design at all scales to address this issue. Take Puma's NightCat jacket, for example, which uses 3M reflective yarns and additional reflective materials to enhance visibility at night. Basic locks and door hardware provide both decorative and functional solutions, but, increasingly, technology is playing a bigger role to reduce risk and make us feel at ease. The Kaba PowerPlex self-powered electronic lock, for example, generates its own power with every turn of the lever. Looking down the road, Knightscope hopes that communities will adopt its five-foot-tall prototype crime-prevention robot, which monitors possible crimes in a neighborhood. Here's our roundup of products that will make your life safer and more secure.
---
This porcelain wood-effect floor tile copies the cuts produced by a dented saw. The 6-by-31.5-inch multipurpose tile comes with a normal or anti-slip finish and can be used both indoors and out.
 Suitable Technologies Beam + Remote Presence Device

This home product makes it possible to see, visit with, check in on, and stay close to the people you care about. The remote-controlled device  allows you to speak, see, and maneuver through the house so you can interact with your loved ones in a natural way.

 A Behavior Changing (ABC) Syringe  

This syringe tells users whether it has been used or not. Winner of this year's World Design Impact Prize, the patented innovation trig- gers  turn red once the syringe has been exposed to carbon dioxide, or once it has been taken out of its sealed and sterilized packaging, thus warning  patients of prior use.

 Puma NightCat Jacket 

3M reflective yarns and additional reflective materials help this jacket glow in low-light conditions. The design also sports an anatomical-  shaped collar to avoid friction at the hairline, and a zip pocket with an earphone loop on the inside.
AGC Glass Company Insulated Glass 
This Student Services Center in Niceville, Florida, uses AGC Defender laminated insulated glass, which is not only energy efficient but also has a high-performing, low-e coating and protective glazing for hurricane resistance. The glass even provides protection from large-impact missiles.
 Mosavit Fosvit Tile 

This patented luminescent glass mosaic is visible in the dark after being exposed to natural or artificial light, emitting a soft blue  glow that lasts approximately eight hours.

 Major Industries Guardian 275 translucent wall and skylight systems 

These systems combine high-thermal performance, light control, built-in privacy, and available blast protection to provide a  durable and beautiful solution to your daylighting and security needs.

 Ceco Door ArmorShield Door & Frame System

With a 12-gauge steel frame, the system protects against assault at vulnerable door openings such as in isolated utility buildings,  cashier islands, currency exchanges, or box offices. It is also available prefinished with bullet-resistant glass.
This digital glass-door lock with a thin, low-profile design and sleek magic-mirror interface combines elegant aesthetics with the latest touch-screen technology for the ultimate balance of style and security. The lock is battery-powered and emergency access power capable.
 Sun Valley Bronze Gate Latch 

This sliding bronze gate latch has a hidden or exposed cam and comes in a white bronze (containing 95% pre-consumer recycled bronze  content) or silicon bronze (90% preconsumer recycled bronze content). It can be used to earn LEED credits for recycled content.

 Rocky Mountain Hardware Door Lock

The simple handcrafted style of this entry sliding-door lock recalls the beautiful Craftsman hardware of the early twentieth century, and comes  in a wide variety of patina options (white bronze, medium patina). The hard- ware is designed to work with nearly any manufacturer's doors in a  variety of locking options.
This lock combines secure wireless electronic access control with a sleek, customizable design. It also offers local lockdown/ shelter-in-place and privacy mode capabilities on both cylindrical and mortise lock configurations.
 Kaba PowerPlex Lock 

This self-powered electronic lock requires no batteries and generates its own power with every turn of the lever, making it one of the most efficient and versatile  locks on the market. By integrating PIN code access, this lock eliminates the use of keys or cards, while adding additional layers of security.

 Omnia Mortise Lockset 

These locksets are available with an extensive range of knob and lever styles in traditional ornate and contemporary motifs. Built to withstand heavy use, the  mortise locks are available with two backset options, and are designed for use with heavy brass knobs or levers, with special springing provided on lever sets.