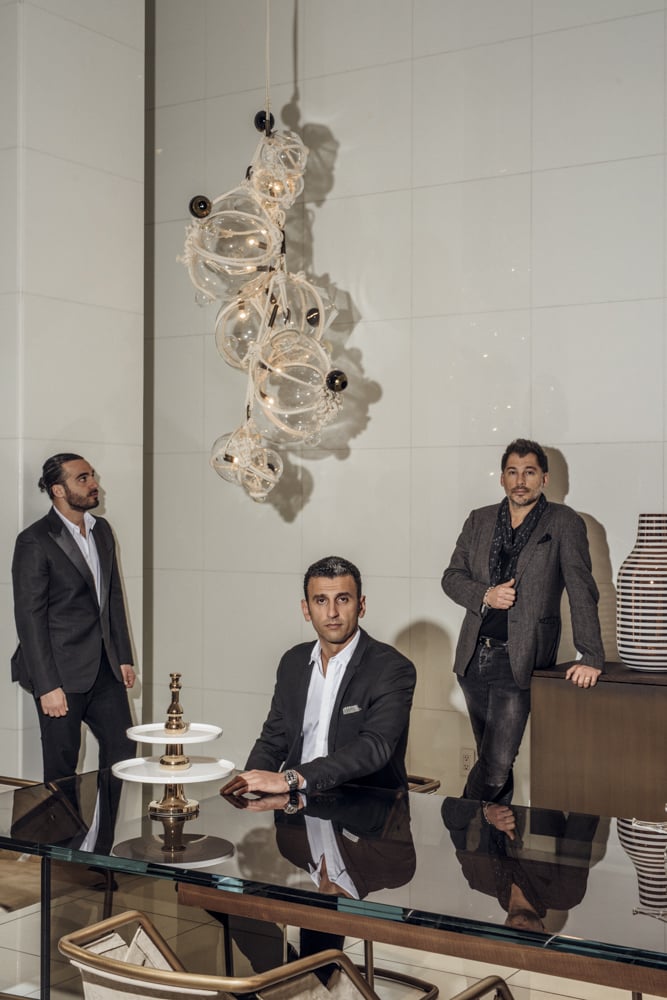 January 26, 2016
For 25 Years, DDC Has Championed Italian Design in America
For 25 years, the Hakakians have zealously championed singular tastes, making space for distinctive objects both in their luxurious showrooms and in the wider landscape of American interiors.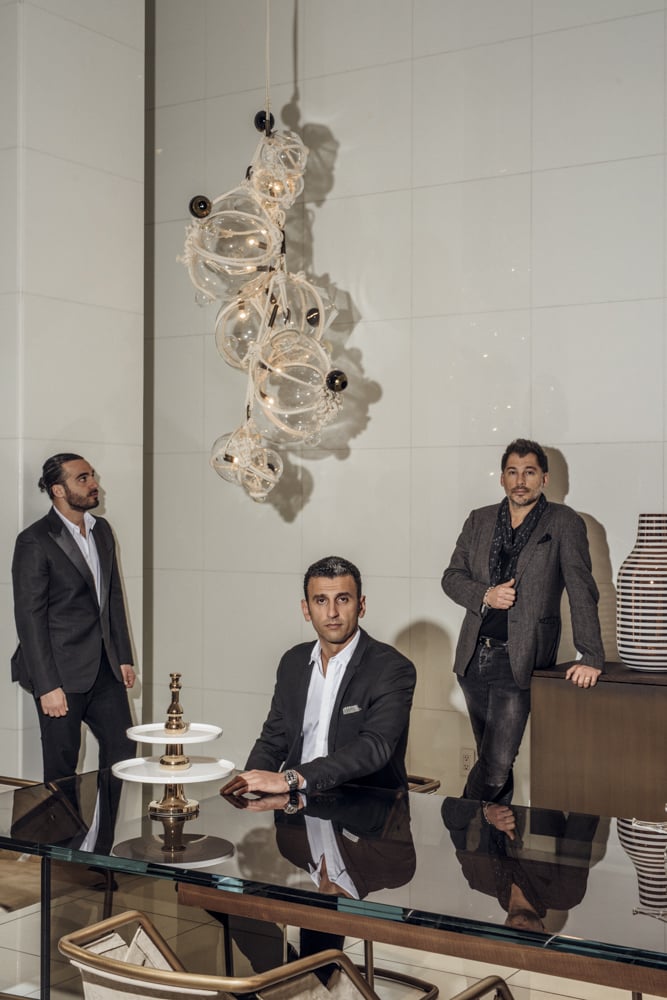 The Hakakian brothers—Danny, Siamak, and Babak (left to right)—curate forward-thinking products, like Lindsey Adelman's Knotty Bubbles chandelier and the Simplicity Dining Table by Ennio Arosio, with a canny eye on the American market.
---
In 2000, Domus Design Collection (DDC) took a gamble: The high-end furniture store moved out of its headquarters on 58th and Third Avenue, smack-dab in New York's design district, and into a space on 34th Street and Madison Avenue, an area chockablock with Persian rug outlets but little else. To hedge their bets on the unorthodox location, the owners hired Philip Johnson to design the new showroom: The architect, then 93 years old, filled the 20,000-square-foot, four-story space with modern torqued walls and platforms befitting a grand lobby, transforming the corner storefront into a design destination.
The showroom put DDC, which turns 25 this year, on the map just as modern design was hitting the mainstream. "From what we saw, 2000 was the year contemporary exploded," says Babak Hakakian, who runs the business with his younger brothers, Siamak and Danny. That year, New York's International Contemporary Furniture Fair (ICFF) attracted an international group of vendors displaying sleek pieces—a departure from the handwrought furniture that had characterized the fair in the past. After nearly a decade of importing some of the finest Italian brands—such as Bernini, Flou, and Draenert—DDC was uniquely positioned to take advantage of the burgeoning American interest in European design.
Before the era of e-retail, a commanding brick-and-mortar showroom was a must. But Johnson almost didn't get the job. Despite the Hakakians' initial excitement over the scheme of parabolic walls, Babak and his father, who started the company, got cold feet the night after Johnson and his collaborator, Alan Ritchie, made their final presentation. Babak recalls, "We were driving home to family dinner, and all of a sudden, I said, 'Wait a sec, guys, we can't do these leaning walls, because we have to put furniture against them.' My father said, 'Call Philip Johnson on Monday and get an appointment. We need to go see him.'"
During their meeting, the Hakakian family came up against Johnson's infamous talent for selling clients on his ideas. The nonagenarian designer rolled out a big piece of paper and began sketching and elaborating on his plans. DDC's furniture pieces, he argued, should not be shoved against walls but rather float away from them like three-dimensional sculptures, so customers could inspect them from all angles. "We all just said, 'OK,'" Babak says.
If splashy architecture lured passersby into the store, then the brothers reasoned that smart merchandising would keep them moving around the showroom floor. Furniture collections from various companies would be combined into inviting vignettes of luxurious living. After Johnson's showroom was completed, DDC hired the minimalist designer Michael Gabellini—responsible for the headquarters of Salvatore Ferragamo, Jil Sander, and Giorgio Armani—to art-direct the space. Gabellini created a route through the showroom floor to lead buyers through the curated arrangements. "The idea was to intermix to create an ensemble display, so that it felt less off-the-rack and more made-to-measure, so to speak," the designer says.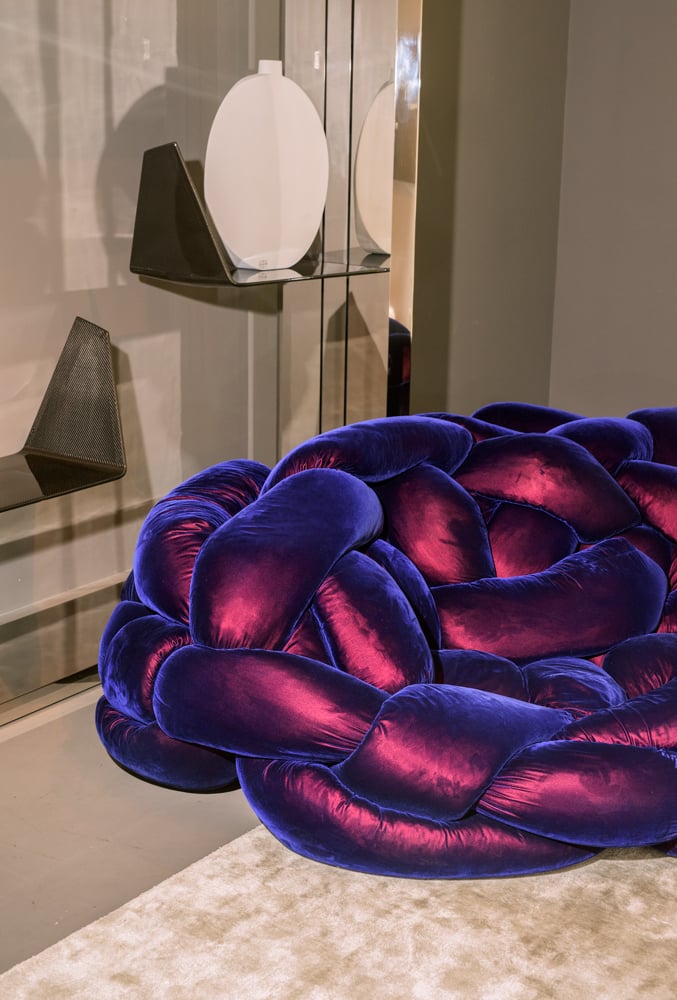 DDC's Madison Avenue showroom in New York includes dramatic pieces like the Boa sofa (above) designed by the Brazilian Campana brothers for Edra.
---
Other art directors would succeed Gabellini, but that approach to floor displays remains a DDC signature. Of course, it wouldn't be effective if the furniture weren't stunning. The brothers have a collective knack for selecting some of the best artisanal Italian design—a penchant they trace to their roots in Iran, where their grandfather turned a small carpentry workshop into a booming furniture business before immigrating to the United States after the Iranian Revolution. "Most of the time, we don't like things that are manufactured; we like things that are more handcrafted," Babak says. "That's where our background, our blood, is—working with craftsmen, smaller factories, families that produce furniture." He points to outfits like Ceccotti, which makes sinuous wooden forms by Noè Duchaufour Lawrance, and BD Barcelona, which reproduces curvaceous designs by Antoni Gaudí.
DDC prides itself on long-standing relationships with family-run companies, but the Hakakians also tour all the major European furniture shows looking for emerging designers and individual pieces that strike their fancies. "They're much more piece-driven than brand-driven," says the designer Karim Rashid, who has been a friend of DDC since 1999. Each brother can lobby for his favorite new products, but they agree that unanimously chosen items have the best chance of selling well.
They also balance forward-thinking design with a pragmatic understanding of the U.S. market, which has historically allowed them to stay afloat while many design shops, like Moss and Totem, foundered. "They were very sensitive to introduce contemporary design but not be too radical," Rashid says. "If you bring in something radical, it looks good in the showroom, but you're selling three of them in the country in six months. It's amazing how little these iconic design pieces sell."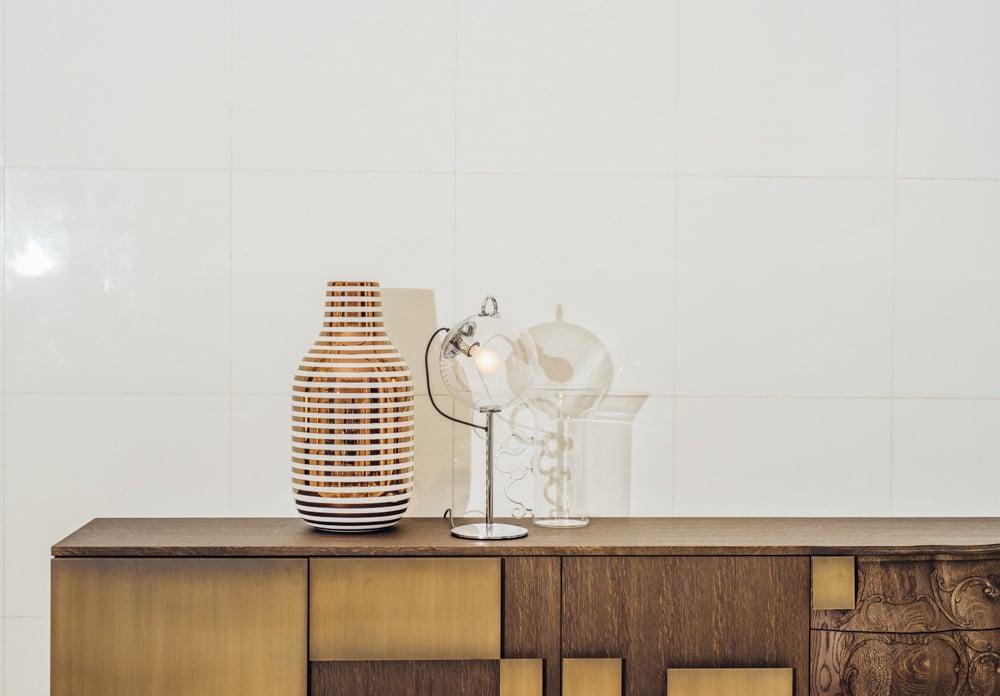 Unusual but tasteful juxtapositions fill the DDC showroom. A Strypy vase designed by Jaime Hayon for Bosa, a Miconos table lamp from Artemide, and a Futiles carafe designed by Sam Baron all sit together atop an Evolution sideboard from Emmemobili.
---
In recent years, DDC has expanded in New York, as well as to Los Angeles and Miami. In 2010, it opened another storefront on 31st and Madison Avenue—a mere three blocks from the Johnson showroom—with an adjoining space for Minotti, an Italian company whose products DDC distributes in the United States. (In fact, DDC has transformed its strip of Madison Avenue into a contemporary-furniture neighborhood, as other big-name European companies like B&B Italia and Moooi have set up shop nearby.) The brothers also opened a Minotti store in Miami and installed a DDC outpost in Herman Miller's former L.A. showroom, designed by Charles and Ray Eames.
Danny, who at 33 is the youngest Hakakian by nearly a decade, is the driving force behind some of the company's more recent innovations. After temporarily relocating to Los Angeles to oversee the opening of the West Coast branch, he pushed his siblings to allow customers there to "memo" certain items—i.e., to test-drive products at home before committing to buying them. He also introduced a quick-ship program for popular items like beds and persuaded his brothers to keep other items in stock. Says Danny, "The old custom would be, 'Don't sell it off the floor,' so buyers had to wait for their orders." He is also leading the charge on beefing up DDC's web presence and making it easier for customers to peruse the catalog and track their orders.
Which isn't to say that the brothers will be launching an e-retail site anytime soon. "This collection doesn't sell online; some designers spend three, four hours here," Babak says. "The furniture you'd sell online would be the less expensive furniture and accessories." Plus, selling online wouldn't build the kind of personal relationships that the Hakakians have created with designers over 25 years.
"You don't make money anymore by a couple coming in and buying some chairs—it's impossible," Rashid says. "If you sell 200 chairs to a restaurant, that's where you make your money." That's likely what the future holds for DDC, especially since, as Rashid says, "practically every architect and designer in the country is specifying from them"—including, perhaps most importantly, those collaborating with developers on high-end condo and hotel projects. "They've managed to make themselves the number-one go-to for Italian design."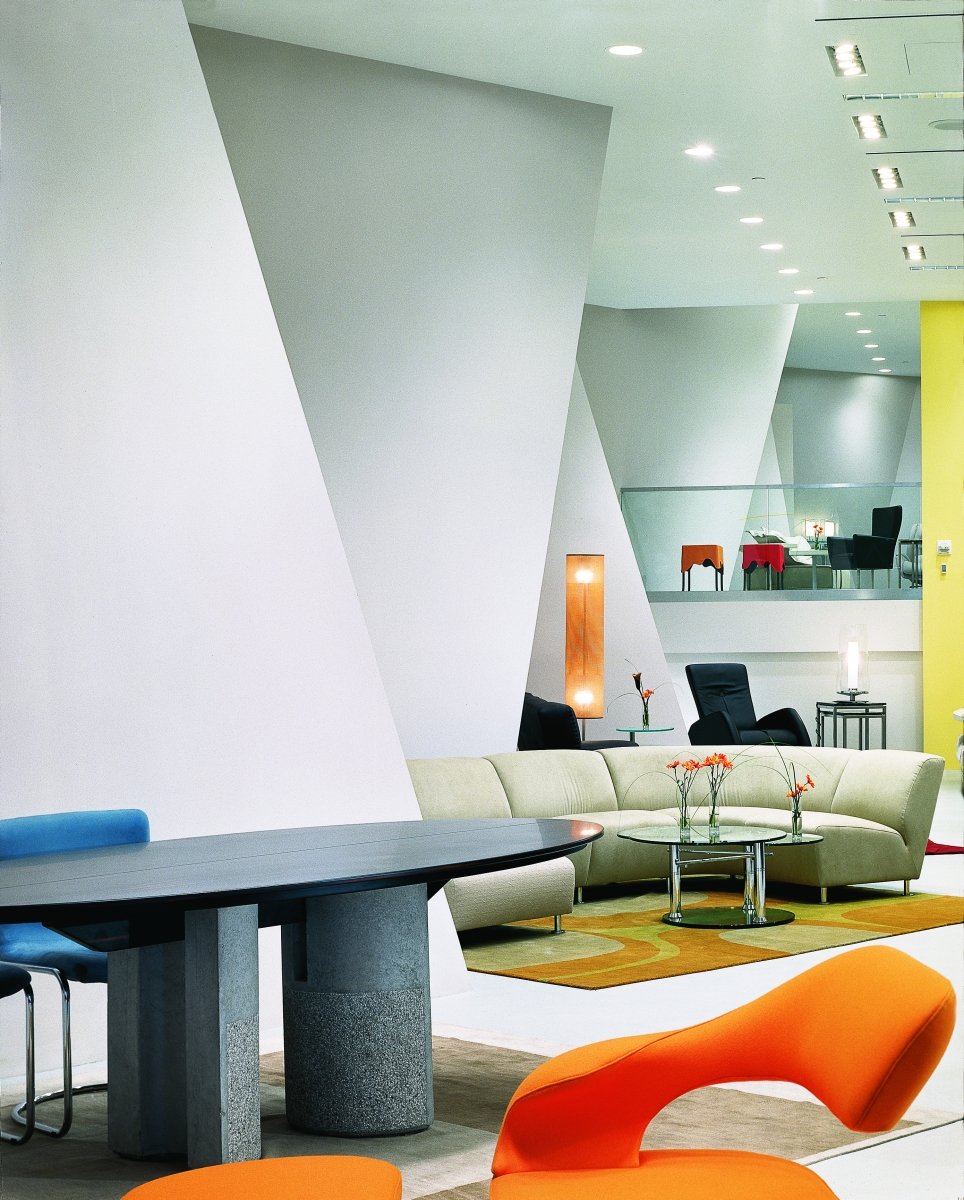 Philip Johnson designed DDC's first New York showroom, filling the 20,000-square-foot, four-story space with modern torqued walls and platforms befitting a grand lobby.
Courtesy DDC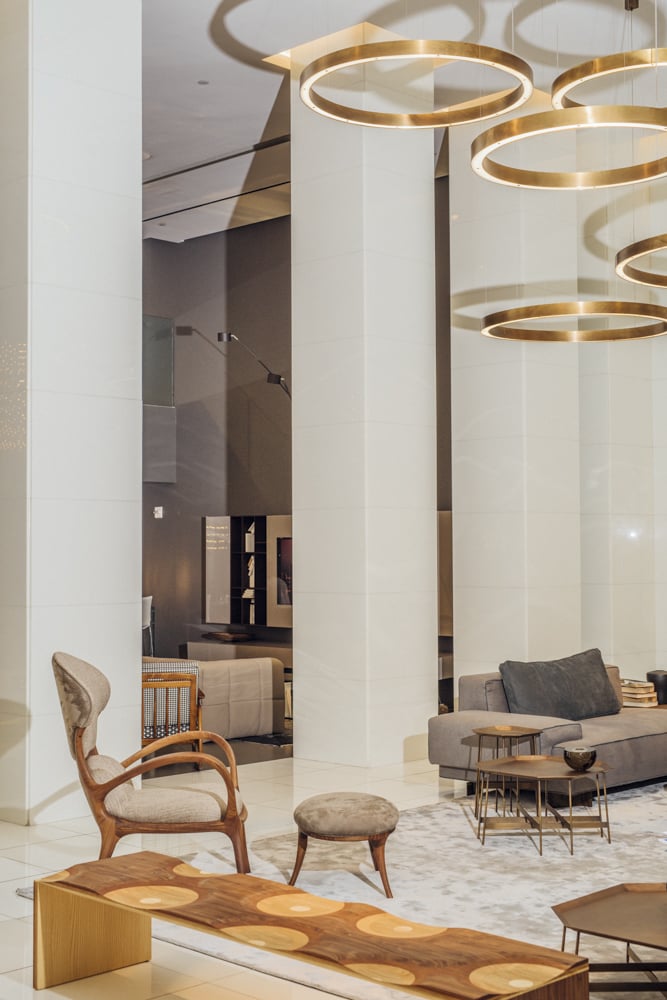 A Light Ring Chandelier from Toronto-based Avenue Road finds echoes in the Ripples bench designed by architect Toyo Ito for the Italian company Horm.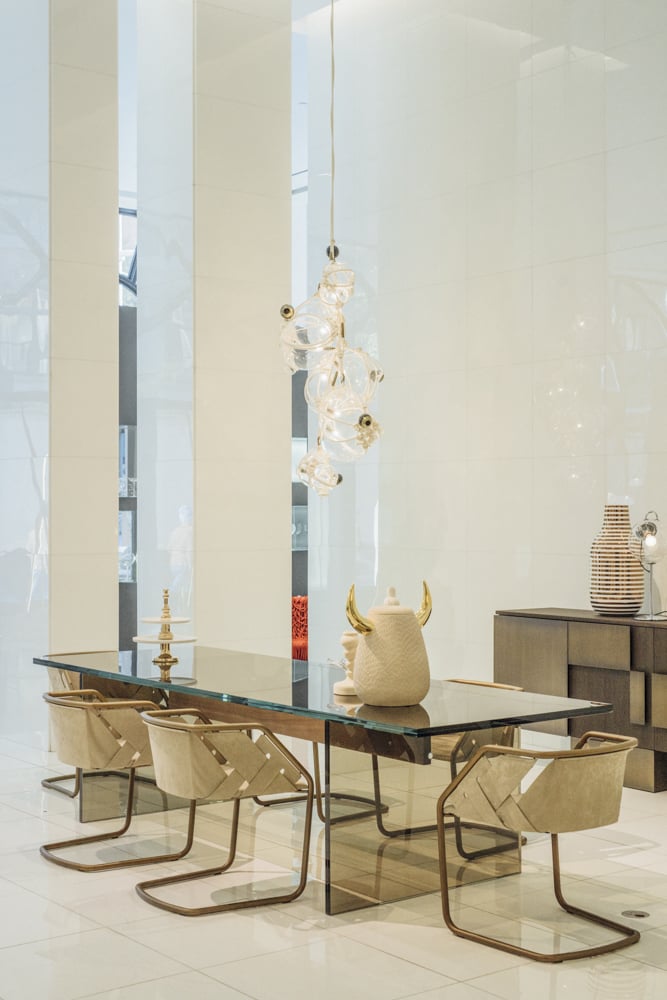 Artisanship shines through almost every piece at DDC, from the hand-burnished metal frames of the Strip Chair designed by Massimo Castagna (above) to the ethereal gridded light of the Universe Suspension lamp in an adjoining space (below).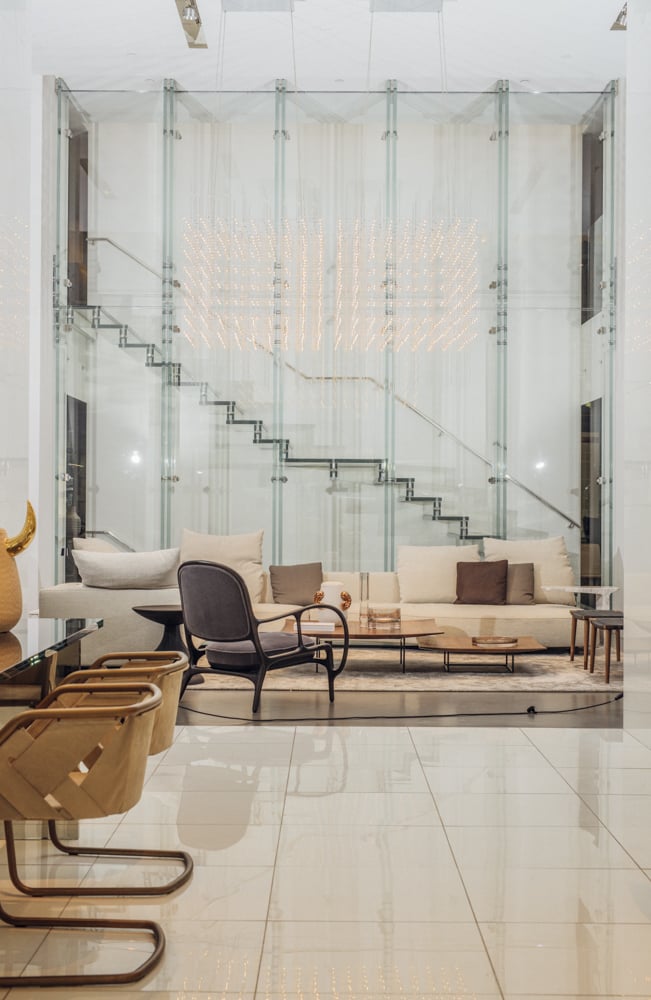 ---
See the rest of this year's Game Changers here.