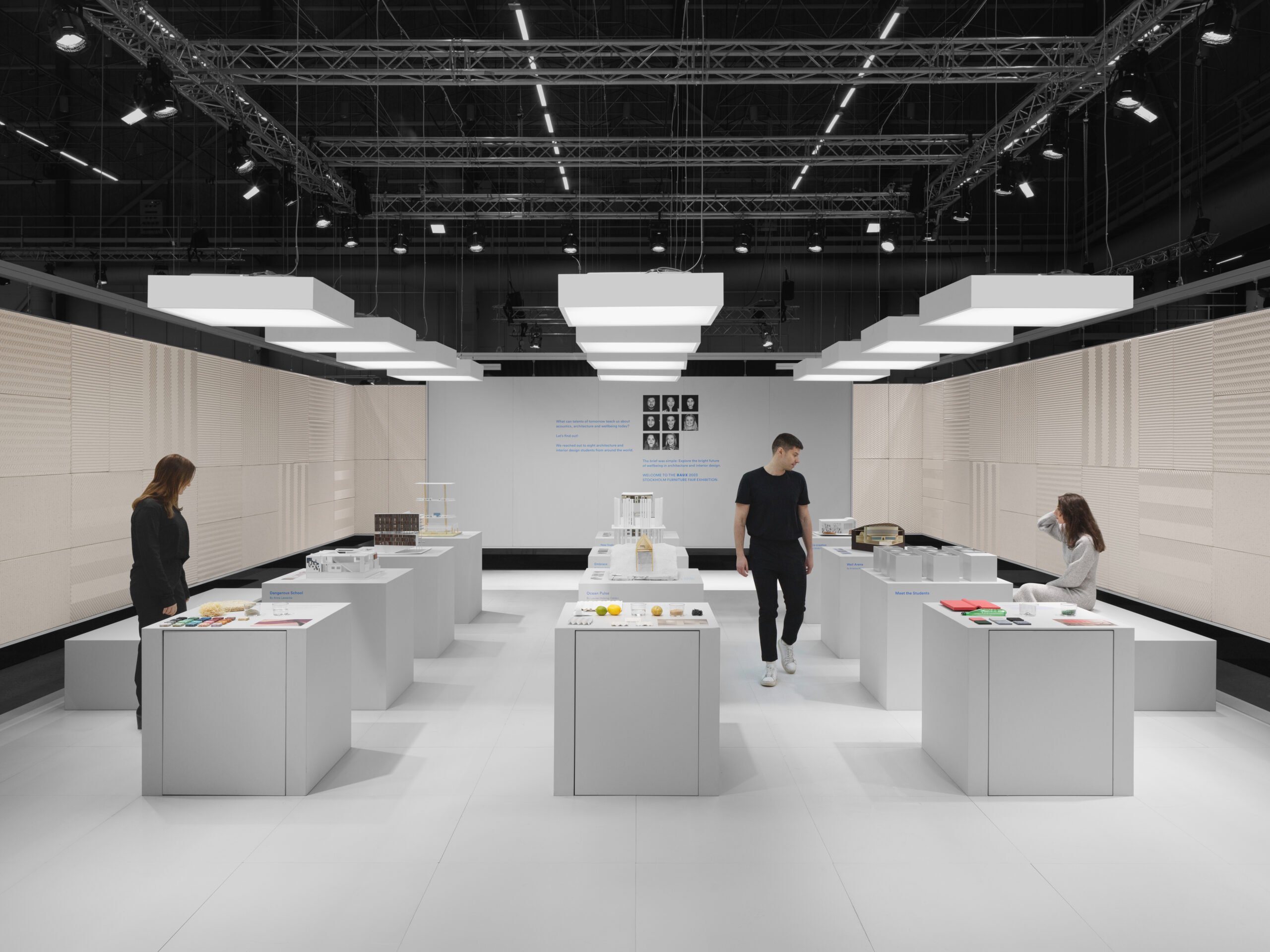 February 23, 2023
3 Scandinavian Brands and Designers Fight Back against Pervasive Greenwashing
Swedish design hasn't always gotten the recognition it deserves. Long overshadowed by its boisterous neighbor to the south, Denmark, Sweden's ever-growing stable of talents is starting to make waves on an international level thanks, in part to the Stockholm Furniture Fair and the concurrent Stockholm Design Week. This edition—held from February 6th to 12th—was marked by bold colorways, striking textures, revived craft traditions, and most importantly, a revitalized understanding of sustainability; a term that too often gets bandied about as a marketing ploy.
For Swedish acoustics brand Baux, Norwegian outdoor furniture manufacturer Vestre, and independent designer Emma Olbers, Norwegian paint brand Jotun, Swedish outdoor specialists Skargaarden, and Stockholm-based collective practice Form Us with Love, sustainable design is about more than branding. These companies and designers are diving deep into their supply chains and manufacturing processes, analyzing their carbon footprints, and redefining "good design" as "green design."
Baux Boasts Carbon-negative Materials
"Saying that we're climate neutral is greenwashing," states Fredrik Franzon, CEO of Baux. "We're doing a number of things to adhere to the United Nations' recent report that sets out 20 or so requirements that manufacturers need to meet by 2030. We're upcycling waste material and creating acoustic panels out of biodegradable composites. We're also working to measure and reduce our embodied CO2 emissions when it comes to production and transportation. It's more about being carbon negative and transparent with our clients about where we still need to make improvements." For him, it's important that other industry players take a similar stance and not simply make sweeping statements about being green. Baux's especially graphic, geometric, colorful, and modular acoustic tiles are produced using pulp, second-life wood wool, cement, and water.
The steps Baux has taken are perhaps not the obvious ones. "Producing purely on a local level is not always the solution," Franzon adds. "Sometimes, it comes down to sourcing material from a supplier across the globe that operates with strict green standards on a large scale and shipping these components to your facilities. It all comes down to numbers and determining how one approach outweighs another in minimizing a company's ultimate impact."
Vestre Showcases Energy-efficient Manufacturing
Norwegian outdoor furniture manufacturer Vestre is doubling down on its own advanced sustainable ethos. Last May, the company opened their Bjarke Ingels Group–designed Plus Factory, which is purported to be the greenest facility of its kind. Meeting the highest European efficiency standards, the 23-thousand-square-foot building was constructed using PEFC-certified cross-laminated and glue-laminated timber that stores over 1,500 tons of carbon dioxide. 900 rooftop solar panels, 17 geothermal wells, and heat pumps hidden within the building's walls capture excess heat from the production process, which mostly relies on hyper efficient robots to get the job done.
The brand's latest offering, Norwegian designer Daniel Rybakken's Ypsilon Bench collection, is produced with regionally-sourced hot dipped galvanized Swedish steel—soon come entirely from coal-free suppliers—and impregnated pine or ash. The paired-back settee is defined by the ingeniously simple but innovative tilting of wood planks to accommodate the ergonomics of sitting. This element and its armature require minimal milling and in turn, less energy. Modular tabletop surfaces and armrests can be fitted into the structure of both linear and circular variants of the design.
Emma Olbers Weighs the Tradeoffs of Synthetic and Biobased Materials
Elsewhere at the fair Swedish designer and creative director Emma Olbers mounted the Kg CO2e showcase with the aim of demonstrating the carbon impact of various materials commonly used in contemporary furniture. Developed in partnership with Sally Future Manifestations Lab, the didactic display revealed how much carbon dioxide is emitted by synthetics and natural-sourced solids alike. "For furniture, the material choices we make as an industry typically accounts for around 50 percent of the carbon footprint. Materials matter," Olbers states on her website.
One visceral takeaway: 10 square inches of leather emits 2.2 pounds of C02e—through sourcing, processing, and implementation—while the same carbon budget yields 35 square inches of bio-based mirum.
As journalist and Making Design Circular founder Katie Treggiden suggested in a recent article, we should stop shaming brands for greenwashing and let them make mistakes as they work to achieve the various time-sensitive goals set out by the United Nations or other entities. The various brands and designers exhibiting in Stockholm show that this more nuanced and honest approach to sustainability is already producing results.
Would you like to comment on this article? Send your thoughts to: [email protected]