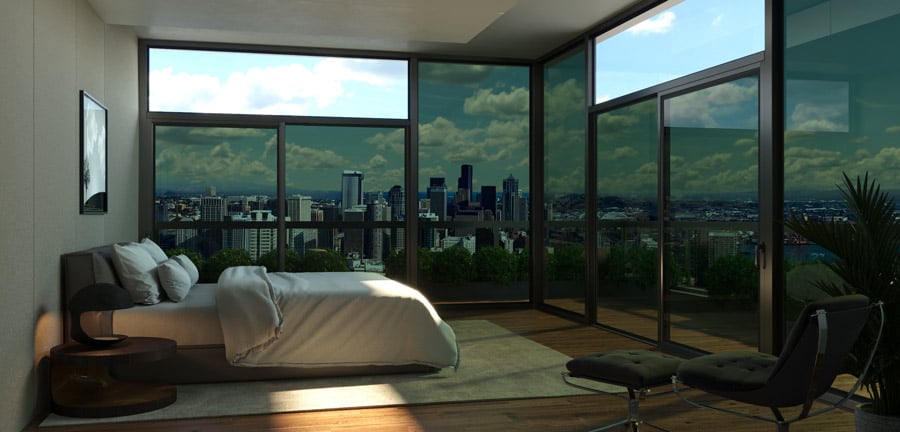 October 31, 2019
New Glass Technology Supports Circadian Lighting
Three glass products from AGC use advanced technology to promote wellness by letting in natural light, without the glare.
Sponsored by: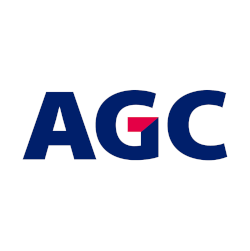 When it comes to designing workplaces that support health and wellness, architects and designers have no greater ally than natural light. In recognition of daylight's importance to human health, building standards such as WELL and LEED, have guidelines that encourage architects and designers to use natural light where possible.
Circadian lighting takes wellness-oriented lighting to the next level, using a combination of natural light and tunable LEDs to match the color and brightness of the light to the sun's natural rhythms throughout the day. Our biological clocks expect bright, white light in the morning and middle of the day, when we are most active, and a warmer, dimmer light as the evening comes around. Disruptions to this pattern, which are all too common (think working late hours in an office lit by fluorescent bulbs), can cause people to experience difficulty sleeping and other health problems.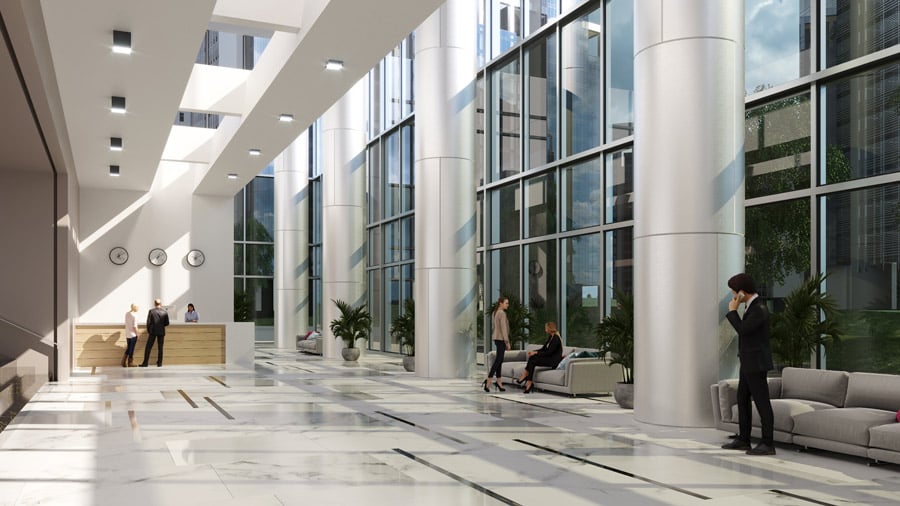 But when it comes to letting in natural light, architects and designers must strike the right balance. "If you let in too much light, you get a glare on computer monitors and people get headaches because there is too much contrast between the shadows and the daylight streaming in," says Michael Mann, an architect at Turner Batson who designed the Sheffield Group's headquarters building in Hoover, Alabama. For that building, Mann selected Stopray® Glass from AGC because it was available in a clear tint with subtle blue undertones that wouldn't overwhelm the building's other materials, but would limit the amount of visible light transmittance to prevent glare.
That clear visibility was especially important for a design that was meant to highlight the natural beauty of Alabama's lakes and hills. "We have a lot of outdoor patios and dining areas addressing the lake," adds Mann. "They have a big cafeteria with glass windows and doors that spill out onto a covered balcony where employees can enjoy lunch and look out over the lake and the walking trails."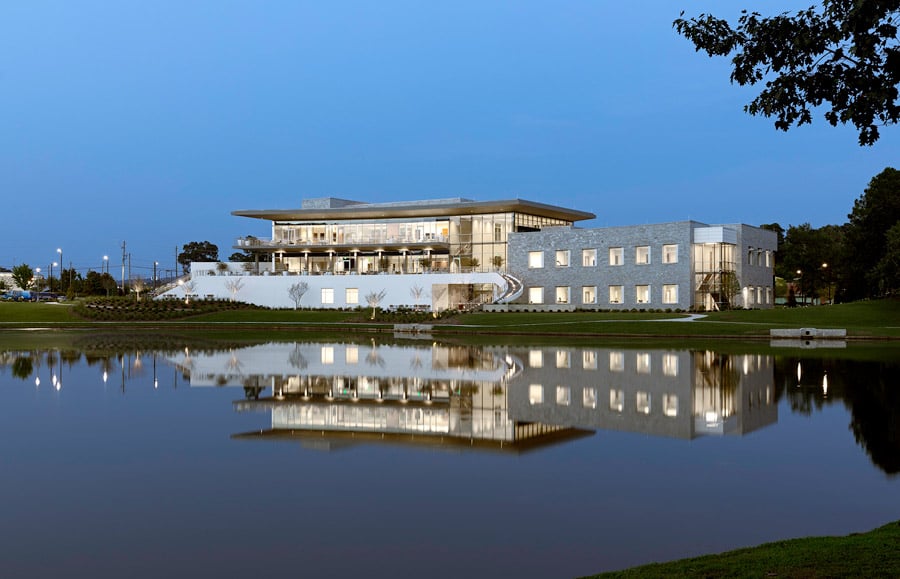 The latest in glass technology allows architects and designers to maximize natural light and keep offices comfortable. Matelux®, another product from AGC, features an acid-etched satin finish that is perfectly matte. Installed as an accent panel, it offers privacy without sacrificing light, and as an exterior window it can create a diffused, translucent effect that brings in the color and feel of daylight without any harsh glare.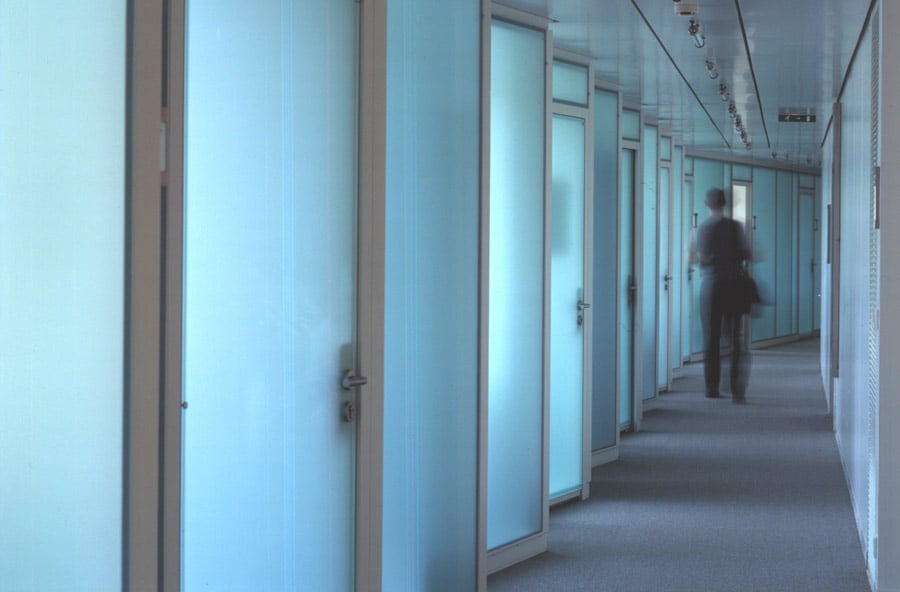 Another technology, developed by a partnership between AGC and Kinestral Technologies, Inc. called Halio™ brings glass into the smart-building age, adjusting the window's opacity in response to the intensity of the sun automatically or on-demand. A proprietary coating is baked onto a layer of AGC glass. When sensors on the building's facade indicate too much direct sunlight, an electrical current is passed through the surface, tinting the window automatically. The result is a glare-free space and thermal comfort without sacrificing views. "Changing conditions can dramatically impact the comfort of the occupants inside a building," says Craig Henricksen, the Vice President of Marketing at Kinestral. "With Halio, you can have your cake and eat it too." Furthermore, Halio can be combined with other coatings and glass products to allow architects and designers to create the perfect high-performance IGU for any project.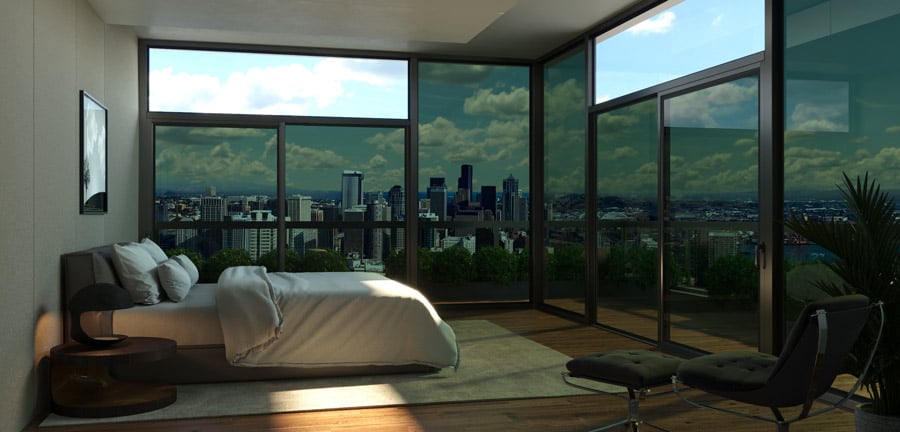 The benefits to letting more natural light into office buildings in terms of health and productivity are enormous, but architects and designers must always weigh those benefits against occupant comfort. The latest developments in glass technology promise to eliminate that trade-off, allowing for more natural light with fewer unpleasant side-effects.