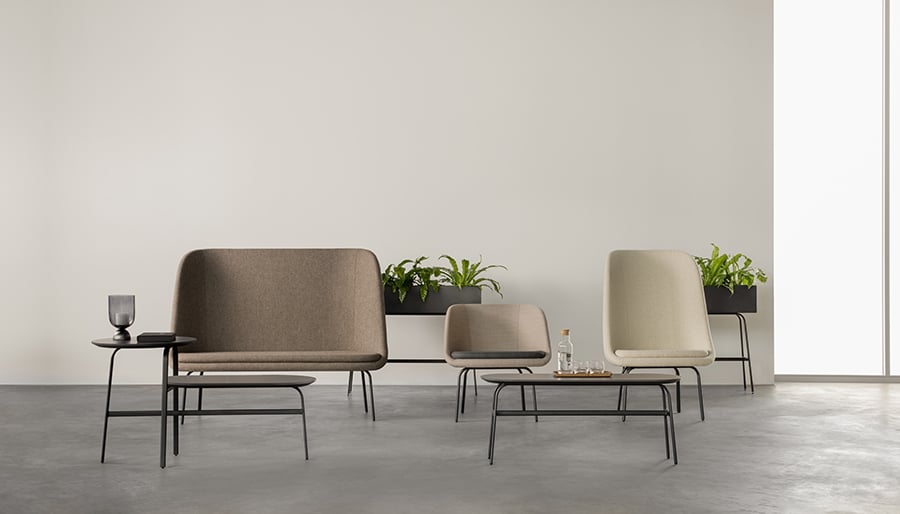 September 11, 2018
Allsteel's Park Collection Combines Coziness with Low-Tech Flexible Design
A collaboration with Norm Architects, the workplace-focused collection unites Allsteel's experience in manufacturing with Norm's expertise in crafting wooden furniture.
---
Allsteel, the legacy American contract furniture brand, may be best known for its metal filing cabinets and workstations, but its newly released Park collection—a collaboration with Norm Architects—introduces a much cozier, more informal feel to the open office. Launched at NeoCon this past June, Park unites Allsteel's experience in product manufacturing with Norm's expertise in crafting wooden furniture.
In designing the system, the Copenhagen-based studio aimed to harmonize the need for limited distractions with the imperative to facilitate workplace collaboration. Norm designer and associate partner Frederik Alexander Werner says, "Our goal was to create a collection that has a residential look and feel, so that one can be relaxed and feel comfortable, but with the right proportions to accommodate working situations."
A sort of low-tech flexibility defines the collection's offerings. For meetings, handsome low chairs can be arranged around a two-level table, allowing users of a single piece of furniture to experience discrete spaces. Park's seating options include upholstered single chairs and settees for two. Their wraparound shapes, neutral colors, and high backs set a tone of uninterrupted placidity.
Tapping into a new attention to wellness in the office, Norm also designed a raised planter, intended to unobtrusively divide and rearrange space as demands change. It's also a reminder that a little slice of the natural world goes a long way toward improving quality of life in the workplace. In fact, this very idea served as the initial inspiration for the collection. In an ordinary urban park, explains Werner, foliage and benches create organic divisions in space, organizing possibilities for work and play in a way that's adaptable and intuitive—much like Park itself.
You may also enjoy "Rafael de Cárdenas Picks 7 Designs That Inspire Him."