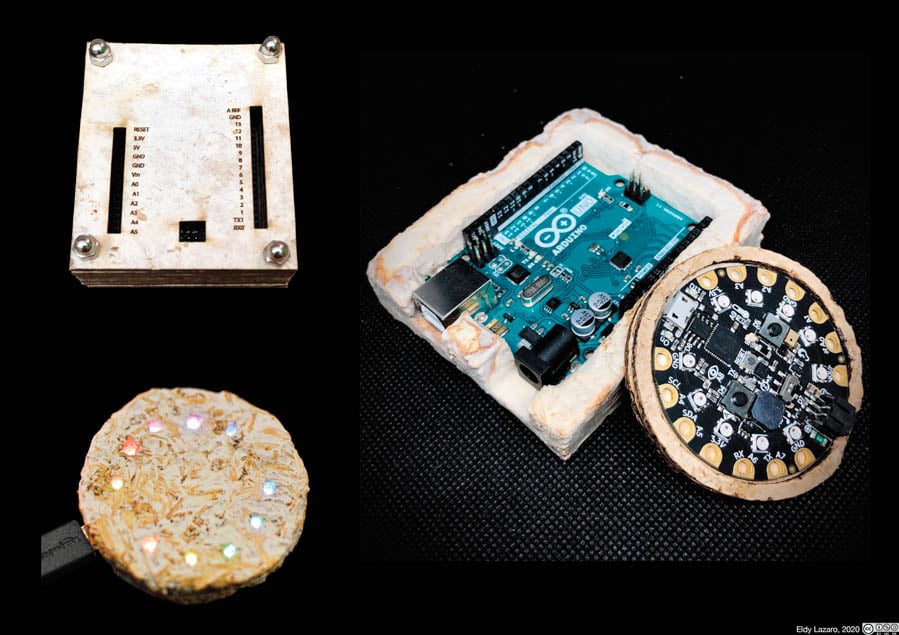 September 18, 2020
With Help from the Federal Government, Biobased Products are Proliferating
These three products are made of degradable, low-carbon bio-matter such as rice straw, sugarcane, and mycelium.
Surfaces of all kinds are top of mind these days, so we decided to look at all aspects of them, in these articles, from A to Z. Thinking of surfaces less as a product category and more as a framework, we use them as a lens for understanding the designed environment. Surfaces are sites of materials innovation, outlets for technology and science, and embodiments of standards around health and sustainability, as well as a medium for artists and researchers to explore political questions.
Five years ago, the U.S. Department of Agriculture reported that more than 2,500 construction, janitorial, and groundskeeping products stamped with its Certified Biobased Product label had saved around 300 million gallons of petroleum per year—the equivalent of taking 200,000 cars off the road.
This past May, the agency extended loans and other assistance to even more biobased manufacturers as a part of a final rule issued under its broader Biorefinery, Renewable Chemical and Biobased Product Manufacturing Assistance Program. Additionally, by requiring that federal agencies and contractors purchase these items, which are derived wholly or in significant part from forestry, marine, animal, and agricultural resources, the program also creates a steady market for sustainable materials.
Clearly, these incentives, climate concerns, and a proliferation of data on the benefits of plant- and animal-based materials are raising their status from novelty to mainstream staple. The amount of atmospheric carbon that plant-based materials such as wood, straw, and cork sequester as they grow can even outweigh the carbon emissions generated by their processing.
To fully appreciate the growing currency of biobased products, consider that when French researcher Maurice Lemoigne developed the world's very first bioplastic, polyhydroxybutyrate (PHB), in 1926, his work was ignored for 50 years while manufacturers chose cheaper, more abundant petroleum-derived versions. It took the 1970s oil crisis to spark renewed interest in healthier, sustainable resources, just as it has taken extreme climate change to bring about today's biobased offerings. Let's hope this third time is the charm.
You may also enjoy "Are Antimicrobial Materials and Surfaces Really What We Think?"
Would you like to comment on this article? Send your thoughts to: [email protected]
---
Register here for Metropolis Webinars
Connect with experts and design leaders on the most important conversations of the day.