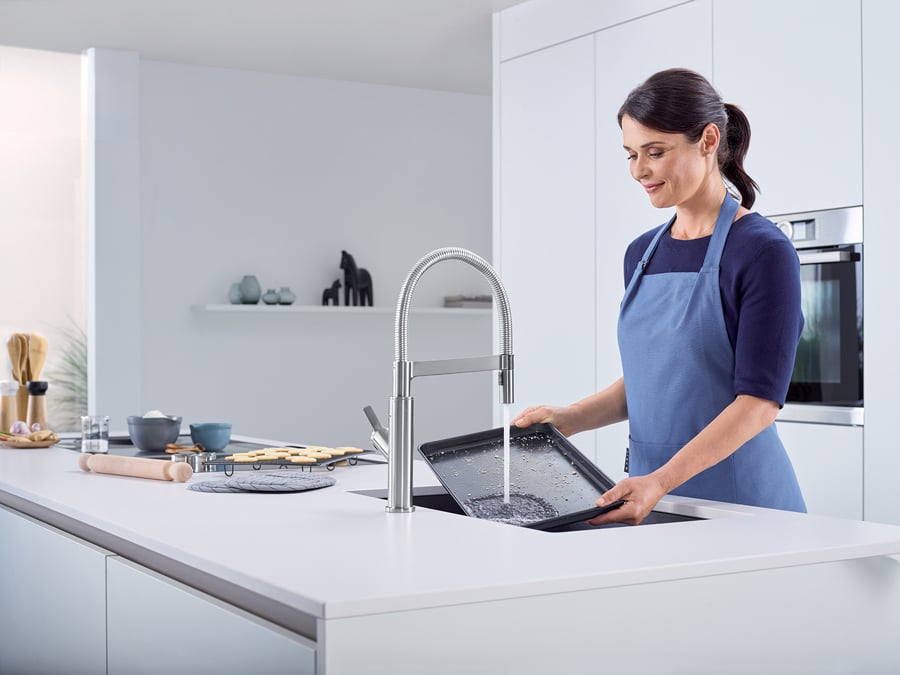 June 17, 2020
Hygienic Fixtures Help Keep the Kitchen Clean
BLANCO's durable and easy-to-clean sinks and faucets help reduce bacteria, making them key to a healthy home.
Sponsored by:
It's no surprise that the kitchen can be one of the dirtiest areas in the home. Heavy use and cross-contamination from food—both raw and cooked—can make the heart of the home a breeding ground for harmful bacteria. High traffic areas, like the kitchen sink, especially when it's used for washing both dirty dishes and fresh vegetables, can be a cause for concern. Add in rough and porous surfaces that tend to trap food residue and bacteria, and you can unwittingly create the perfect environment for harmful bacteria, such as E. coli or salmonella.
In order to keep a clean kitchen and prevent the spread of germs, the design of the kitchen sink must pay close attention to material and functionality in addition to design and aesthetic central to a happy and healthy home.
German sink and faucet manufacturer BLANCO recognizes the importance of a sanitary and low-maintenance kitchen. They developed their patented granite composite material, SILGRANIT ®, and the SOLENTA™ Senso faucet with hygiene in mind. SILGRANIT is a non-porous surface with a proprietary formulation that acts like a shield against dirt and bacteria, reducing bacterial growth by up to 98%. Meanwhile, the hands-free SOLENTA™ Senso faucet prevents contamination by keeping dirty hands away from frequently touched surfaces.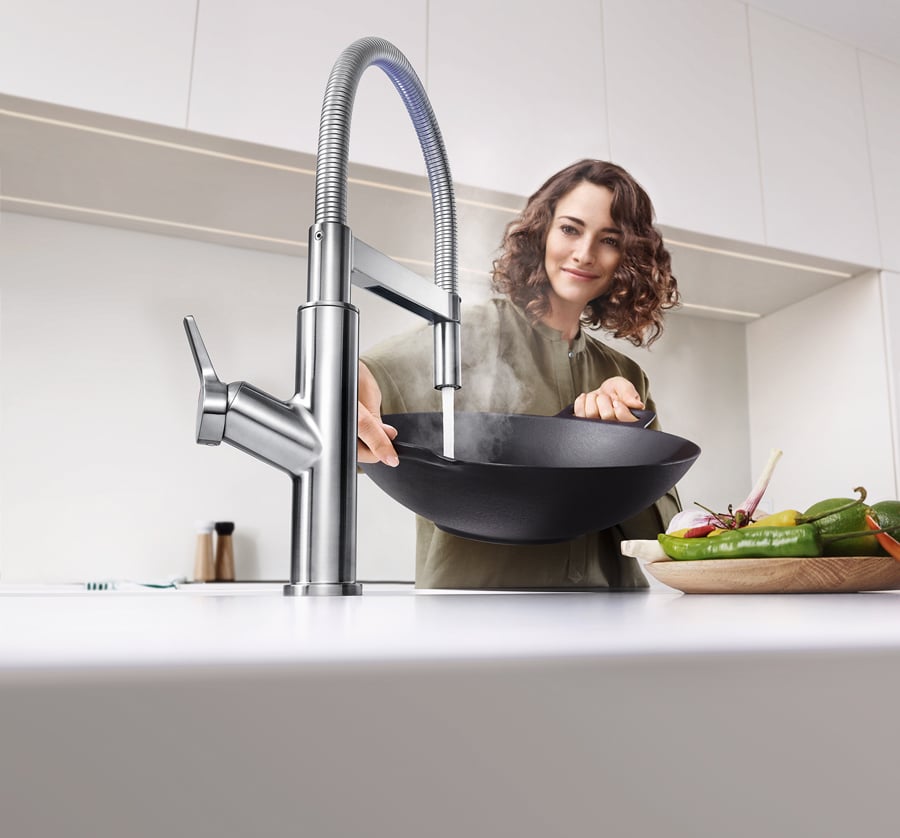 The SILGRANIT® sink is smooth and seamless, making it an optimal sink for cleanliness and easy maintenance. SILGRANIT doesn't require harsh chemicals to keep clean – just soap and water or baking soda, since the hydrophobic surface pushes away dirt and water so it easily drains away. SILGRANIT is a strong, durable surface that stands up to everyday use and is resistant to stains, scratches, chips, acid and heat. BLANCO's newest SILGRANIT® sink, the IKON® Apron with Low Divide, features a shortened divide compared to conventional sinks, allowing separation between dirty dishes and food preparation. The sink can be further compartmentalized with accessories, such as the space-saving Floating Cutting Board or Floating Sink Grid, to further streamline prepping and cleaning.
BLANCO's touchless SOLENTA™ Senso faucet adds another layer of hygiene in the kitchen to help mitigate the spread of bacteria by preventing soiled hands from contaminating other surfaces. Its flexible hose encased in stainless steel prevents dirt from settling into hard-to-reach spaces. SOLENTA™ Senso faucets are durable with an engineered brass body providing an efficient way to work in the kitchen with a simple wave of the hand.
Never have hygiene and wellness in the home been more relevant for consumers and designers alike. Today we are hyper aware of potential vectors for bacteria and disease transmission, and the need to keep the surfaces of the home sanitary is more urgent than ever. BLANCO's human-centered sink and faucet designs make it possible to easily maintain a food-safe and aesthetically beautiful environment and achieve a high wellness standard in the home.