July 10, 2023
Brutalism is Echoing in Contemporary Furnishings
The monolithic scale, stark material expression, and unencumbered forms of some home furnishings recently seem to represent a fresh interest in New Brutalism. This is evident in items on view at a variety of trade shows, galleries, and exhibitions. Viewed together, the contemporary products are clearly rooted in a historic design mindset.
What's in a Name?
New Brutalism as it emerged in the late 1950s and flourished in the 1960s was a period with principles, concepts, and attitudes. To call it an aesthetic, style, or trend is to undermine its cultural significance. However, Brutalism is the term often used to describe the look of the built work that followed. "It is a contrarian, direct, and anti-dogmatic modernist sensibility, not a style or a movement," says critic, historian, and theorist Mark Linder.
Now designers are exploring what it means to create New Brutalist furniture, and in which ways a 21st century space can authentically embrace these tenets. Some say there's an art to achieving the right mood. "It would be a shame if such an interior came to be thought of as something like the cold, authoritarian interiors that Ken Adam designed for the lairs of international criminals that James Bond had to overcome," says ​Ben Highmore, author of The Art of Brutalism and professor of cultural studies at the University of Sussex. "If the term brutalism only tends towards the heavy, the austere, the serious, then it is missing a whole other side of. . . lightness and ease."
Soft to be Strong
Demonstrating a command of this nuance are seven contemporary designers whose products seem imbued with New Brutalist ethos––concepts grasped by the eye and confirmed by the user experience. "On one hand it was about honesty of materials", says Highmore before adding "while on the other hand, honesty has another connotation, meaning unpretentious or unfussed."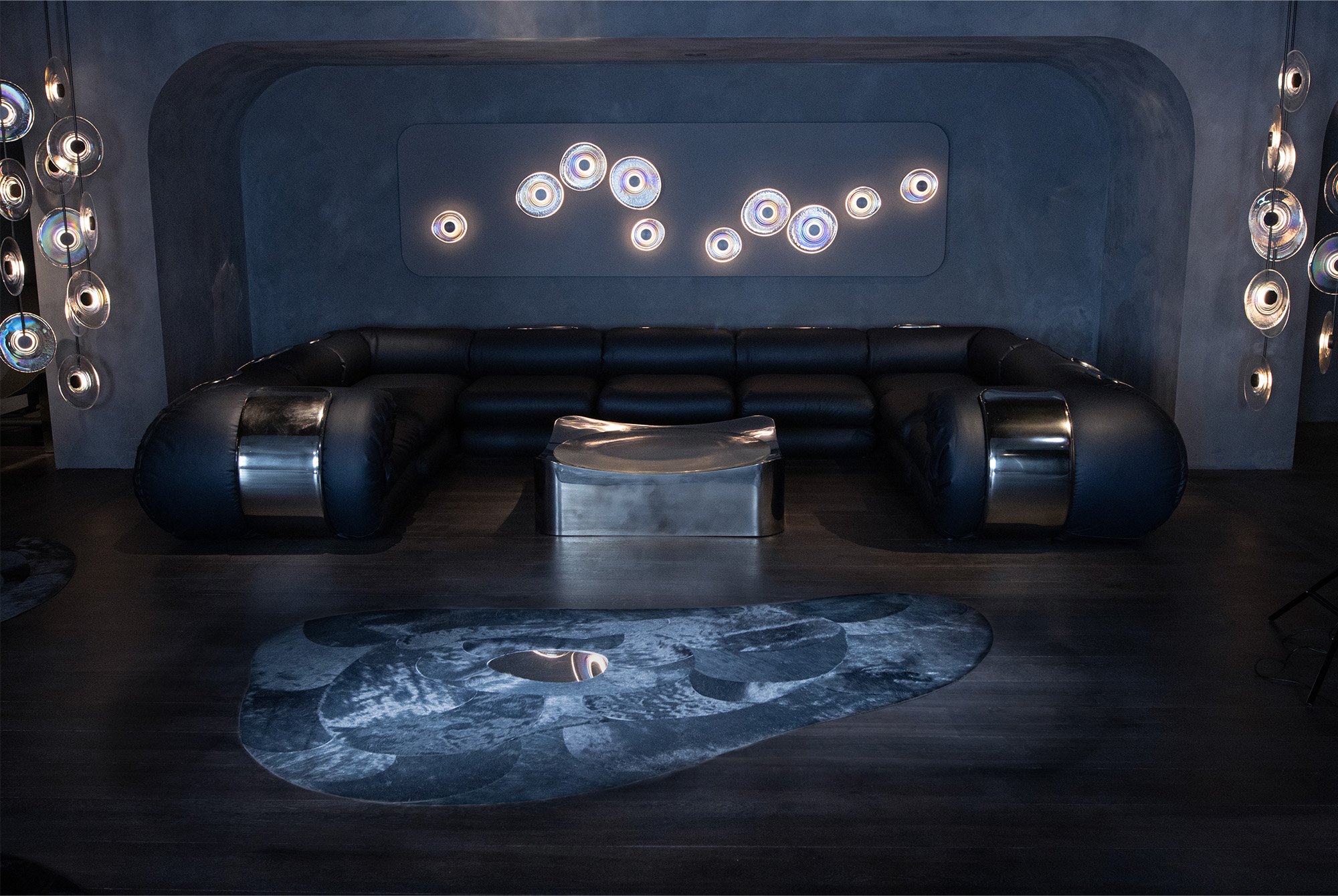 Aptly referred to as "future primitive", John Pomp's Fold Sofa and Portal Rug Collection designed in collaboration with Kyle Bunting are exemplary of New Brutalism's affection for primitivism. The pair share a unique dialogue in appearance, letting their materiality and construction reveal the logic behind their final forms. While the sofa folds in on itself to create the seating, the texture and direction of the hides comprising the rugs pull the user into an actual moment of reflection at the center. Sharing in this affinity for a clear visual identity is James De Wulf's Exo Leaning Shelf, which has a sculptural form that is a direct translation of its functional performance. The rigid pillar-like central column is softened in appearance and made approachable by the three textured, cantilevered arms secured by gravity joints. Gil Melott's Luz Sconce Series delivers a group of luminaries displaying a sliding scale of rawness and sensuality in their anthropomorphic forms, allowing them to be simple while avoiding popular clichés. Material and support structures speak for themselves.
In stark contrast are a series of pieces that rely on the directness of scale and geometry to participate in New Brutalist discourse. The Platou Chair, borne from a collaboration by Bunn Studio and Radnor Made, is the antithesis of current trends in furniture design. Weight and scale are integral parts of the form's overt structure and identity, made inviting by textiles and cushioning that are deceptively comfortable. In a similar play of restraint and richness, SANAYI313's Oblong Collection leans into a maximalist expression with minimalist details transforming what could have been an overpowering dining set into something seductive that begs the user to stay.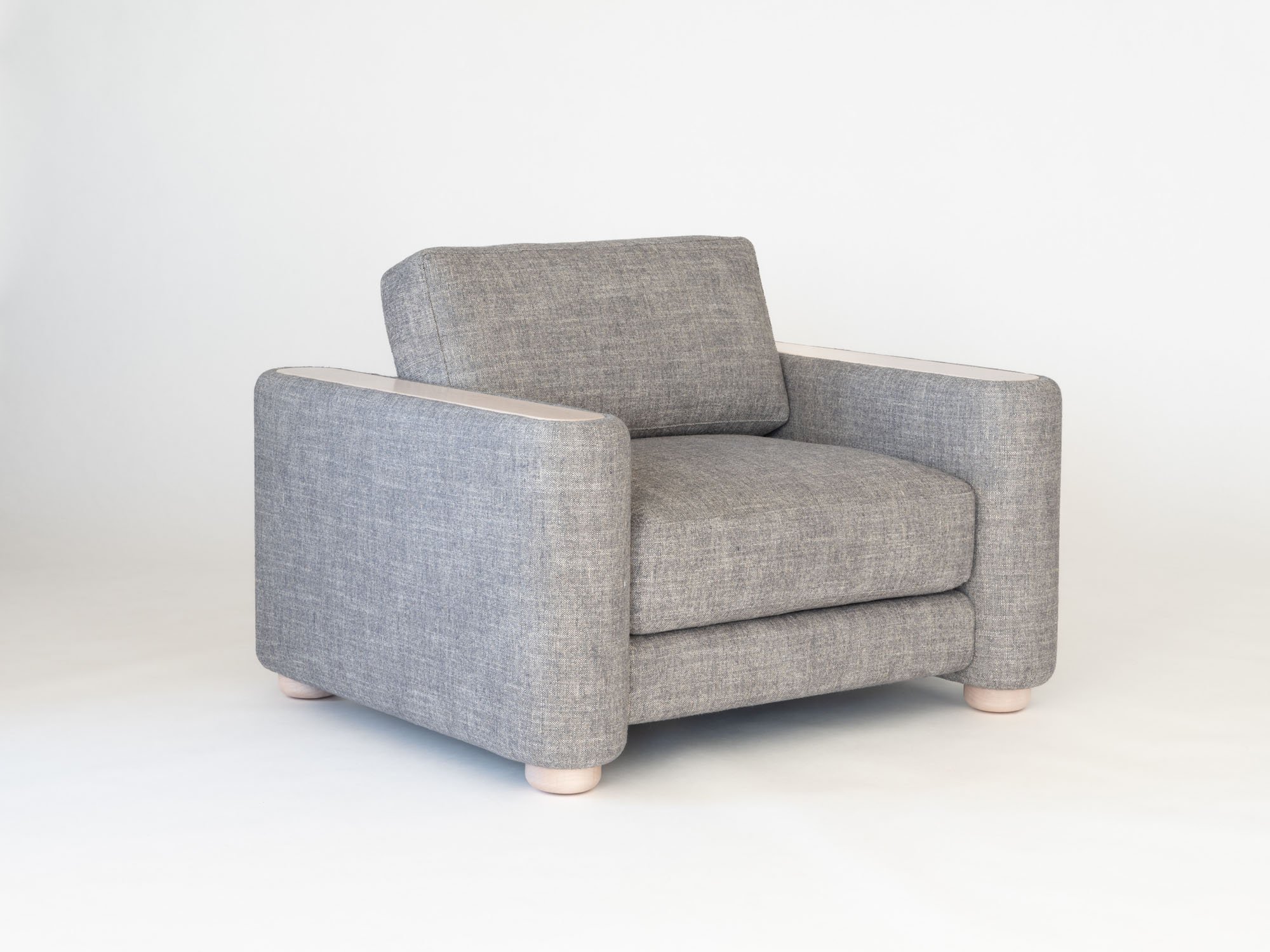 Noteworthy still is Jialun Xiong's Half Table Lamp. New Brutalism distilled, the lamp's authenticity is as striking as its appearance with a back-to-basics approach to lighting design, prioritizing materiality over color, and form over adornment. Its hardware gives cues to its kinetic functionality. "Brutalism is not really a definable term or style, but the kind of integrity it conveyed originally has renewed appeal in today's bottom-up, socially mediated, everything-everywhere-all-at-once cultural ecosystem," adds Linder. "It signifies a kind of unpretentious yet refined, seductive yet awkward, undisciplined yet sophisticated expression of a lifestyle that both capitalizes on and evades the estrangement and chaos of hyper-digital-virtual culture."