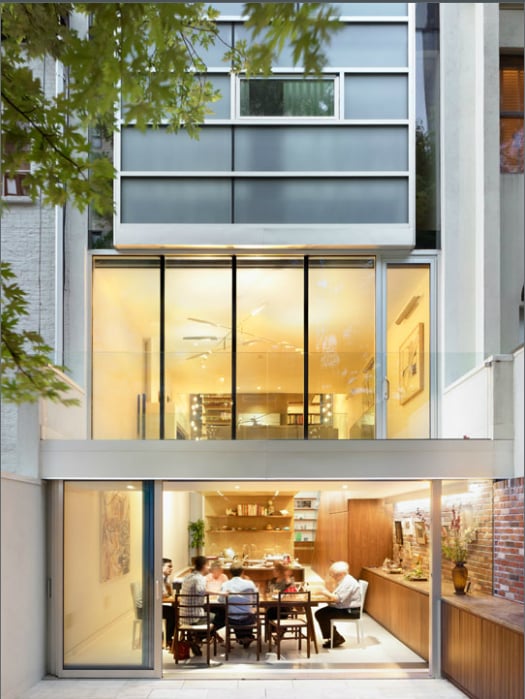 January 30, 2012
Building as Business
Gardens by the Bay, Singapore.  By Wilkinson Eyre & Atelier Ten Singapore's nearly complete "Gardens by the Bay"—a 110-hectare botanical garden with indoor waterfalls and a photovoltaic tree canopy—makes an important point about the state of 21st century architecture. Today, buildings have a new level of complexity, and the integration of technology continues to redefine […]
Gardens by the Bay, Singapore.  By Wilkinson Eyre & Atelier Ten
Singapore's nearly complete "Gardens by the Bay"—a 110-hectare botanical garden with indoor waterfalls and a photovoltaic tree canopy—makes an important point about the state of 21st century architecture. Today, buildings have a new level of complexity, and the integration of technology continues to redefine the way we design and build. In stark contrast to the new ways and means of architecture, our current project delivery methods, as well as the relationships between owner, architect, and contractor remain largely the same as they have been for decades. Architects deliver the same sets of drawings, using the same Uniform Drawing System standards established in the mid-1990s after the rise of AutoCAD, as well as the graphic conventions that predate the use of computers.
Well, not everyone.
Peter Gluck & Partners and Tocci Construction have developed innovative approaches to project delivery; more broadly, they have shifted the relationship between architect and contractor. Not for them is the typical separation between architect and contractor with its daily time lags, as one party communicates information to the other. It is a well-known fact in the industry that this piece-meal process ultimately creates change orders and cost overruns.
Peter Gluck & Partners's innovative approach to project delivery, "Architect Led Design Build", is simple: the New York City-based firm acts as both the architect and the contractor. The client gets two separate contracts with different legal entities but the same people. A typical project goes from schematic design, directly to subcontractors who estimate cost and contribute useful information on alterations or alternatives. This feedback loop of information continues through design development and construction documents, at which point the firm manages the construction themselves. No surprises.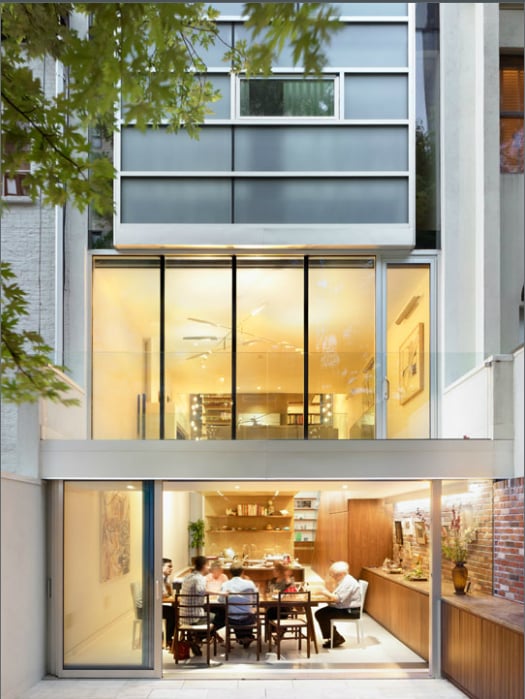 Townhouse, New York. By Peter Gluck & Partners
Drawing sets are organized by bid package such as "Concrete" or "Glazing", rather than the traditional organization by design disciplines, such as "Architectural" or "Electrical". In this way the subcontractors get information relevant only to their work. This method of project delivery puts enormous pressure on the firm responsible for the project design and execution. In Gluck's case, they're happy to take on this responsibility because of the added profit brought in by assuming the contractor role and, more importantly, the higher quality projects they're able to deliver.
In contrast, Tocci Construction, has rethought project delivery to a different and, in some ways, opposite end. While Gluck provides an example of architects gaining more control of their product by stepping up to accept more responsibility and risk, Tocci provides an example of the contractor taking on more responsibility for that same upper hand. Tocci's method, highly collaborative project delivery (HCPD), involves co-location of architect, contractor, structural engineers, MEP and highly efficient collaboration due to ease and speed of communication. Tocci moderates and generates early collaboration between all parties to achieve the same goals of cutting back on communication time lag and misunderstandings that result in change orders.
These two approaches point to a coming evolution in project delivery methods in architecture and construction. Both have developed cyclical processes that go back and forth between reviewing design intent and constructability throughout the process, rather than defining a line when design stops and construction starts.  While it seems that both are vying for a more close knit relationship between architect and contractor, it remains to be seen who will take the upper hand and gain control and monetary rewards for their additional involvement.  Although in the case of Tocci, this coordination has been made possible largely by Pierce Reynoldson, an architect by training.
Both experiments are promising and indicate a coming advantage for architects:  Those who have a better working knowledge of how buildings are actually built will have greater control of their product and their profits, and will be able to deliver a better quality product.  And in the end, if architects don't fill the current void, contractors will.
---
Kathryn Lenehan is a student in Yale School of Architecture post-professional master's program.  She received her Bachelor in Architecture from the University of Notre Dame.