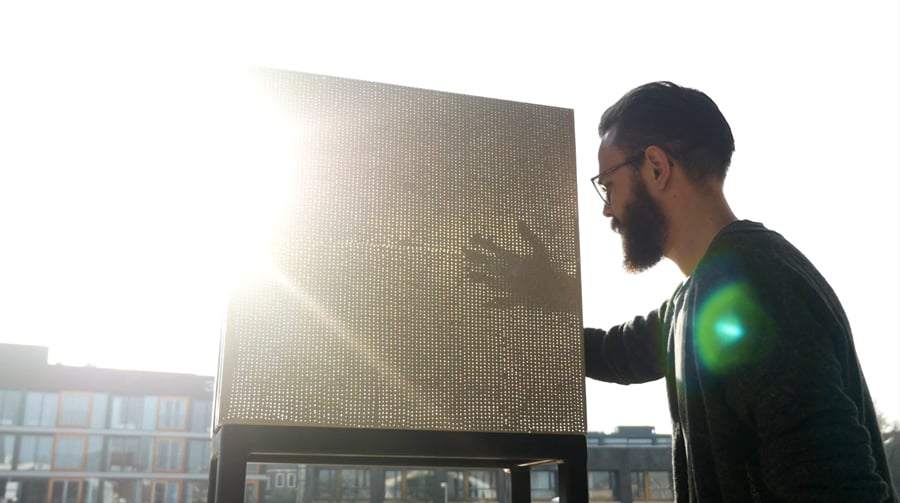 April 20, 2017
Clear Breakthrough: Zospeum Takes Translucent Concrete to Next Level
Concrete as a material has been unchanged as a material since the 19th century, until now. Translucent concrete is here to change the look of architecture.
The composition of concrete has undergone a few tweaks here and there, but its cold, hard, and gray aesthetic has been for the most part unchanged since the early 19th century—until translucent forms of concrete started cropping up in the past 20 years. Zospeum, a new material displayed at last year's Dutch Design Week, is the latest iteration.
Developed by Dutch firm Van Delft Westerhof (VDW) Architects and construction agency Hurks, Zospeum is made of fiber optics sandwiched between layers of insulation and concrete. "We use up to 30,000 optical fibers per square meter," says Peter van Delft Westerhof, founder of VDW Architects. "This allows us to bring light from the outside to the inside and from the inside to the outside." The material can be customized for the look and structural requirements of a project. "You can choose how translucent you want the product to be by choosing the density and diameter of the optical fibers," explains Van Delft Westerhof. "You can also adjust the height and width of the panels."
Translucent concrete was first mentioned in a 1935 Canadian patent by Bernard Long, who worked for glass manufacturer Saint-Gobain. In the '90s, architect and inventor Bill Price explored the concept and even went as far as conducting strength tests on a few samples while working at Rem Koolhaas's OMA. Yet it wasn't until the early aughts, when Hungarian architect Áron Losonczi patented his light transmitting concrete LitraCon, that translucent concrete became commercially viable.
Van Delft Westerhof says his product is different: "There are a few companies in Europe that can make translucent concrete, but not with insulation." Zospeum's insulative core, according to him, makes the material a great alternative to glass facades because it offers much more thermal resistance. VDW's panels can also be fabricated up to a story in height and, says Van Delft Westerhof, at a comparable cost than that of luxury glass panels. By allowing daylight to permeate without solar gain, thus helping to reduce energy costs of additional lighting and cooling systems, Zospeum and other types of translucent concrete could very well be the building materials of the future.