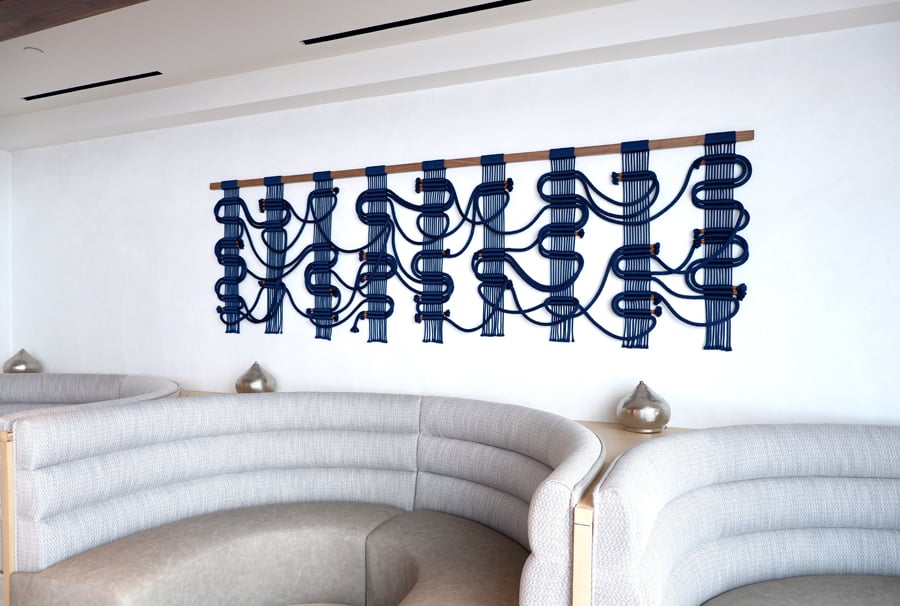 March 13, 2020
Close Ties: Windy Chien Pushes the Boundaries of Knot-making
Rope artist Windy Chien adapts her creative medium to a range of scales for commissioned works.
---
Within the ongoing resurgence of crafts and of fiber arts in particular, Windy Chien has tapped into what she identifies as a "universal subculture."
 "Knots are the language around the world. We all tie our shoes," the San Francisco-–based artist explains from her studio located within Heath Ceramics' headquarters in the city's Mission District. Chien, a former indie record store owner, laughs at the inherent irony of a subcultural identity that by default includes almost everyone on the planet. But its hidden shared truth motivates her. "My mission is the more people that see my work, I can increase that understanding."
 Chien's growing body of commissioned pieces on view in restaurants, hotels, offices and other public settings are spreading her message while bringing a tactile, kinetic, and geometrically rigorous element to spaces. She has completed intricate projects at multiple locations of Brazilian-style churrascaria international chain Fogo de Chão, as well as custom commissions for entities such as the National Geographic Society in Washington, D.C., Facebook, Verve Coffee Roasters, and the Hotel San Luis Obispo. Her Circuit Board series is instantly recognizable—and resonant among Bay Area clientele for obvious reasons—and yet no two are alike. She's worked with architecture firms of all sizes, ranging from Gensler to L.A.'s Design, Bitches and Arcsine in Oakland.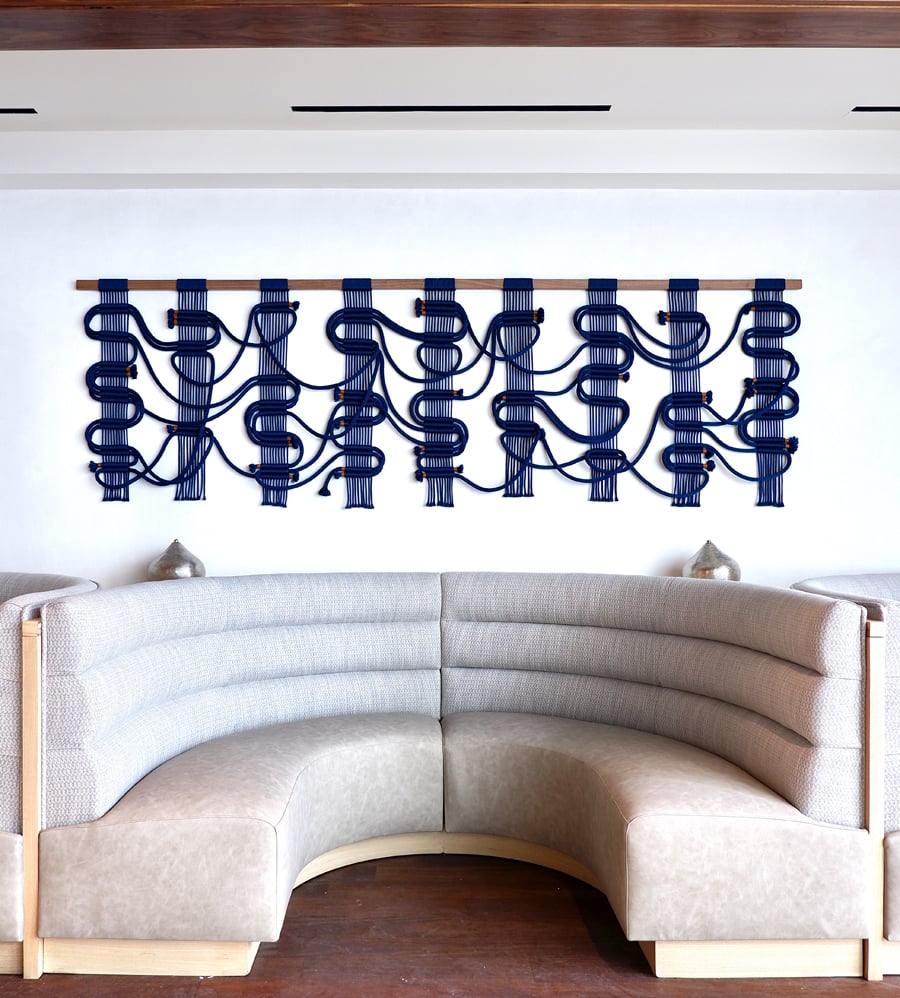 ---
 This multi-hyphenate creative's path has its own unique, nonlinear trajectory. After decades as a professional curatorial music maven, which included multiple roles at iTunes and serving as the App Store managing editor, she officially founded her studio in 2015. An ambitious 2016 personal undertaking, The Year of Knots, was turned into a book published by ABRAMS last year. In her still relatively new career, architects and interior designers turn to Chien for her distinctive aesthetic and technique. But because "it's dangerous to coast on what you've done before, every project has to have a new in it," Chien says. So, she's developed a highly collaborative process that allows her to reach a shared desired result while advancing her own creative goals.
 Chien recalls how early commissions were relatively more circumscribed, since installation schematics would be mostly determined by the time she came onboard. "Now folks will come to me and say, 'Here's the space, what do you think will look good in it?'" She thrives on site-specific challenges and can use "rope and line in general [to] create volume without creating weight" to help manage the scale of a room. Plus, professionals are wise to defer to Chien's specific material expertise. "Rope is different than other types of line, because fiber will naturally expand or contract with factors like humidity," she notes. For example, restaurant installations are made of synthetic rope that can be wiped down, and all her pieces meet what she describes as "knot nerd standards." (Think: no glue, ever.)
---
 Whether it's in a hospitality context or a corporate tech workspace, her compositions and masterful handiwork reveal the mundane magic of this medium. Transforming rope into original works of art achieves "that nice balance of approachable and awesome," Chien says. She means the latter word both in the vernacular and technical sense. "Creating a sense of awe is often the goal."
You may also enjoy "Tent Revival Lord Fabrik Releases a Natural Canvas Alternative To Vinyl"
Would you like to comment on this article? Send your thoughts to: [email protected]