November 25, 2013
The Complex Curves
Eventscape achieves ann undulating, perfectly smooth wall with Corian.
Courtesy Eventscape
Earlier this year, the custom architectural fabrication company Eventscape was approached by ZAS Interiors, which had been commissioned by a high-tech company to design a space within its headquarters. The company was looking for a wow factor and to achieve it, ZAS designed a lecture space that could double as a gallery. The centerpiece was to be a curving, monolithic, white feature wall with acrylic display cases. The design was by no means simple, and Eventscape soon realized that the many double curves meant that sprayed applications such as fiberglass or MDF wouldn't provide the surface the team desired.
"We started leaning towards Corian for a few reasons," says one of Eventscape's designers, Graham O'Brien. "It has a good pedigree for architectural use. It's a fairly established material in terms of a finished surface in high-traffic spaces. On top of that it has this wonderful quality—it can be thermoformed."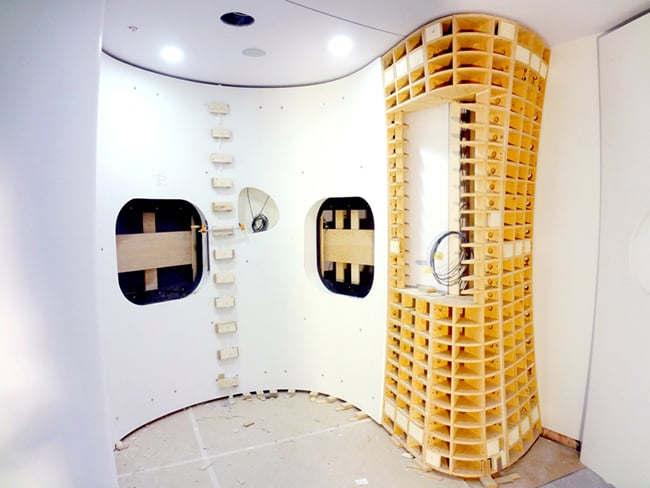 Courtesy Eventscape
This aspect was especially appealing because ZAS wanted a completely smooth surface. "Unlike fiberglass, where the quality of the surface is dependent on the smooth-ness of the mold you're spraying it into, Corian is forgiving in terms of what it can be draped over. It doesn't translate every bump on a mold," O'Brien says.
This was the first time Eventscape had used Corian for such a large project—32 feet of smooth curving wall surface within a 12-foot-wide area. Sixteen sheets (2,112 pounds) were used in construction. Unveiled in September, the final result is much more than a wall; it's a showcase unto itself.
Composition
Eventscape used 16 sheets of Corian—a nonporous surface material composed of one-third acrylic resin and two-thirds natural minerals—to build the feature wall.
Properties
The material is easily cleaned, shows solid color all the way through, and has good fire ratings. The thermoforming created a completely smooth surface.
Applications
The feature wall is part of a newly designed office space, a deviation from the more traditional uses of Corian in countertops and wall panels.