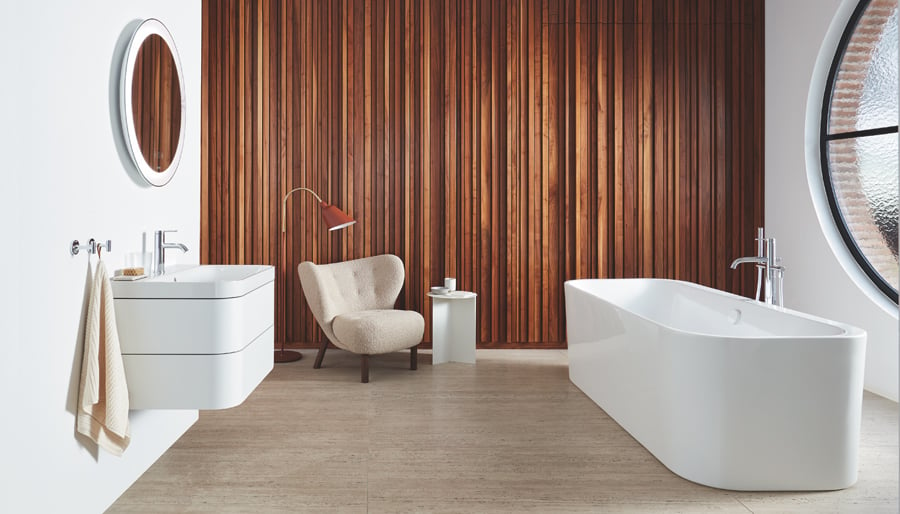 June 25, 2020
C-Shaped Technology from Duravit Takes Precision to A New Level
Using a proprietary technology, the 200-year-old company developed a new way to perfectly match its ceramic washbasins to a furniture base.
Sponsored by: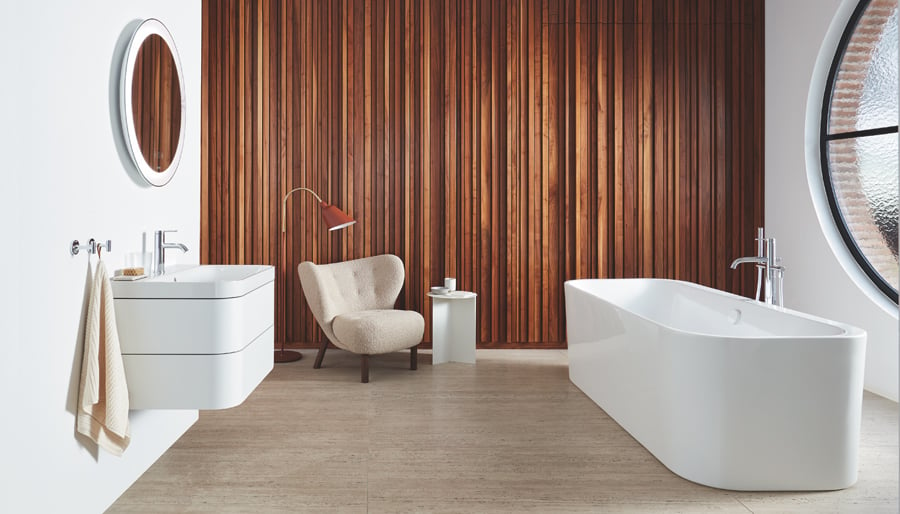 When Duravit partnered with sieger design last year to release its latest selection of high-end bathroom fixtures—Happy D.2 Plus—it was all about technology integration, using elements like smart mirrors and sleek matte finishes to evoke a distinct futurist vibe.
However, the 200-year-old company, based in the Black Forest of Germany, knew it wanted to go beyond integrating technology into the product; it wanted to be the technology. In the words of Tim Schroeder, President and CEO of Duravit USA Inc, "We wanted to take ceramic to where it had never gone before." The result: what they call c-shaped technology, which allows a seamless connection between the washbasin and the furniture it rests on, such as a vanity or furniture console.
Precision and craftsmanship have always been a key component of German manufacturing, but this new practice takes precision to an entirely new level. The new c-shaped technology allows for the Happy D.2 Plus to have a perfectly linear edge, with nearly zero visible overhang from the furniture the basin rests on—it is perfectly flush to a tolerance of no more than 1/8".
This incredible feat is possible because of DuraCeram®, a heavier duty form of ceramic that allows for more detailed molding and manipulation. "Your average ceramic can't be manipulated to exact degrees like DuraCeram® can," says Schroeder. The breakthrough in ceramics engineering means that the sink itself is the technology.
"I would say technological innovation is part of our DNA. The innovation in the material and the process is what defines this new scope of design," says Schroeder. "It's what makes it especially interesting. To constantly question the material and the material application—as well as the process—is what makes our products unique, and this applies especially to our c-shaped technology."
Schroeder attributes much of the brand's success and innovation to the company's willingness to work directly with designers—they've partnered with sieger design for nearly 40 years—giving them an understanding of trends and ideas within the industry that other manufacturing companies may miss out on. He summarizes: "I think that the design language today is not governed by a traditional set of rules, but at the same time is underwritten by a modern language—one that is about precision and high-quality finishing, materials and surfaces. We have learned through our partnerships that people are drawn to these types of narratives, so—c-shaped underwrites a piece of that conversation by being part of a broader visual scope."
Luckily for designers and consumers alike, Duravit's visual scope is quite broad. Like many of their other products, the Happy D.2 Plus with c-shaped technology comes in an outstanding array of finishes, sizes, and configurations, meaning it's the perfect precision-engineered series for almost any application.