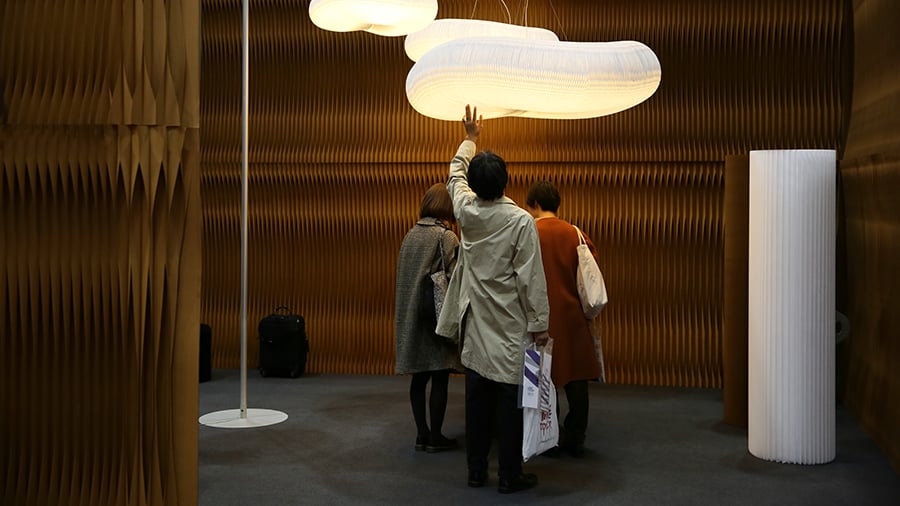 May 23, 2017
The 7 Best Booths of ICFF 2017
This year's ICFF was exceptional in quality and range. These ten booths (plus two student-run booths) stood out from the rest.
Good Thing
https://www.instagram.com/p/BUcWpi_l2gg/?taken-by=metropolismag&hl=en
We've been following Good Thing, a New York-based manufacturer of "everyday objects," for a few years now, but the company really hit its stride this year.
---
Seattle Design Center
https://www.instagram.com/p/BUcmzzPlR27/?taken-by=metropolismag&hl=en
This well curated booth highlighted quality custom manufacturers based out of Seattle, from Lightart to 3form.
---
Marset

The Spanish lighting company went all out this year, debuting seven (!) prototype, including pendant, floor, and outdoor lamps. You would be hard-pressed to choose a favorite among them, though the Djembé wall lamp, with its intriguing outer stone-like texture, and an updated version of the indelibly cute FollowMe lamp stand out. But the portable Bicoca lamp (designed by Christophe Mathieu) was the clear crowd pleaser.
---
Molo
Molo's booth stood out for its artistic, sculptural form and the new products displayed, which all feature those unique accordion folds. We particularly loved the Cloud Mast, the floor lamp which suspends softly-glowing, cloud-like forms. 
Volk Furniture / Rosie Li
https://www.instagram.com/p/BUXJFnNFoJj/?taken-by=metropolismag&hl=en
In this light-hearted, atmospheric booth, Volk Furniture's clean, simple designs perfectly complemented Rosie Li's robust, whimsical light fixtures.
---
Best ICFF Student Booths
The student work was truly exceptional this year. SCAD showcased some very strong pieces, and Westphalia University went against the current with a "Where the Wild Things Are" kind of theme.  Socially-conscious themes also prevailed among the student work: University of El Salvador featured designs to support coffee pickers in their home country, and Virginia Tech showcased their work collaborating with MASS Design Group in Rwanda. However, these two booths stood out for their cogency of theme and aesthetic.
Pratt – Design for the Mind
A winner of an ICFF Editors Award, Pratt Institute collaborated with Cooper Hewitt Museum and CaringKind to design furniture and products for people suffering from Alzheimer's.
University of Cincinnati – Studio 001
Also a recipient of an ICFF Editors Award, the University of Cincinnati presented a pastel-perfect brand, Section 001, which included furniture, literature, and an event space.
If you liked this post, you'll probably enjoy checking out our MetropolisLikes Winners from NYCxDESIGN.