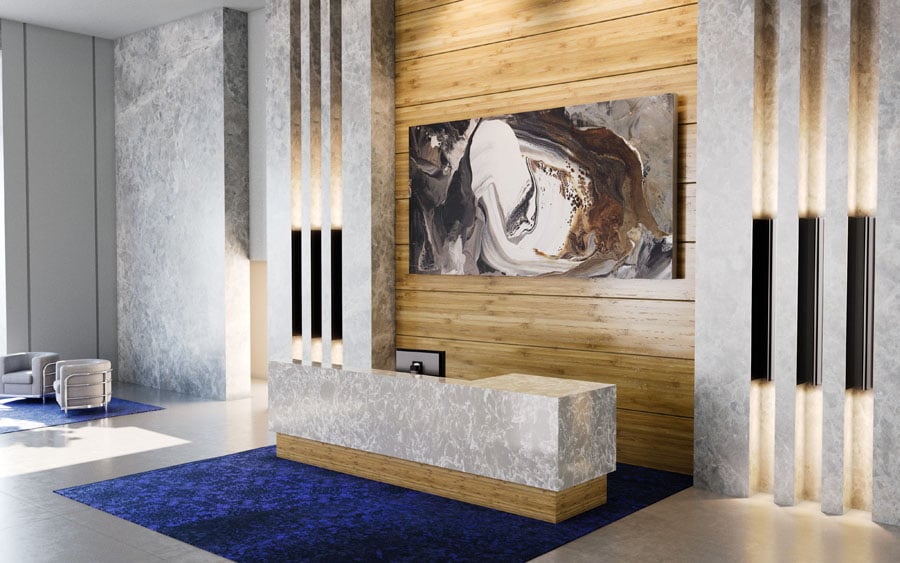 January 7, 2020
Finding Inspiration from Natural Quartz
Cambria's technical services team helps architects and designers find novel uses for quartz surfaces.
Sponsored by:
---
When it comes to kitchen countertops, quartz surfaces from Cambria have long been favorites of architects, designers, and homeowners who all love the material for its durability, ease of cleaning, versatility, and wide range of designs. But it's those same qualities that make Cambria an ideal material for projects beyond the kitchen, says Craig Nelson, the company's director of technical services. What architects and design professionals are finding is that the strength, durability, scratch and stain resistance, and ease of installation that make Cambria an ideal countertop also make it a great cladding material for all kinds of projects.
From wall coverings to fireplaces and backlighting, the applications seem to be limited only by designers' imaginations. "Cambria has been successfully used on large floor-to-ceiling wall cladding as a wall covering, on backsplashes—where fewer grout lines make for a seamless look, hood cladding, fireplaces, and furniture applications where Cambria is used as the surfacing material," says Nelson. Since Cambria is available in slabs as thin as one centimeter (significantly reducing its weight while retaining its hardness and durability), it can be an ideal material to use as a wall covering or in furniture applications.
Nelson and his team have extensive experience working with architects and designers to find the right Cambria solution for a virtually unlimited range of applications. Though each project comes with its own set of parameters and challenges, Cambria is able to leverage decades of experience gleaned from past projects as well as technical information about their products to ensure that new ideas and applications are successful.
It's understandable for an architect who has used Cambria for countless countertops to be uncertain about using the same material to build a fireplace or to clad a wall. That's where Cambria's technical services team comes in. Accessible by phone, through market representatives, and through live chat on the company's website, Nelson's team can guide professionals on fabrication techniques, installation requirements, and how to properly support the Cambria material.
Depending on the installation, Nelson says, "Challenges can include what thickness of Cambria material is recommended, how to properly support Cambria material, whether a substrate or backing material is required, and how far the Cambria countertop can cantilever past the support base." Cambria's team works closely with architects and designers to find the right solution for each project.
Designers are finding applications for Cambria from fireplaces to wall coverings and even furniture says Nelson, and it's the qualities of the material that make it succeed in such a wide range of uses. Cambria surfaces are constructed out of quartz, which is one of the hardest materials on Earth. In the manufacturing process, quartz particles are mixed with resins and binding agents and formed into slabs for use in almost any surface. Because it is an engineered surface, the material can be formed into virtually any shape through molding, thermoforming, or cutting.
The result is a material that is both extremely durable and easy to manipulate, an unusual, but valuable combination. With the remarkable versatility of an engineered surface, a wide range of color and design options, Cambria is an excellent material to experiment with. Having a technical services team on hand to help make working with the material in a new context easier is an added benefit, and one that helps designers find even more new uses for Cambria.
Learn more about using Cambria in custom applications here.