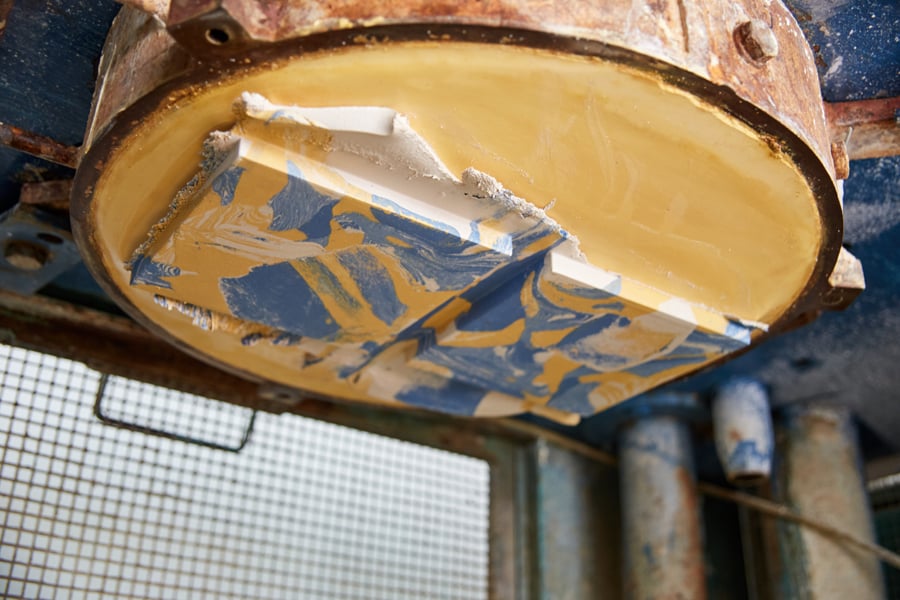 September 23, 2020
Granby Workshop Reinvents Encaustic
This classic Victorian ceramic gets a sustainability update for the 21st century, courtesy of a U.K manufacturer.
Surfaces of all kinds are top of mind these days, so we decided to look at all aspects of them, in these articles, from A to Z. Thinking of surfaces less as a product category and more as a framework, we use them as a lens for understanding the designed environment. Surfaces are sites of materials innovation, outlets for technology and science, and embodiments of standards around health and sustainability, as well as a medium for artists and researchers to explore political questions.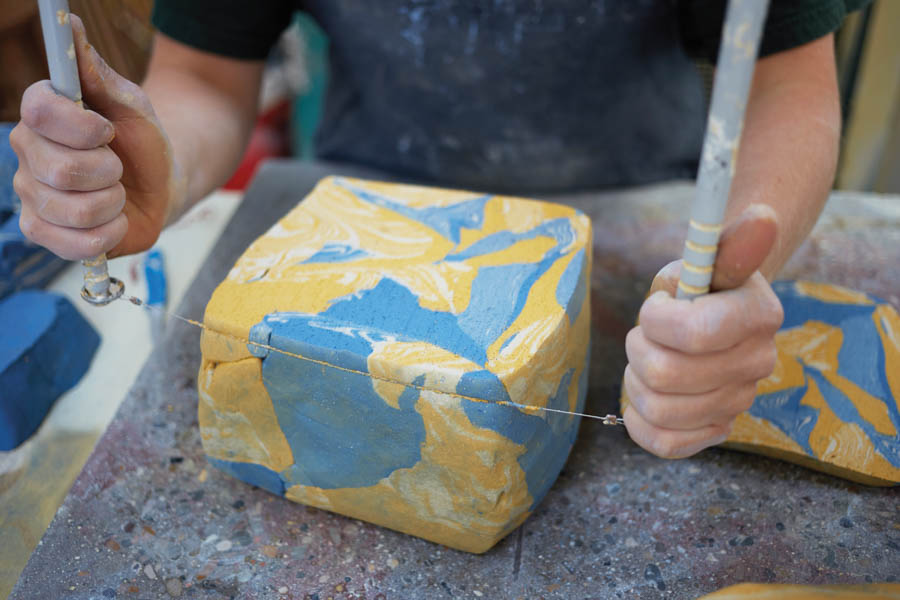 Encaustic tiles have made a comeback. And despite their misleading nomenclature, they actually have nothing to do with encaustic painting processes, which involve wax and heat. As applied to tile, the term originates with the Victorians, who believed the bold colors and patterns of inlaid tiles resembled the medieval art form. Lewis Jones, cofounder of the design collective Assemble, helped set up the architectural ceramics manufacturer Granby Workshop in 2015. He explains: "Encaustic is when the pattern of the tile comes from the color of the clay, rather than the layer of glaze on top."
Since 2016, Granby has been researching the complex histories of encaustic, studying recipes, and developing a modern and sustainable equivalent. "Most 'encaustic' tiles available today aren't ceramic, but made from cement," Jones points out. While they can be beautiful and relatively affordable, cement tiles are thick and heavy compared with their clay-based predecessors and are produced using vastly different materials and processes. (Cement also contains high levels of embodied carbon.) "Cement tiles are softer and have a more porous surface, which needs to be sealed regularly," says Jones. Made and fired using 100 percent renewable energy, Granby's encaustics are nonslip and durable—because patterns are baked in, they remain even as the surface is worn down.
The production team adds minerals like iron and cobalt to the clay bodies to create the colors, then marbles the clay by hand, slices it, and flattens it using a 60-ton hydraulic press. The scraps from pressing one tile are then recycled into the surface of the next. "Our tiles have the same decorative quality and durability of traditional tiles. We use wet clay following the medieval method, and an industrial press like the Victorians," Jones explains. "But we're not trying to replicate a set figurative pattern—we're using inlaid and colored clays to create varied and unpredictable patterns in each tile."
You may also enjoy "In Defense of Decoration."
Would you like to comment on this article? Send your thoughts to: [email protected]
---
Register here for Metropolis Webinars
Connect with experts and design leaders on the most important conversations of the day.