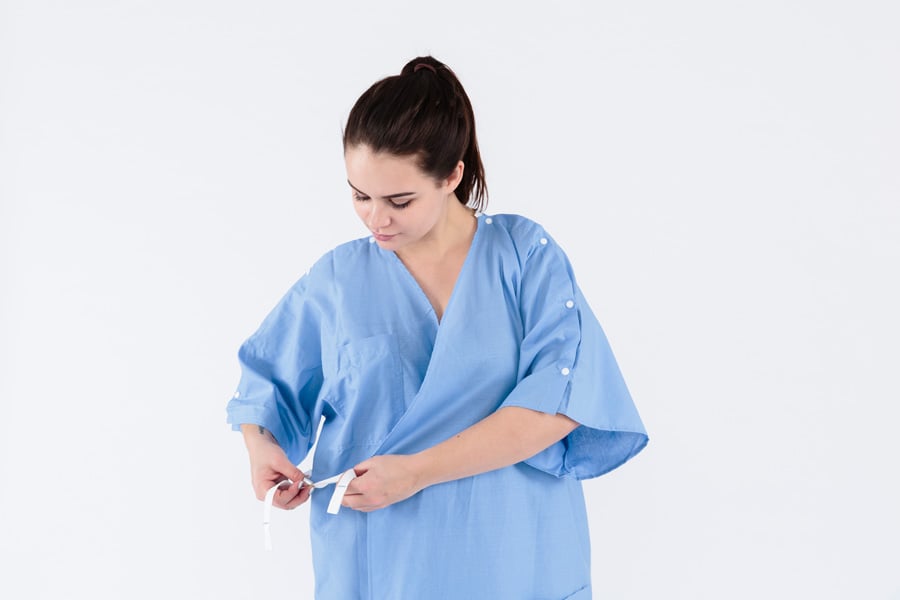 April 13, 2018
Parsons Design Students Provide Essential Updates to the Typical, Embarrassing Hospital Gown
The school teamed up with Care+Wear, a healthcare apparel company, to create a hospital gown that makes for a more dignified patient experience.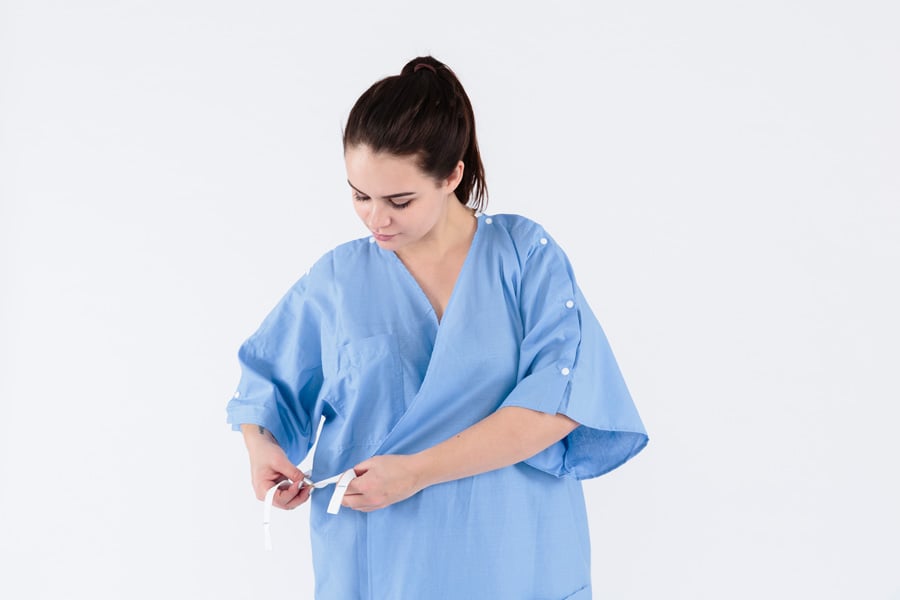 When faced with illness or an extended hospital stay, the last thing patients want to worry about is their gown not fitting properly. With this in mind, students from Parsons School of Design teamed up with health-care apparel company Care+Wear last year to create a gown that would enhance the patient experience and allow clinicians to provide proper treatment. "When you're sick and in the hospital it can be demoralizing, especially when your gown is falling off and you're exposed," says Chaitenya Razdan, cofounder and CEO of Care+Wear. "We not only wanted to find a solution, but one that would make people feel better."
Created during a 15-week course, the gown was the result of rigorous research. The students met with patients, doctors, and even laundry specialists, all of whom shared their experiences and insights and offered advice. "The students went through the entire production process and received real-time user feedback," explains Brendan McCarthy, director of the BFA fashion design program for systems and materiality at Parsons. "Working with patients and focusing on this depth of human-centered design elevated the final piece."
After testing and refining multiple prototypes, the group finally settled on the Patient Gown, a kimono-style robe that combines the medical advantages of five traditional gown types into one, meeting a variety of needs. It provides coverage for the front and backside, has snaps for IV access, and features thumb tab ties to allow for easy opening and closure. Every detail was carefully considered, from sizing to findings. A soothing blue shade was chosen because the designers were told patients wanted to wear the same color as their doctors and not be set apart. Simple choices like these place patients on the same plane with caregivers. In terms of materials, a cotton-and-polyester blend was selected for softness as well as its ability to withstand many washings. The gown is now being used by several hospitals and is available for purchase on the Care+Wear website, with a portion of the sales going to a Parsons scholarship fund.
You might also like, "Architect Jim Olson on How Nature Inspires His Designs."