May 29, 2020
How Fermob Sparked a Revolution in Public Space
Even in the age of social distancing, the brand's iconic French Bistro chair can teach us about coming together in public space.
Sponsored by: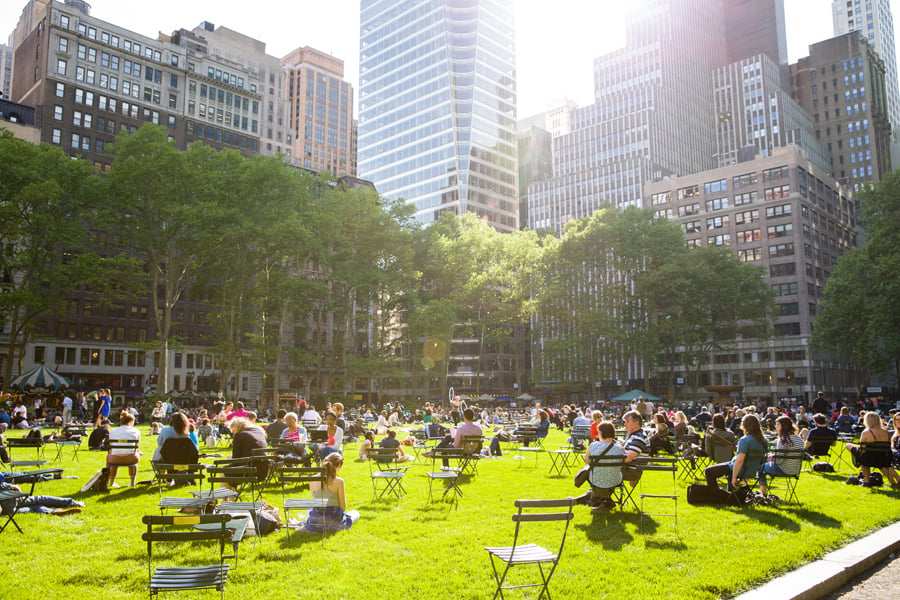 Known for its vibrant, lightweight metal tables and chairs dotted across hundreds of parks, gardens and terraces worldwide, French furniture maker Fermob reimagined outdoor space for people while distilling their desire for joie de vivre. The brand's products have enhanced urban placemaking for decades, and its iconic folding Bistro chair is now in bigger demand as we continue to balance social distancing while craving social interaction.  
"That chair was designed by Edouard Leclerc and patented in 1889—it's the same age as the Eiffel Tower," says Leslie Thompson, president and COO of Fermob USA.   
"In France, café owners were taxed for the outdoor areas their furniture was in, so Leclerc designed a folding Bistro chair so you could put it away at night and not have to pay tax."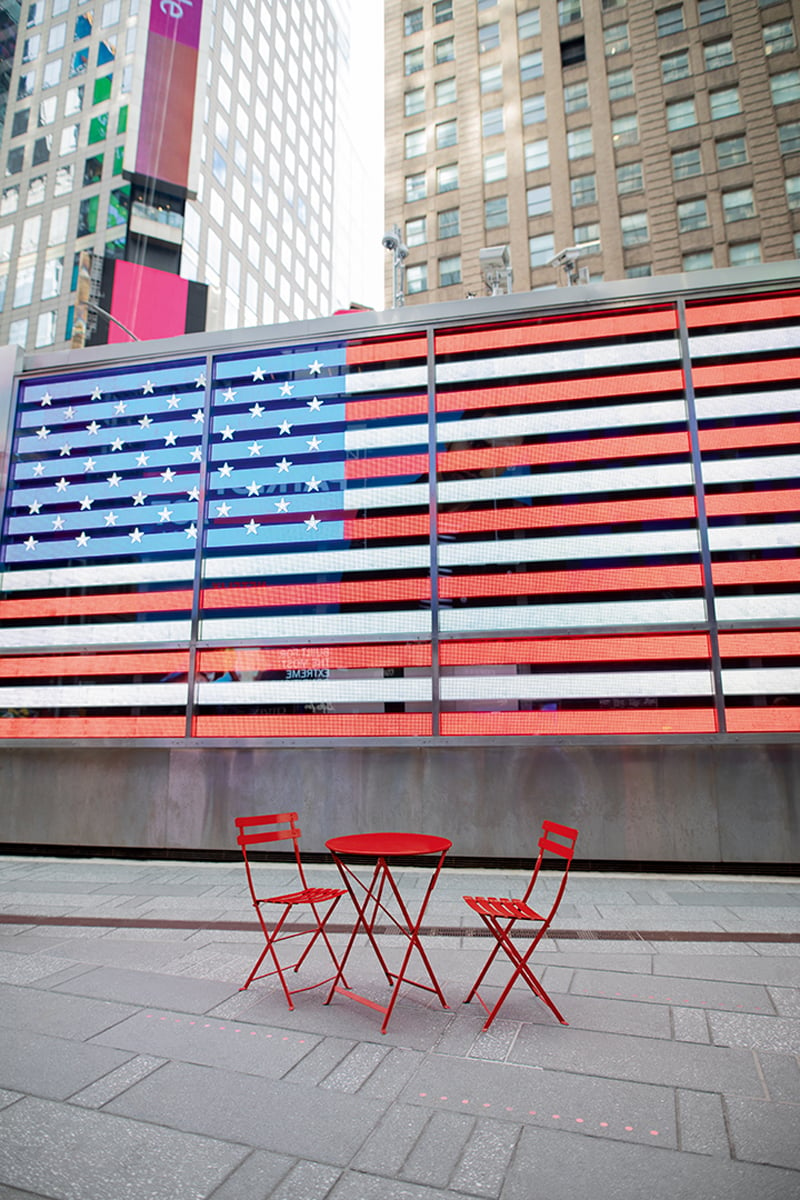 The colorful chairs were catapulted into the spotlight when they were imported into the US a century later as part of the restoration of New York City's Bryant Park. The park's transformation from a drug-infested, crime-ridden area to its current status as urban placemaking poster child came about in large part thanks to Fermob's moveable seating.     
In the late 1970s, renowned urbanist and placemaking pioneer William Hollingsworth 'Holly' Whyte—who once famously said, 'New York is a tough town to sit in'—was asked for recommendations to revitalize Bryant Park, says Thompson.   
Whyte insisted that Bryant Park needed movable chairs to promote accessibility, connection and interaction, which all contribute to urban placemaking. A decade later, Andrew Manshel, an urban public space developer and manager working on the park project, spent eight months searching for the right movable chairs.   
"Then, he heard about Fermob's chair and found someone who spoke French to call the factory and order a container of them," says Thompson.   
"Today, people call it the Bryant Park Chair, and it's popular because it can be easily moved to create social interaction."   
The reopening of Bryant Park reinvigorated midtown Manhattan, setting the standard for other downtown revitalization projects across the country. At a virtual book signing for Manshel's newly released book, Learning from Bryant Park: Revitalizing Cities, Towns and Public Spaces Manshel spoke about how the green folding chair in Bryant Park helped revitalize America's largest city.   
"He said something I'd never heard about the movability of the chair: The reason it was so successful is it made people feel safe," says Thompson. "If a chair that has value has not been stolen, then the park user thinks, 'It's safe here, and my things will not get stolen', and I thought, wow, that's a magical connection, because right now, all we want is to feel safe."  
Fermob's folding chairs and tables are, of course, the perfect social distancing furniture as businesses slowly begin opening up.   
"There are lots of conversations happening all over the country about how cities can reclaim outdoor space downtown to stay in business," says Thompson. "As they start thinking about putting fewer people in their buildings, outside space—either on patios or even in parking lots—is going to become really important. We first saw the COVID-19 virus as devastating to our business, and now we might get to be part of problem solving."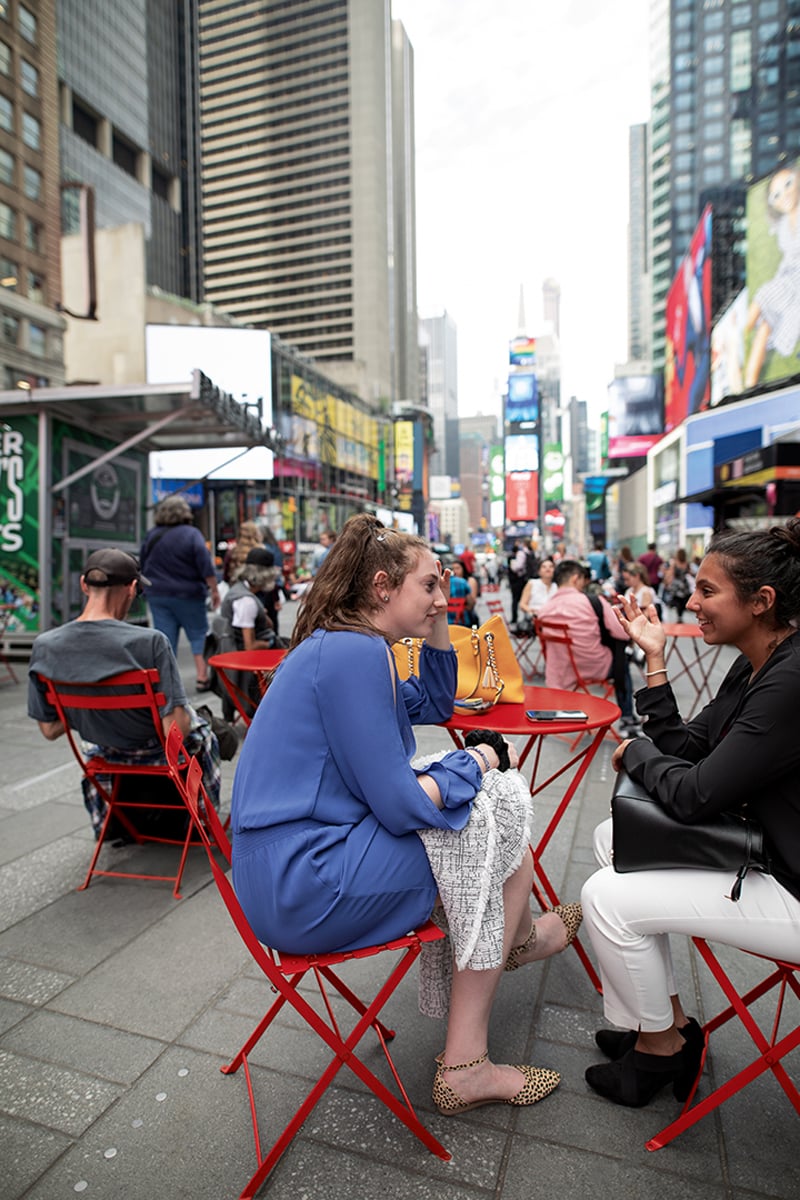 Integral to offering solutions to activate commercial corridors and getting people to go downtown is addressing the public feeling of safety, notes Thompson. Downtown districts can help tenants recover with phased-in outdoor seating, and perhaps closing streets to make way for pedestrian corridors.     
"We're going to have to enjoy our space with more distance from each other, and whether it's at the city level or at the business improvement district level, everyone is burning with a passion to meet the needs of their tenants and their citizens and to help them," says Thompson.  
"It's wonderful to work with people who love making places beautiful and creating social connections, which people want more than ever."    
About one third of Fermob USA's 15,000 bistro chairs sold each year go to parks and public space
s, with the rest popping up in restaurants and homes. Thompson gets the most satisfaction from seeing the happiness moveable furniture brings to public spots.  
"Usually, the placemaking term has been big with landscape architects, city planners and urban planners, but I think now we're going to see it in much smaller ways: in town squares or outside a restaurant," she says. "Seeing people use our chair for social connections, is the biggest joy of this business for me."