August 19, 2019
Our 15 Favorite Products from IKEA's 2020 Catalog
The Swedish superstore's releases for the new year include sound-absorbing panels, speaker-studded lamps, and a lot of eye-catching pattern.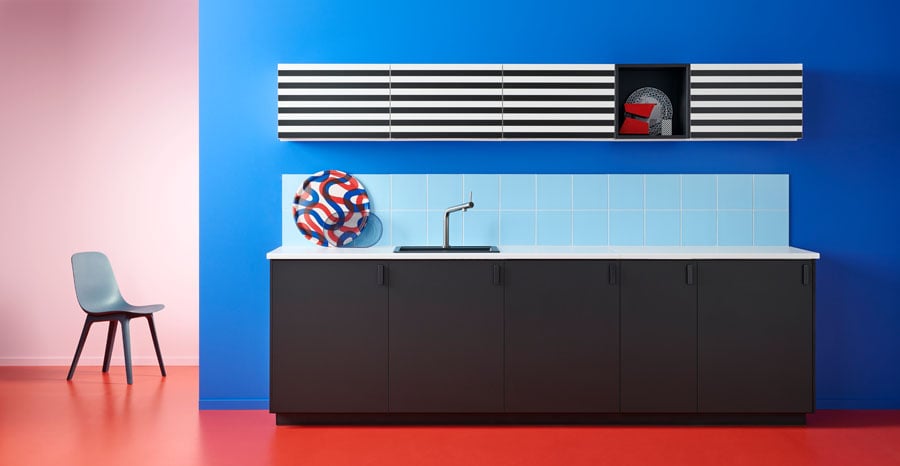 A trip to one of IKEA's mammoth, if not maze-like stores can be a dizzying experience, to say the least. With its rooms upon rooms of furniture, appliances, and objects for the home, it can  feel like a near-Herculean task to sort through the inventory of goods that the Swedish retail giant has to offer. 
But then, a ray of hope: the IKEA catalog. The inviting 288-page glossy tome features domestic spaces brimming with the brand's latest sensibly designed, budget-friendly products—all to be perused in the comfort of your own abode. The 2020 edition has no shortage of eye-catching wares, with a focus on design that aids a good night's sleep. The popular Danish term "hygge"—relating to cozy surroundings that engender a feeling of well-being—might come to mind with this new collection of dreamy duvet covers, ergonomic pillows, sound-absorbing panels, soft lighting solutions, and more. 
The company, however, makes sure that comfort and style are equally prioritized in all areas of the home, from the living room to the kitchen. As such, they've introduced new items such as a minimalist sleeper sofa, a flat-woven rug, a midcentury Modern–inspired armchair, and pink drinking glasses. New additions to the catalog are joined by IKEA staples, like the MALM bed frame and BESTA storage, which get lively updates through new colors and styling.
We culled through the catalog and picked out some favorites. Click through the slideshow to see the products from the 2020 catalog that caught our eye.