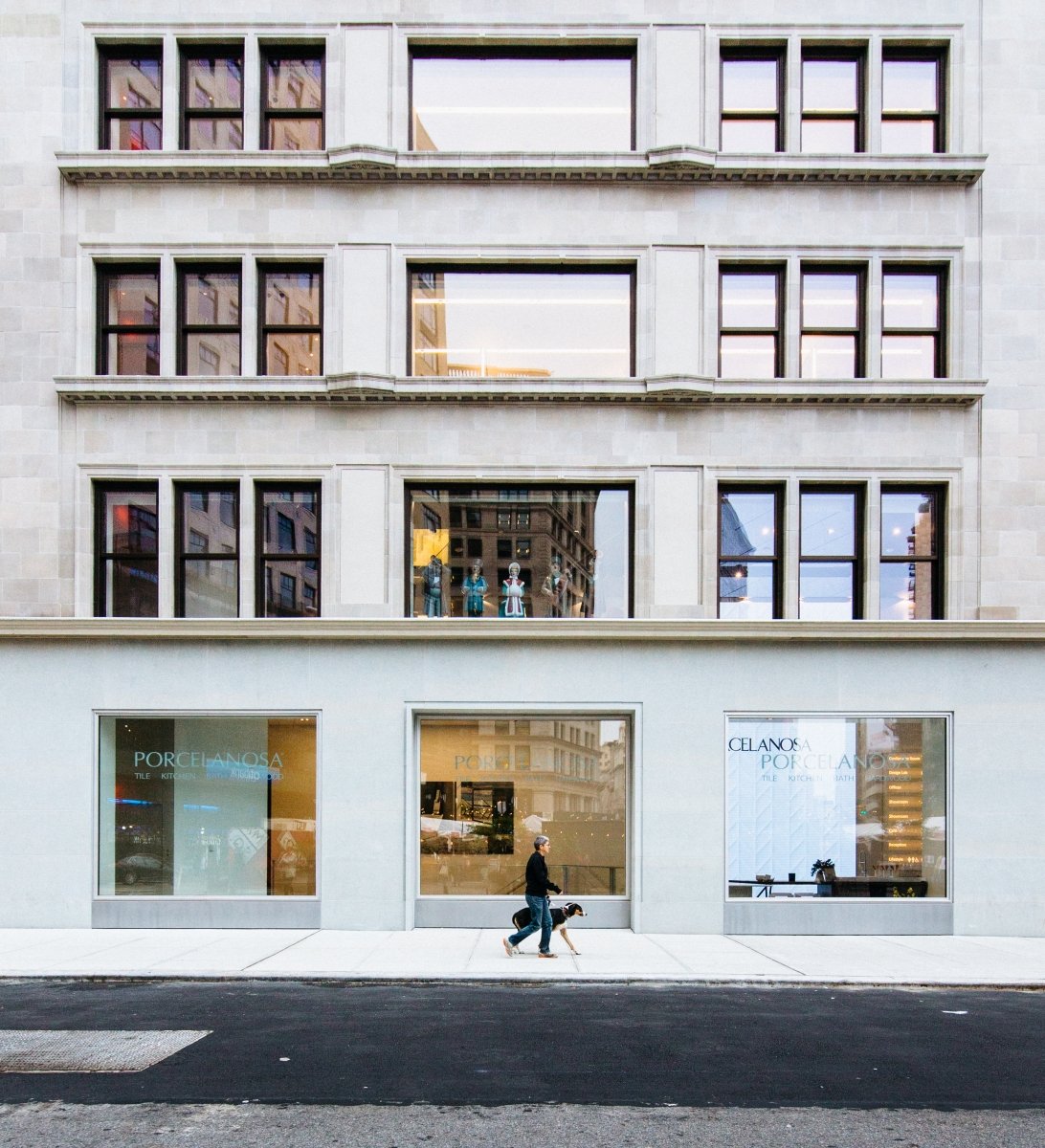 November 17, 2015
Inside Porcelanosa HQ, New York's New House of Tile
At Porcelanosa's Manhattan flagship, architecture and product unite to craft a unique consumer experience.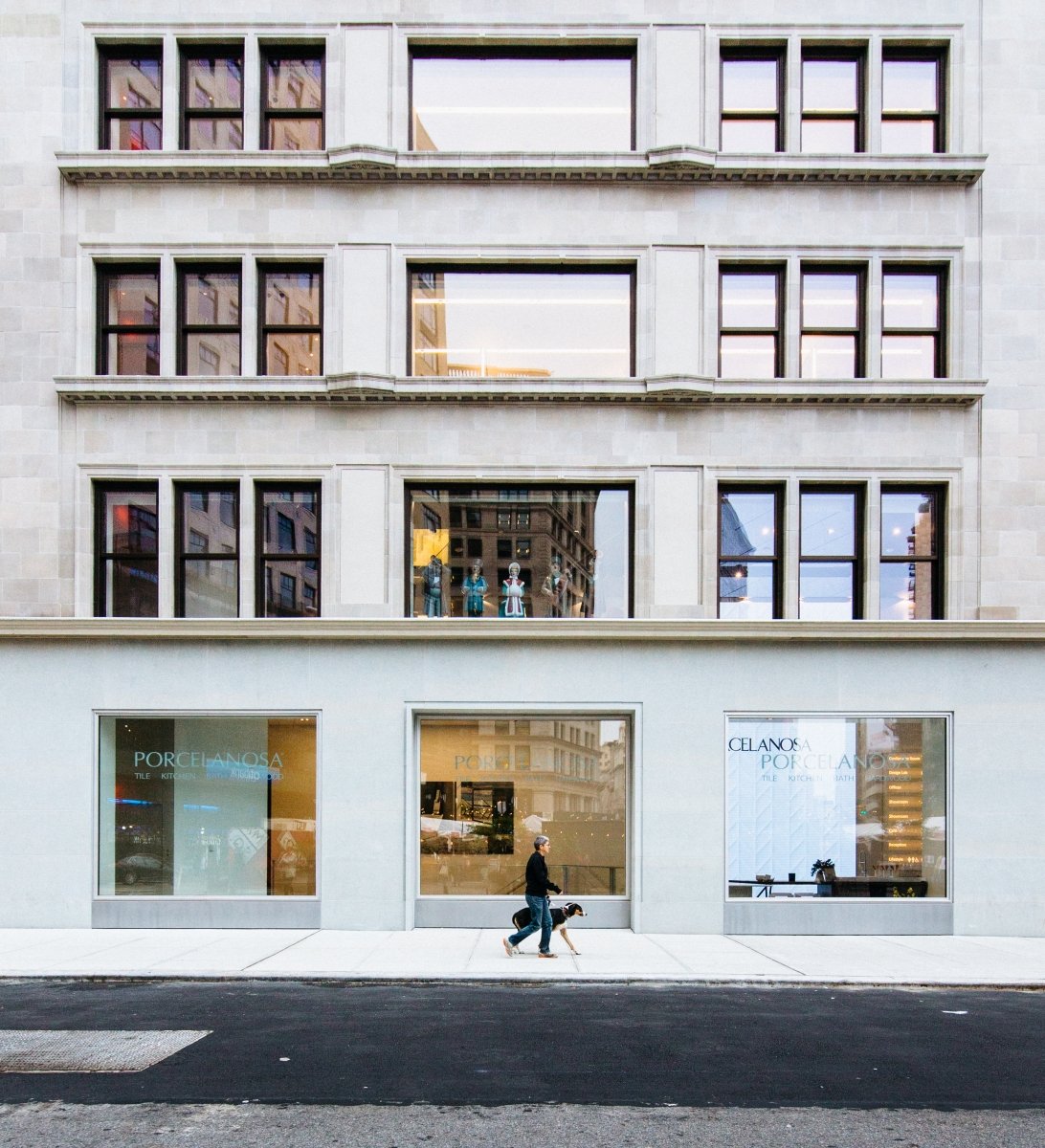 ---
First Impressions
The renovated building—within view of the historic Flatiron Building, Madison Square Park, and the luxury high-rise One Madison—is poised to be a distinct presence. With a revitalized public-facing facade and a boldly backlit, carved-in-stone marquee on the parapet, the building signals status. Yet despite the subtly intimidating natural-stone reception desk, positioned opposite the main entrance, the store intends to serve a diverse clientele. "The showroom is meant to welcome both the professional and the consumer with specialized offerings and dedicated areas that cater to the needs of each type of client," says Silvestre Segarra, co-owner and director general for Porcelanosa. The expansive windows attest to this, as does the café on the second floor, intended for architects wining and dining their clients. "New Yorkers are far from being shy," Segarra adds. "We hope to create a welcoming atmosphere for visitors from the moment they step in the building." A commendable sentiment, which, coupled with the fact that the store's first open weekend drew 120 visitors, prompts the response: "Welcome to New York."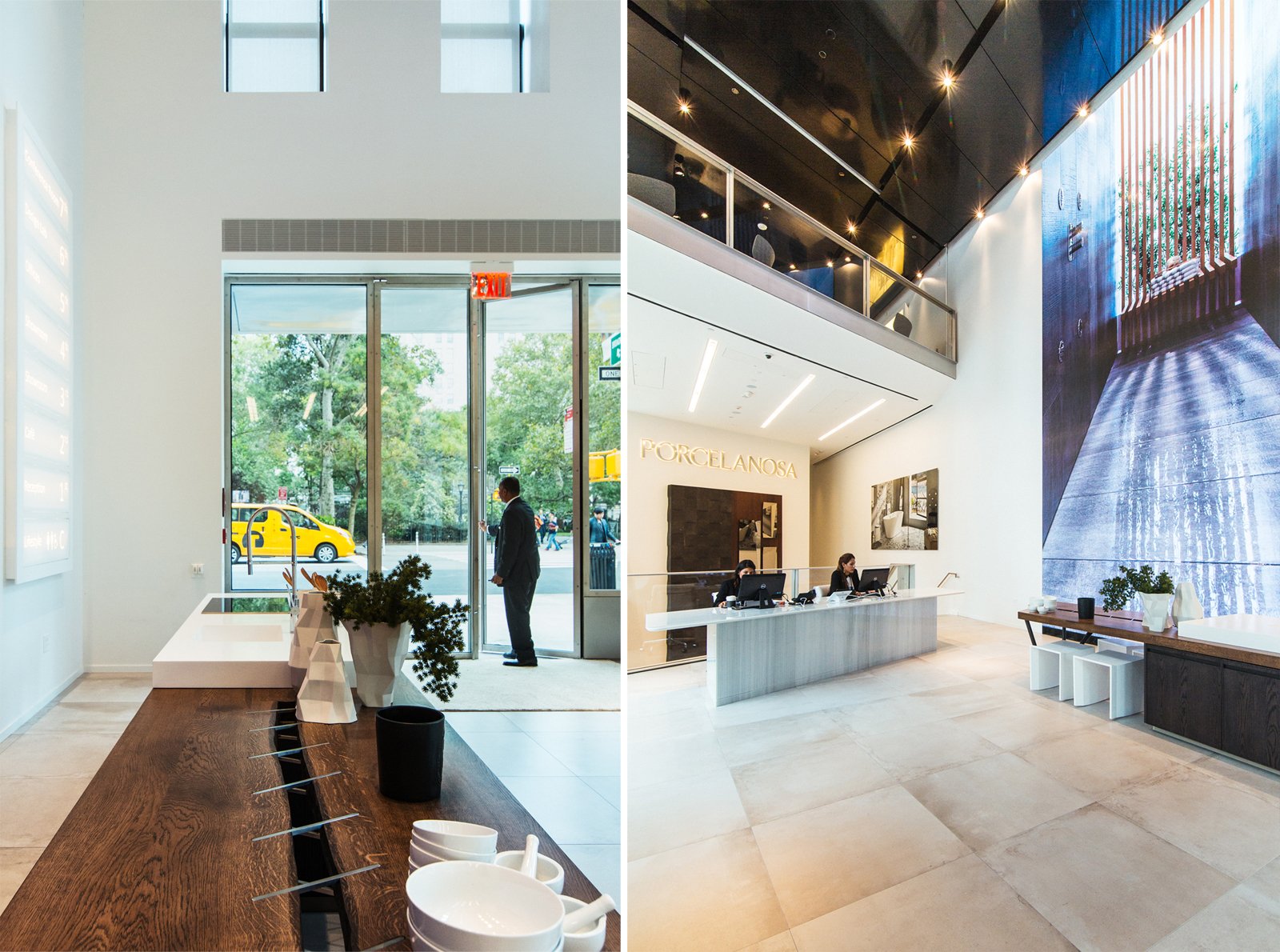 The Fifth Avenue entrance (left) opens out onto Madison Square Park. Visitors to New York's Porcelanosa store are greeted by a 26-foot-tall digital screen (right), which flashes pictures of the company's numerous wares.
---
Model Neighbor
Despite the building's historical status, the New York City Landmarks Preservation Commission made allowance for a few conservative modifications to the exterior. Most prominently, Foster + Partners uncovered a bay of peripheral windows on each side of the front facade, letting in precious light and making the building appear broader and more stately.
The ground floor, heavily remodeled by prior occupants and thus excluded from preservation, was also open to renovation as long as it maintained the overall style of the building. Here, Foster + Partners lavished the facade with full-height windows while framing these vitrines with Porcelanosa's own sandstone tile, dimensioned to match the terra-cotta above, and in a tone that will fade to blend with the rest of the building.
Though invisible to passers-by, the ground floor features another of Porcelanosa's technically advanced products. Behind the sandstone wrap is the Spanish manufacturer's proprietary Rainscreen Facade System: a layered mounting assembly provides an air gap between the surface and the structure of the building. This cavity helps regulate the building's heat and moisture exchange, just as it attenuates exterior noise.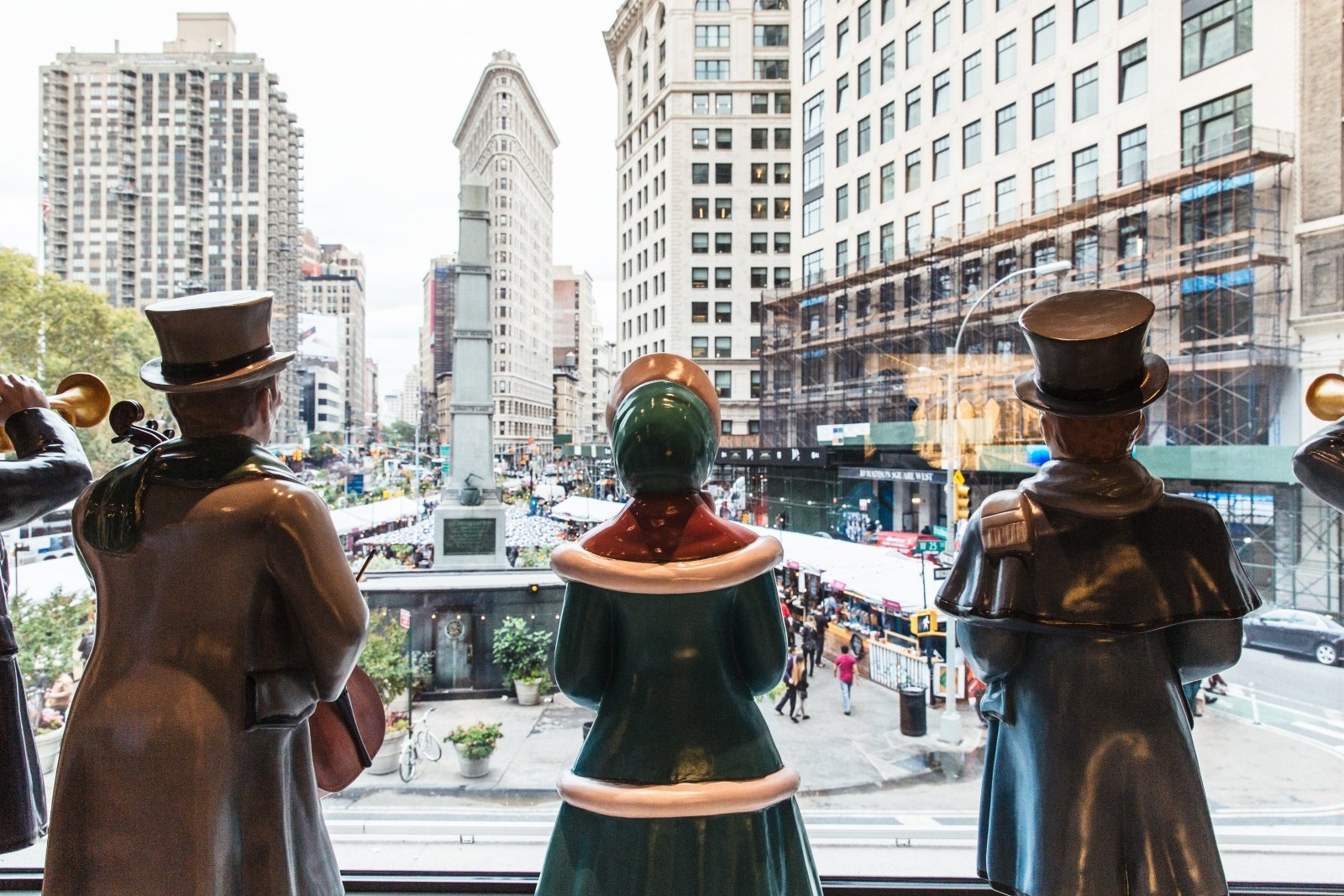 Left over from the days when the building was a toy company, five caroler figurines have alternately charmed and perplexed pedestrians. They were originally positioned atop the threshold of the Commodore Criterion's south entrance, but, following their restoration by Porcelanosa, have since been moved indoors.
---
Sensitive Intervention
Known to New Yorkers as the Commodore Criterion building, Porcelanosa's new home was designed by Buchman & Kahn Architects and completed in 1918. In his later years, Ely Jacques Kahn found a rich aesthetic in New York City's setback ordinance, most notably in the Squibb Building. But as a junior partner at an established firm, he was still reeling from what he called the historical "vagaries and eccentricities" of late neoclassicism, all the while searching for an expression of Modernism—a struggle that's apparent in the building on Fifth Avenue.
After decades of various occupants and unscrupulous modifications to Kahn's original design, in 2001 the building was granted historic landmark status as part of the Madison Square North Historic District. When Porcelanosa purchased the building in 2011 and soon after handed it over to Foster + Partners for renovation, the building was, in a sense, no longer Kahn's, but neither was it entirely Foster's, limited as he was by preservation when modifying the facade.
Still, if work on the exterior presented constraints, a few maneuvers made a big impact on Foster's reimagining of the interior. Most crucially, the vertical circulation core, originally located as a central stack, was relocated west toward Broadway, making each floor open and unobstructed. In a similar gesture toward space and light, portions of the ground and second floors were removed, exposing the cellar to the windows above and creating a three-level-high, sun-drenched atrium. With daylight and expanse assured, Porcelanosa's design team took over to bring its products to life.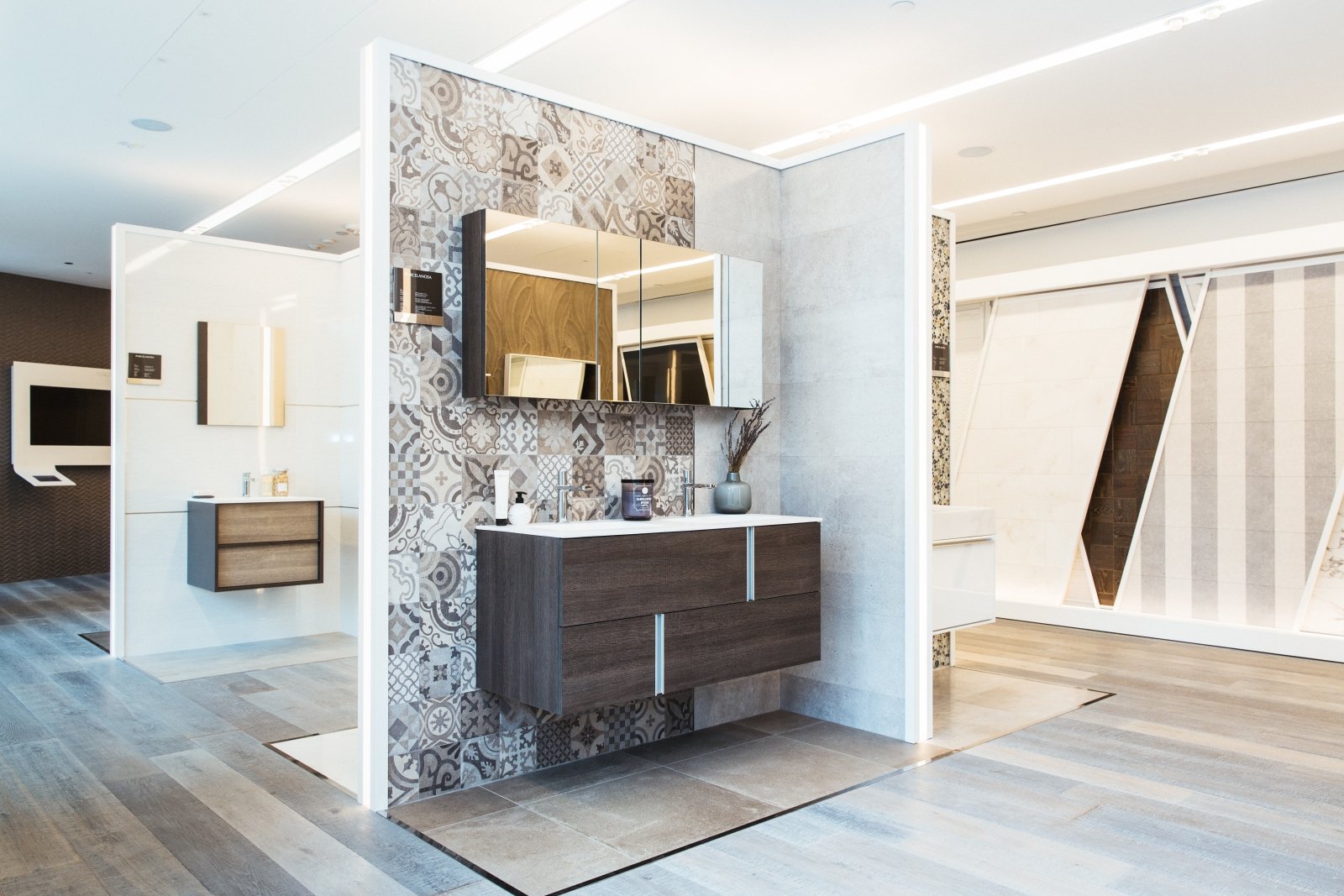 Full-scale bathroom vignettes feature tiles in a wide array of sizes, patterns, and textures, as well as bathroom fixtures and furniture.
---
Tailored Experience
Porcelanosa's series of full-scale bathroom vignettes showcase not only tile as it would appear in its proper setting but also custom-designed bathroom equipment, furniture, and hardware. Several installations feature Krion elegantly cast into sinks and vanities, all precisely formed and perfectly seamless. These abstract sculptures-qua-functional waterworks seem to have become an architect's premier form for excursion into products; Ramón Esteve, A-Cero Architects, and Sir Richard Rogers (with Luis Vidal) are all represented in Porcelanosa's collection.
Almost every aspect of the showroom is clad with the manufacturer's merchandise. The kitchen in the café on the second floor is cleverly exposed to serve as a fully functional model of Porcelanosa's kitchen products like counters, sinks, hardware, and furniture. Even the client restroom serves as a sales vignette, complete with porcelain wall tile, a Krion basin, and a gleaming wall-mounted pan. From surface finishes to the decor of the sunny interior, product flows through space uninterrupted, all the way to the Spanish sandstone on the facade and the roof terrace.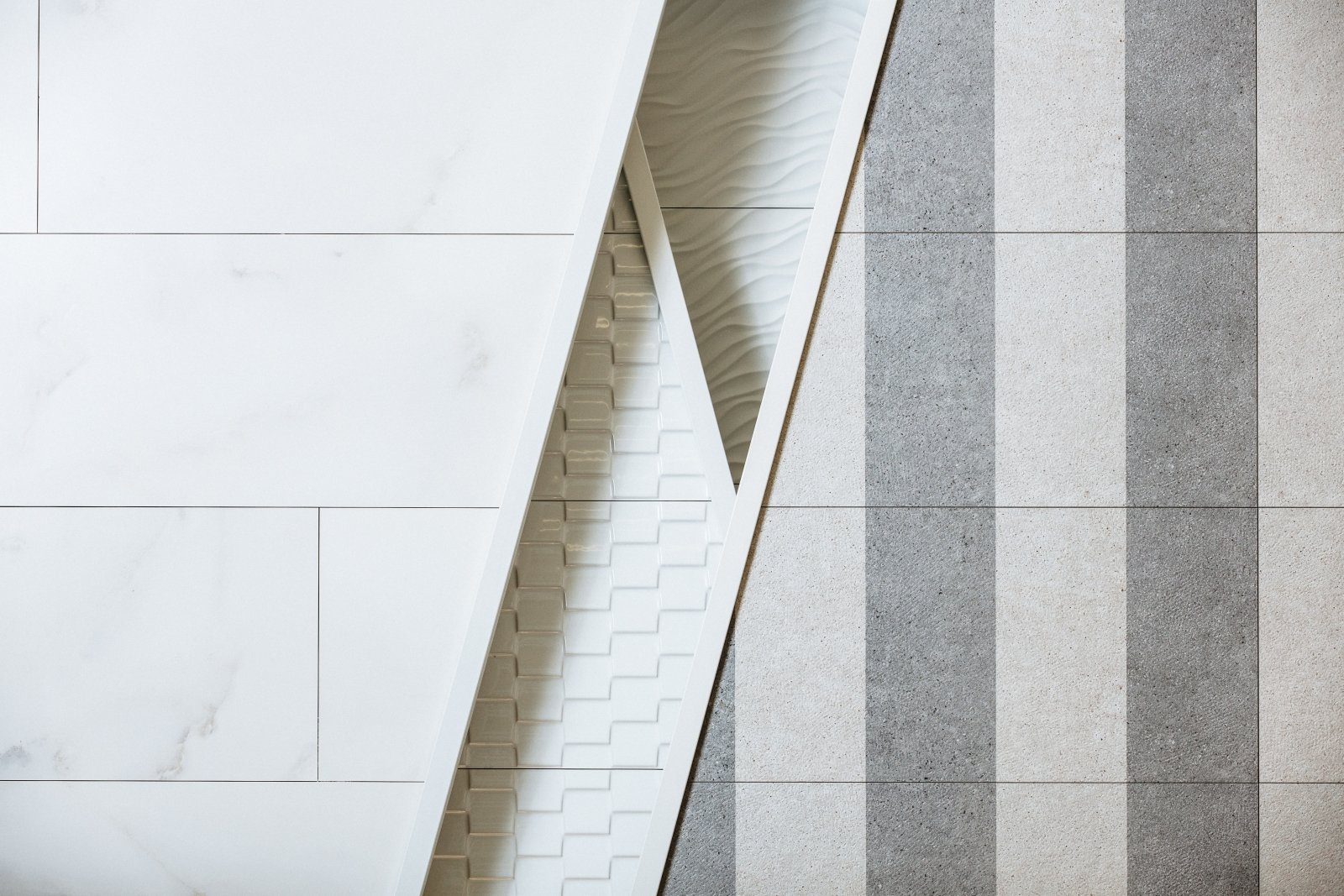 With both professional designers and curious laymen in mind, Porcelanosa added elegant sliding panels to every showroom.
Naturally Inspired
With tile manufactured in anything from slate and marble to novel materials like hardened ceramics, the new store proudly flaunts intricate designs of mosaics tessellated in brilliant porcelain and austere weaves carved in smoky dark stone. "Much of our product inspiration comes from nature," says Manent. "We are inspired by exotic hardwoods, stones, and metals, but also waves or even a simple leaf." But for those weary of the natural aesthetic, the showroom gives particular pride of place to the company's newest material, Krion, which can be applied to almost any surface. What the Spanish manufacturer's new flagship store in Manhattan makes clear is that seeing and touching these materials at scale and in context is the proper way to experience such exquisite works. For those who appreciate the embodied sensuality of matter, the showroom is like a tiled wonderland.