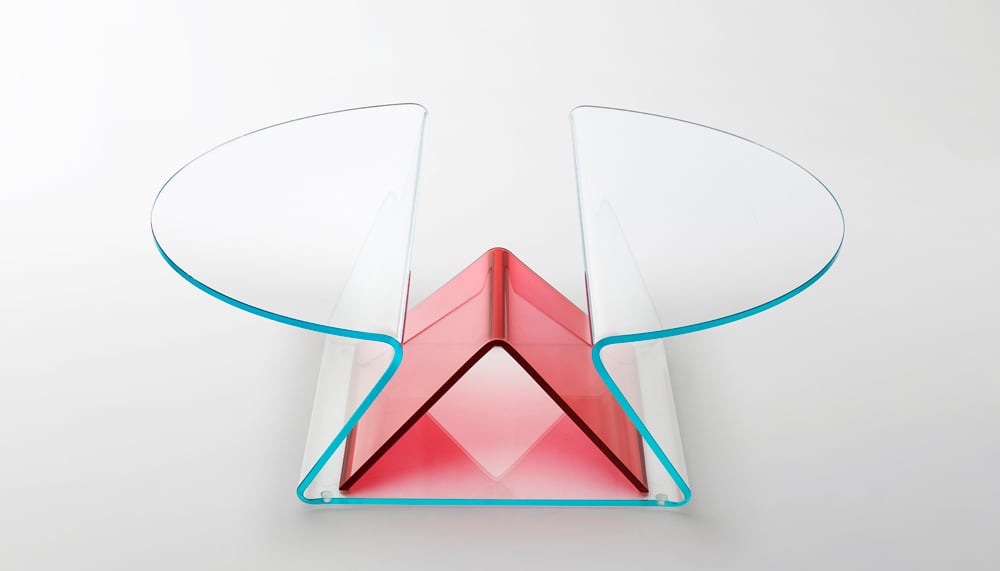 August 9, 2018
Mario Bellini's New Table Ups the Ante for Bent-Glass Furniture
The Italian designer teamed up with Glas Italia to produce the low-profile table, which uses extra-light 12-millimeter-thick glass.
---
The furniture of Mario Bellini is always in a state of doing. Whether stretching, tucking, bending, squeezing, or spilling, the eminent Italian designer's furnishings have revealed the forms achievable through evolving production technologies. So it's appropriate that one of his newest designs, Plissé, is named for the action it expresses—folding, in French. "More precisely," Bellini clarifies, "that peculiar way of designing girls' and ladies' dresses with multiple repeated folds."
Compelled by what he identifies as a "strong reciprocal desire to work together," Bellini teamed up with Glas Italia to produce the low-profile table. Made of 12-millimeter extra-light glass, the unit is shaped into an origami-like composition through a complex bending process limited to four folds in a sequence. With those folds, Bellini created a table with a double-cantilever construction, open at its center. The bending process must be precise: Planarity of the surfaces, as well as the radii of the curves, must be tightly controlled in order for the configuration to work.
But cold and mechanical Plissé is not. Charmingly, the table's central magazine rack—described by Bellini as a "heart, a spark of color that surprises"—can be ordered in a valentine-red glass.